Entertainment
Bex Taylor-Klaus' Ambiguous Sexual Orientation: Straight or Gay? Boyfriend?
We have had several confusions regarding celebrities, especially when it comes to their net worth or their relationship status.
Today's subject Bex Taylor has made this a little bit difficult because we are even having problems to find out whether Bex is a 'he' or 'she.' Often regarded as a woman, Bex, to the contrary, is approached by women to date them.
The Flamboyant presumably-gay Bex Taylor
@IBexWeBex bex my boyfriend called me stupid, will you date me instead?

— alive queer kels (@murphysjensen) July 4, 2016
@IBexWeBex I have a boyfriend but you bring the gay out of me ??????????

— Natasha coffey (@natashakins99) June 30, 2016
When these kinds of tweets appear (and these are only a few), it gives birth to new gossips and rumors on Tabloids.
Some reports suggest Bex is a straight girl, while others suggest she is a lesbian although she is not found dating anyone.
Now, either way, the confusion remains, and she has made it difficult to come up with the truth.
And then, she posted this video on her Instagram as if to say "go on, find out if you can."
No records of her having an affair with a boyfriend or girlfriend till now suggest that she has been very careful about revealing her sexuality. A good looking woman, Bex, appears somewhat in "Tom Boy" style, with her small height, petite physique, and plain body curves. "The Killing" star who appears in a controversial role as Bullet, describes her character on screen as:
                                       " Yes, I am a straight girl who plays a gay character on TV. No, I am not ashamed. The point of Bullet is not that she is gay. There is so much to her and I look up to the strength and determination this girl has. I get the beautiful opportunity to play a character I can admire and learn from on a daily basis. Bullet knows who she is and can accept herself for it all, even if others can't or won't." [Source: Facebook]
But finally, she has accepted who she is and has finally come out as gay.
Bex comes out of the Closet
On November 16, 2016, Bex posted on Twitter about her real sexual orientation. She revealed that she was gay all along and then linked her YouNow stream where fans got to chat with her and her choice to reveal her sexual orientation.
hello my name is bex and yes the rumors are true I am v gay

Live on YouNow in 10 minutes

— Bex Taylor-Klaus (@IBexWeBex) November 17, 2016
On her Livestream she talked about how she felt about hiding this fact about for such long time and how it hurt her every time she stated that she was straight, calling it as "feeling wrong." One beloved fan asked if she was scared to come out right now to which Bex responded by saying
Terrified, absolutely terrified. Part of why I'm coing out is because there's so much hate and fear in and around the LGBT community right now and it's important for us not to halt progress out of fear. Yes, it's a scary time, but we need to stand up and say, even if you are afraid, I'm not afraid, or even if I amafraid, I'm strong. I am who I am and you can't take that away from me.
She also talked about sharing her choice in partner's gender with her parents and family stating
I came out to my family very awkwardly at Thanksgiving once, That was fun. Not going to tell the story though. It involves uncomfortable sex jokes.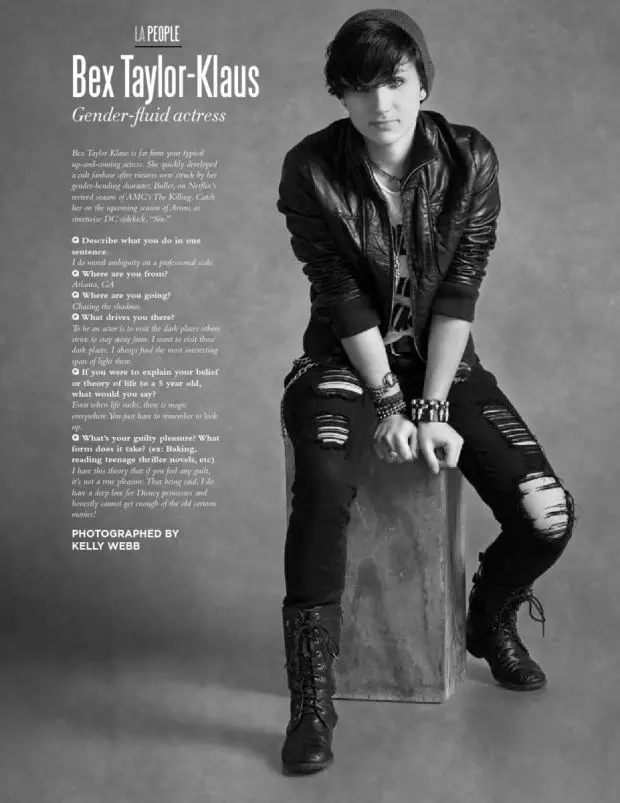 Caption: Bex Taylor comes out as a Gay/Gender-fluid actress.
Source: autostraddle.com
Bex's Short Bio:
Her first acting credit came when she was six months old, as a child actress, although she might be too small to remember. Growing up, she made several performances in her school as well as for Tour Camps. Young Bex also founded an acting club with her friends to support young actors.
Her career, however, started on the main line after she moved to Los Angeles on her 18th birthday and soon landed a role on crime-drama-mystery television series "The Killing." Apart from that, her other main acting credentials include House of Lies,  Longmire, The Social Experiment, Arrow, Glee and some others.
Her role as Bullet on "The Killing" saw her win the Joey Award in two different categories, in 2014.
Caption: Bex Taylor-Klaus as Bullet on The Killing
Source: Larry Corsa, Vimeo
Bex Taylor-Klaus was born in Atlanta, Georgia on the 12th of August, 1994 as the eldest of three children. She studied in 7 different schools between 14 years, and one of the schools asked her not to come back ever again.
Apart from acting, she also was an excellent athlete who used to play varsity softball for her school's team. Her other interests include freaky piercings, tattoos and she also enjoys Halloween, as she was raised in a house next to a graveyard.
To find out more on Bex, you can read her biography in other sources. However, her net worth value has not been disclosed yet, bust some website has predicted it to be 10 million plus.
She is currently working as the main voice actor's role of Pidge in "Voltron: Legendary Defender." She has also been portraying the character "Audrey Janson" on Scream since 2015. Nevertheless, her recent movie "Discarnate" is in the post-production phase. 
Interesting info: Bex had started her acting training with Shakespeare in the 3rd grade via an after school program. Not only that, Bex had designed her first tattoo, and her left eye scar comes from the time when she had a hole drilled into her skull. Last but not the least, her favorite hangout place is up in a tree.