Entertainment
Bill Turnbull Left BBC to Spend Time With Wife and BEES?: Happy Married Life, Blessed With 3 Children
Fifteen years is a lot of time to continue clinging to a monotony. When the time comes to bid farewell to such monotonous life, it certainly is going to be a tough job. This 59-year-old departed from the show after 15 years of service. His departure has broken the heart of millions of viewers who are accustomed to beginning their day listening to his voice.
BBC Breakfast anchor Bill Turnbull left the show (on Friday, February, 26th) following 15 long years of journey. Following his departure, he said that he would be spending his time with wife and his "neglected" bees.
Caption: BBC Breakfast: Bill Turnbull's Last Day - Programme Open - 26/2/16, With Louise Minchin
Goodbye to 15 years of BBC fun!
He had confirmed the news on the show on 2nd September 2015.
"That is coming to an end - by that time I will have been doing the show for nearly 15 years which is more than enough for me and the audience. So it is a good time to call it a day and do something else. It was a long term decision. I could see this coming up, and it was always the plan. I'll leave early next year. There is some sadness, but no regrets."
Bill has also stated that he will continue to work on radio and TV while spending time with his wife Sarah and his beloved bees.
Bill said,
"I have been neglecting my bees for far too long. They are on a farm, they were going to come up here to the Lakes where we live but it was too windy."
"They are down in Buckinghamshire, I don't see them very often but they don't seem to mind!"
"I haven't been able to keep chickens for a few years, so all these things will take up time."
"We are going to move to Suffolk with a bit of luck, it is where we have got family and friends, we have got to know Suffolk quite well in the last year and we like it so we are planning to move there."
He also had a note of gratitude to the touching farewells.
Overwhelmed by messages re the announcement today. Deffo feeling the love. Thanks to all who wrote.

— Bill Turnbull (@billtu) September 2, 2015
Bill is Married with 3 grown up Children:
Bill Turnbull,@billtu, married Sesi in March 1988 in London Borough of Hackney, Inner London, United Kingdom. The couple has two sons: Henry, born in October 1988, Will born in October 1989. They also have a daughter, Flora, who was born in August 1991. They look like a happy couple. There is no sign of divorce between them as of today.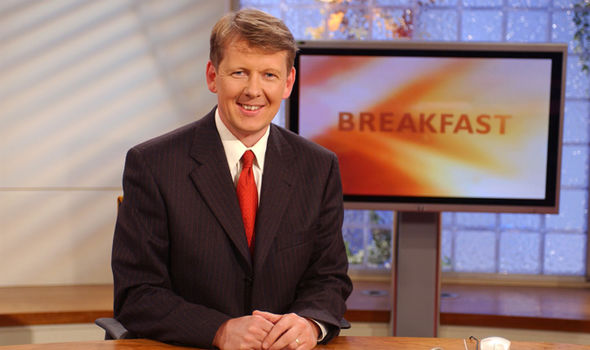 Caption: Bill Turnbull on sets of BBC breakfast in 2002. Bill decided to call it a day after 15 years on BBC Breakfast sofa in order to get back to his "full-time husband" role.
Source: express.co.uk
Born on 25 January 1956, Surrey, South East England, William Robert Jolyon "Bill" Turnbull got his education from Eton College in Berkshire, followed by the further study at the University of Edinburgh. He then graduated from Cardiff University in 1978. He is a former host of BBC breakfast and a British journalist and a presenter. He is also a presenter for Classic FM. Bill also published a book "The Bad Beekeepers Club" in 2010.