Entertainment
Is Billie Piper Married Or Still Dating Boyfriend? Find It Out
Billie Piper's life is always surrounded by controversies whether it be regarding her looks or the strings of her...seems to have finally found the correct footing when it comes to being in a...heir time together the loving couple gave birth to their two children...featuring in minor roles and play locally she made a breakthrough with the role of...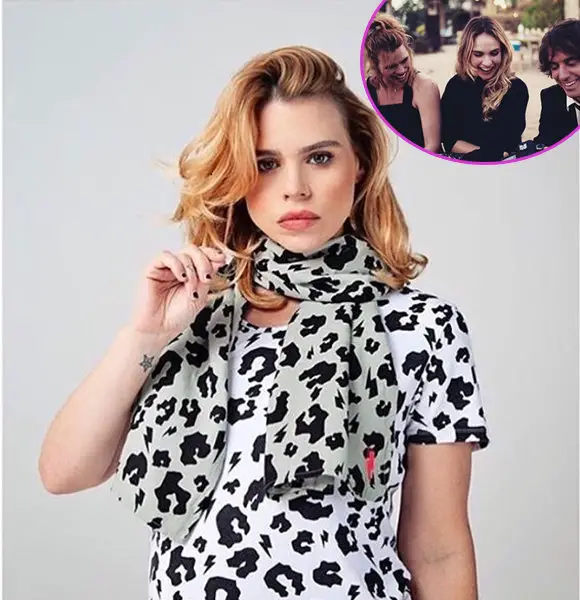 Controversies always surround Billie Piper's life, whether it be regarding her looks or the strings of her failed relationships.
It all started to fall apart for the singer when she ended her marriage twice between 2001 to 2016. Immediately after that, she was speculated to have used possible cosmetic procedures to change the way she looked in 2017.
Again, her battle for custody of her kids was the latest topic of discussion in the case of Billie Piper. To know more about what is going on in her life, let's get into the article.
Boyfriend, Partner & Children Detail
Billie Piper seems to have finally found the correct footing when it comes to being in a relationship. Her new partner is Johnny Lloyd - the former grunge band singer.
The loving couple has been dating since 2016 and after just two years into their marriage, announced the good news of expecting a baby in August 2018. Finally, after a much-awaited period, the day came on 2 January 2019 as they became first-time parents to a daughter, Tallulah Lloyd.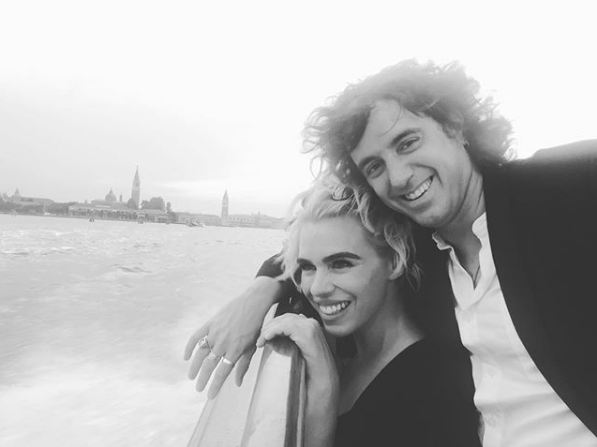 Billie Piper with boyfriend Jonny Lloyd in September 2019 (Photo: Jonny Lloyd's Instagram) 
The happy duo were excited to adapt to the role of parents and welcome a new member into the family. 
Past Marital Relationships
However, things were not all this cheerful for the Doctor Who actress. She previously married two times and split with her husband on both occasions. First, she married Chris Evans - the producer of Lock, Stock... - in May 2001, after dating for three long years.
 Netflix Prodigy:- Timothy Granaderos Dating, Girlfriend, Parents, Family 
All was looking great for the couple, but they eventually split up in May 2007 without any hard feelings for each other. Furthermore, the Girlfriend hitmaker partnered with Laurence Fox in December 2007.
During their time together, the married couple became parents to their two children; Winston and Eugene Fox. Much to the surprise of fans, the couple filed a divorce and parted ways in May 2016.
After the split, the ex-couple faced a daunting battle for custody of their children for two years. Now, the two have moved on but gather together sometimes to spend time with their children.
Height, Surgery And Net Worth Info
Billie Piper was born in Swindon, England, on 22 September 1982. She grew up loving music and stepped into the entertainment business as a singer. 
The 5 feet 5 inch (1.65m) singer released her first single called Because We Want To in 1998 and followed it up with another number one hit called Girlfriend. Though she cemented herself as a singer, she shifted towards acting in 2000.
Versatile Talent:- Jason Earles Wife, Divorce, Children, Net Worth
After featuring in minor roles and play locally, she made a breakthrough with the role of Rose Tyler on Doctor Who. Adding to that, he started landing more prominent roles in the film industry, which hyped her acting status even more.
Suprisingly what stood out for her fans other than her movie roles in 2017 was her strangely different looks. Fans were very much surprised to see their favorite with a completely new facial structure. 
However, when asked about the sudden change, the actress denied any rumors of surgery or cosmetic enhancement. Apart from that, the British actress is going well with her career and lives a lavish lifestyle with a hefty net worth of $12 million.