Entertainment
Billy Gardell & Loving Wife | Weight Loss & Net Worth Of Stand-Up Comedian
Billy Gardell, known for his role Officer Mike Biggs in the CBS Hit television series, Mike and Molly, shares a family with his wife named......The couple got married back in ... and has been together since then......The pair also shares a child named ... together who is currently at the age of......Apart from his family life, Billy once had his hands in weight loss when he lost ... pounds......
Quick Information
Children/Kids

1

Instagram

N/A

Twitter

https://twitter.com/billygardell?lang=en

Facebook

https://www.facebook.com/billygardell/

Hair

Short

Height/ How Tall? 5 feet 9 inches (1.8 m)
High School

Winter Park High School

Net Worth

$8 million

Wedding Date

2001

Wife/Spouse

Patty Gardell

Relationship Status

Married

Date of Birth 20-08-1969
Son/s

William Gardell

Sister/s

Lisa Gardell

Brother/s

Brian Gardell

Mother

Linda Gray

Father

William Gardell

Zodiac Sign

Leo

Birth Name

William Gardell Jr.

Profession

Actor

Birth Place

Swissvale, Pennsylvania, United States

Nationality

American
Having a career lasting a decade and standing tall still is a challenge that Billy Gardell, also William Gardell Jr, has made it seem effortless. Being in a decade-long marriage with Petty Gardell, the 51-year-old is devoted to his family and wife.
The Mike & Molly star struggled with his weight issues for a while now. But he has made necessary changes to his life that he is proud of.
Two Decade Long Happiness
Gardell has been married for 20 years now. But, where some marriages cannot beat the clock of time, his marriage has lasted for two decades. He has been married to his beautiful wife, Patty Gardell, since 2001.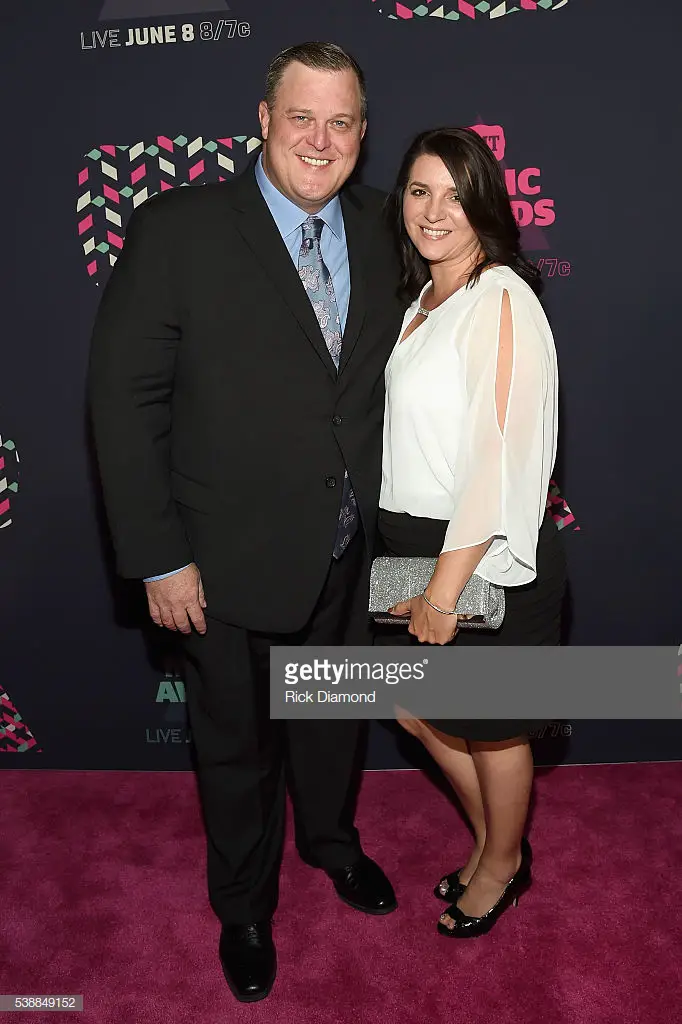 Billy Gardell and wife Patty Gardell at the 2016 CMT Music Awards at the Bridgestone Arena.  (Photo: gettyimanges.com)
The couple seems to be private about their personal affairs as Billy's wife, Patty, has just one picture on her Instagram account while billy is quite active on social media. While the professional side of Patty is yet to come to light, we are sure that the amazing woman is more than just Billy Gardell's wife. 
Upon asked about the lesson learned from marriage, the 51-year-old comedian made a funny comment. He said, 
I've learned you need to shut up when you're married. I've learned that you're never right, and it's easier to do something you want to be done than ask someone else to do it.
Apart from being a fan of his wife, he loves his son dearly. He mentions how his son stays with him and his friends during the weekend and loves to spend time with him.

The hilarious actor seems to be a family man and is committed to spending time with his beautiful wife and son. 
Struggles Of His Own
They say the ones who care to make people smile has endured the worst in their life. This statement earns its merit when we look into the struggles of this American comedian.
Having parents divorced in early childhood, he had to move in with his mother and his brother. However, spending his childhood with his mother did not let his love for his father go any less.
He still shares a good relationship with his father and reveals that his father had words of his own when he was starting his career in comedy. Sharing his parents thought for his career, he said, 
 "At first, my mother was horrified by my career choice. Her thing was for me to get a nice job at a warehouse. My father was the opposite. He said I should follow my dream, that he didn't and was stuck in a lousy job." 
The 54-year-old had to go through his parent's divorce and financial difficulties altogether. He revealed how he used to work at a department store where he would load and unload trucks. Also, he used to clean bathrooms, seat people on their respected places, and answer phones at a local comedy club, all when he was 15 years old. 
Little did he know the place where he was working to meet the month's end would later be the start of his success. Watching people perform and laugh made him more confident in himself, and he, later on, started performing open mic nights.
Billy Gardell Net Worth
It was on 28 December 1987 when he got into stand-up comedy. But it wasn't because he wanted to go into standup comedy rather it was because he made a dare with some co-workers. He explained;
If I didn't do an open mic night, I couldn't cover the bet. I was running my mouth that I would do it. They bet me I wouldn't.
Eventually, he started opening for George Carlin and Dennis Miller. 
As of now, he is a well-known comedian. However, he considers Jackie Gleason, George Carlin, Richard Pryor, John Belushi, and John Candy as his biggest influencers. 
Moreover, he credits his grandmother's support, saying she was the one who told him he could be a comic when he was 8 years old. He made his debut on the big screen with the movie 'Gary the Rat' in 2000. 
Alongside his big-screen debut, he also made his TV debut the following year. He first appeared in the series 'The King of Queens' as Billy Kelner. 
Talking about his net worth, Billy Gardell must have accumulated a wealth of over $2 million. 
Inspiring Journey Of Weight Loss
Gardell might have been fit for the role in Mike and Milly, but deep inside, he had been struggling with weight issues himself. The actor also struggled with drinking and smoking problems.
While being in terms with his issue with weight also revealed how he has been quitting things his whole life. He went on to add how he has now been sober for 11 years.
Billy Gardell, a stand-up comedian and a voice artist, gained recognization for his role as an overweighed lover in Mike and Molly's series. Although the actor had performed in other movies and TV shows, including Bad Santa, Avenging Angelo, and Dragon Wars: D-War, he has received the most acclamation playing the obese man.
The obesity of the characters contributed to the show's story, but that did not stop Billy to shed some of those extra fats.
In his interview with Craig Ferguson, he also shocked his fans and everyone when he said he had lost 45 pounds and was on a journey to lose 30 more. Furthermore, he also had a Russian trainer.
The creator of the show was more supportive of the comedian's path to living a healthier life. According to Billy, CBS even hired a trainer for him. Billy, who has a net worth of $8 million, divulged that he wanted to lose some of the extra fats in his body as he desired to be around his boy, but his knees couldn't take the weight of his body.
Read Also: Michael Rapaport & Wife Still Together Amid Girlfriend Issue? Family Status
The actor began working out under the supervision of a trainer back in October 2011. Within a year, Billy had shed over 50 pounds and was looking forward to losing more of it. Billy, who has tours coming up this December, last recorded losing 70 while still having 80 to work for.
Well, with his constant effort, Billy finally found himself feeling healthier just as he took new projects of movies and tv shows, taking him to the height of success. As of 2020, he has revealed that he is opting to make more sacrifices to take care of his type 2 diabetes. The 51-year-old has been taking non-insulin medication to keep his diabetes in check.
A Short Bio Of Billy Gardell
Born on 20 August 1969 as William Gardell Jr., Billy is an American actor and stand-up comedian. He was brought up in Swissvale, Pennsylvania. After his parent's divorce, he, along with his younger siblings, moved to Florida. 
In 1985, he attended Winter Park High School in Orange Country, Florida.