Entertainment
Bindi Irwin Engaged In Bliss! Perfect Boyfriend That Dad Would Surely Approve
Bindi Irwin is an Australian actress, television personality and conservationist, and a daughter of the famous...After the passing away of her...Bindi has found support in form of...she remains sure that her father would...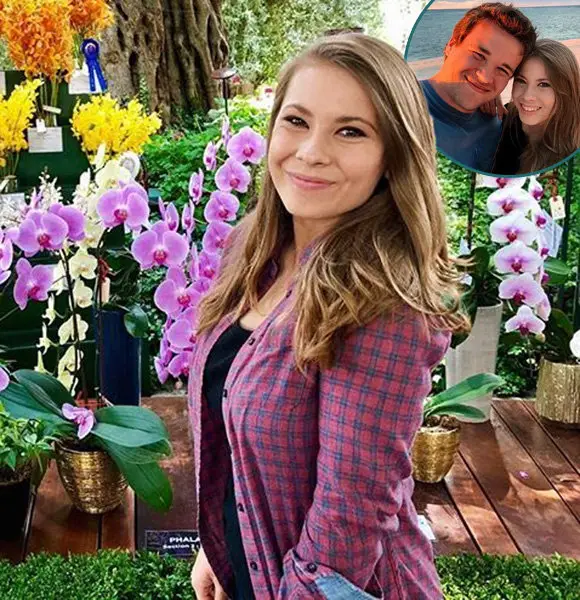 Daughter to one of the most renowned wildlife conservationist Steve Irwin, Bindi Irwin has successfully managed to come out of her father's shadows!
After the passing away of Steve following an unfortunate incident, Bindi has spent much of her adult life without the guidance of her father. Creating the resume of actress, television personality and conservationist, Bindi has made a name for herself. 
Top of all, the multitalented personality has found somebody to fill in the void, left behind by her father's tragic death - her loving boyfriend-turned-fiance.
Though Steve never got a chance to meet her love interest, Bindi remains confident that her father would have adored her husband-to-be.
Boyfriend
The daughter of 'The Crocodile Hunter' Steve, Bindi, with public attention at an early age, has continued to stay in focus after an incredibly romantic relationship with boyfriend-cum-fiance, Chandler Powell.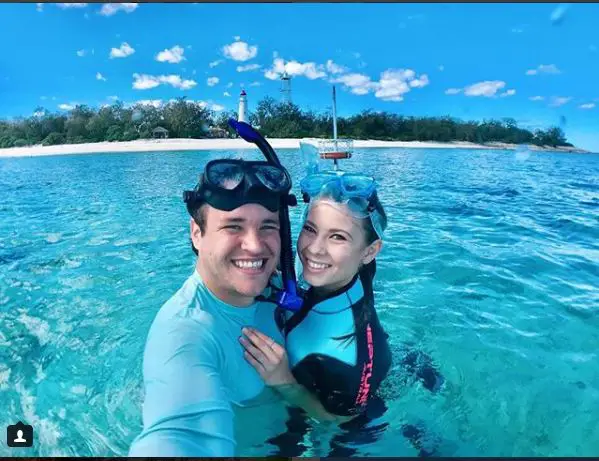 Bindi Irwin poses alongside her then-boyfriend, Chandler Powell (Photo: Bindi Irwin's Instagram)
The two instantly connected after their first meeting in 2013 when Chandler and his family got taken to a tour of the Australia Zoo by Bindi. Bindi is sure that her dad would have approved her wakeboarder husband prospect, Chandler as he fits in well into the family tradition of wildlife conservation.
Related: Wakeboarder Chandler Powell in His Girlfriend's 18th Birthday: Sharing Happiness With Bindi Irwin
Talking to Australian Women's Weekly on November 2017, the actress revealed how her dad would have loved Chandler,
"I'm lucky I have found the one, the person I want to spend all of my time with. Mum and Robert and I have talked about that a lot. We think dad would have loved Chandler."
The duo fended rumors of them engaged to each other on several occasions. Fuel was further added to the fire after Bindi hinted on the engagement to soon approach after a speculative caption in her Instagram post where she is holding a python on 4 October 2018,
"'Diamonds are a girl's best friend'. Says the girl with a diamond python!"
However, in the 2018 interview with People, she cleared her relationship status mentioning that she was not engaged nor married,
Bindi added that she was happily in love with her then-boyfriend, not thinking too far down the road. In her own words,
"It's interesting, as human beings we're always so rushed with things, so you know, 'When are you going to start dating?' 'When are you going to get married?' 'When are you going to have kids?' When are you going to have another kid?' Every single step. And so I think we all need to just revel in the now."
She, however, confirmed that she would not be hiding her big news from the media and added,
"I'm 20, I'm loving every minute of my life and I really love this guy, so I just want to take my time to enjoy the now. I promise you I will call you the second we get engaged. … It's really exciting."
With all signs pointing a big announcement to be right around the corner, Bindi's fans all over the world couldn't be more excited.
Engaged To Get Married!
The Bindi-Chandler fandom's dream turned to reality as Bindi and Chandler finally got engaged.
Engaged In 2019:- Robbie Arnett Engaged, Married, Fiance, Net Worth
By all means, the proposal was a pleasant surprise. Chandler had opted to startle Bindi on the day of her 21st birthday on 24th July 2019. Australia Zoo, the place where the two first met, served as the backdrop for the romantic affair.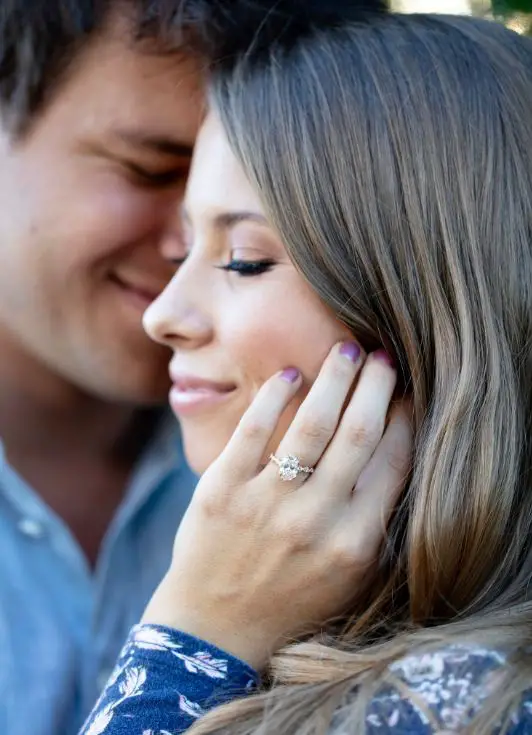 Bindi Irwin shows off her engagement ring circa late-July 2019 (Photo:- Bindi Irwin's Twitter)
Breaking the news of their engagement via Twitter, the Crikey! It's the Irwins star labeled her now-fiance, "the love of my life." Commemorating their six years, she expressed happiness with the prospect of their life together.
Meanwhile, Chandler also took to Twitter to celebrate the milestone. So did Bindi's mother, Terri Irwin.
When the euphoria surrounding the engagement died down, Bindi took a moment to remember her long-gone father. Tweeting about her impending married life on 3rd August 2019, she claimed that her dad would be proud of her fiance Chandler.
Bio Reveals Age, Brother & Height
Born on 24 July 1988, Bindi at the age of 21 has reached significant career height. In a relatively young career, she has already been part of numerous TV shows including the reality series, Crikey! It's the Irwins. She has also been part of a few films and has expanded her talents to singing as well.
However, she caught everyone's eye after winning the American edition of Dancing With The Stars in 2015. An amateur dancer, Bindi appeared on 2DayFM's Rove And Sam breakfast show on December 2015 and revealed her dancing struggles with swollen feet.
"It looked like I had a flesh-eating disease on my feet.  my toenails were coming off, my feet were all cut up."
Standing in at the height of five feet and two inches, Bindi calls Queensland, Australia her hometown. She still resides her native land alongside her mother Terri Irwin and little brother Robert Irwin.
See Also: Terri Irwin's Touching Tribute On Robert Irwin's13th birthday
The family shares a strong bond as is seen on their social media posts. On the occasion of National Siblings Day, Bindi took to Instagram to post a sweet message to brother Robert on 11 April 2018,
"Just a little note to thank you for being such an awesome brother. It has been wonderful to watch you achieve such extraordinary things in life. I'm so proud of the amazing person you are and I'm truly blessed to be your sister. @robertirwinphotography #NationalSiblingDay."
With their father long gone, the presenter of Bindi the Jungle Girl and her brother Robert stand as a pillar of hope to their mother, Terri. For her part, Terri claims to have stayed single ever since her husband's death.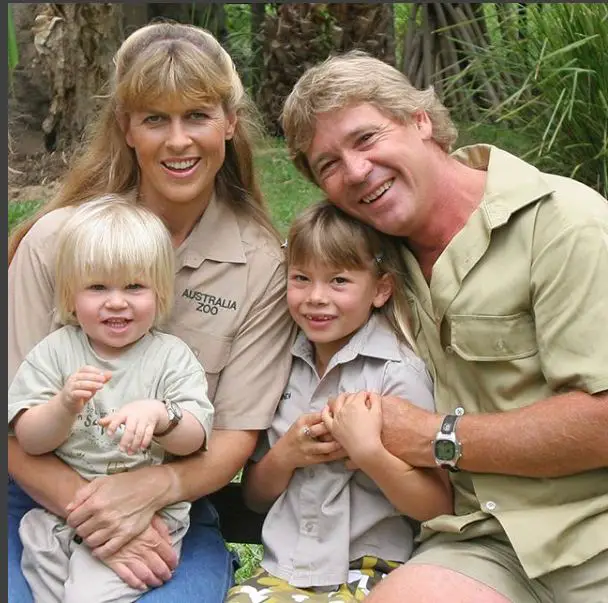 Bindi Irwin alongside his brother Robert, mother Terri and father Steve before the tragic passing away of Steve (Photo: Bindi Irwin's Instagram)
Don't Miss: Terri Irwin, Dating With Russell Crowe? Secret Romance, Boyfriend Spending Time in Terri's Mansion
And, with her daughter now all set in her path to stardom, it seems Terri can now sit back and enjoy Bindi's journey to greatness.