Entertainment
Black Panther Star Chadwick Boseman's Secret Girlfriend! Or Married?
Who could forget the new superhero that the movie 'Captain America: Civil War' gave us in 2016, the one dressed up wearing completely black.
Yes, the Black Panther!
It was more surprising to know that the owner of the mantle was indeed the ruler of the African nation of Wakanda, T'Challa, portrayed by American actor Chadwick Boseman. The actor has already created a box office buzz for his exceptional acting skills in 'Black Panther.' 
Today, we have a look at his concealed love affairs.
Ordinary Love Life Of Superhero:
The man behind the black mask, Chadwick Boseman, again knocked the movie theaters on February 16, 2018, worldwide with his movie 'Black Panther.' But the vacant part for the superhero might be his dating life because no one seems to be knocking his heart till this date.
The superhero was once caught roaming the streets with a mysterious lady, as they were spotted arriving at LAX airport in December 2015. But the gossip couldn't capitalize, as they both managed the situation discreetly.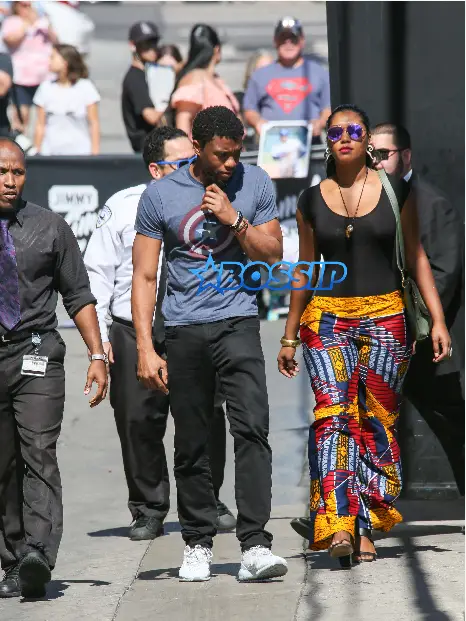 Chadwick Boseman spotted with a mystery woman at LAX in December 2015 (bossip.com)
They have not been located together after that, and this inevitably might be good news for all the single ladies who dream a superhero in their lives. Probably so, Chadwick seems to be spending a superhero life without a girlfriend.
Well, he isn't unlucky at all because he shared a moment of love with a beautiful and blonde actress Kristen Stewart just a year before he got spotted by the unknown lady.
That moment was was only an on-screen moment: they were the part of the New York Times' short film series '9 Kisses.'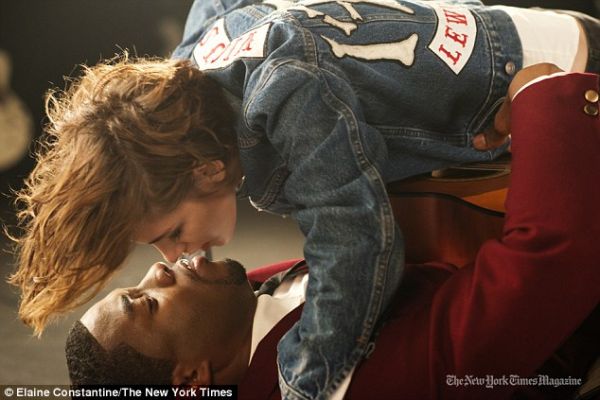 An on-screen romance between Chadwick Boseman and Kristen Stewart's characters during a short film series in December 2014 (dailymail.co.uk)
The actor is completely silent about his dating plans or future marriage plans. It seems like he hasn't made any plans to get married. However, Chadwick seems to enjoy his life with his friends.
The actor flaunted a get-together picture with his friends on Instagram in April 2017.
In an interview with the American way in February 2018, when asked about his dating status, he revealed:
"When you talk about that, you become a whole different type of celebrity.Your personal life bleeds into your professional life. I'm an actor, and you know me from who I play. You get a sense of who I am, but you don't know everything."
But during an interview with Good Morning America, also in Feb 2018, when a little girl from the audience gave him a valentine he referred that she gave it before 'his lady' did.
Well, he might be off limits and is exceptionally good at keeping his dating affairs wrapped in his sleeves. 
Short Wiki-Like Bio Of Chadwick Boseman:
Chadwick Boseman was born on 29 November 1976 in Anderson, South Carolina, USA. The actor stands tall at the height of 6 feet or 1.8288m. He is also known by the name Chad among his close ones. He graduated from both Howard University, Washington DC and British American Dramatic Academy, England.
The South Carolina native initially studied for directing and wanted to become a movie director. He studied acting to be able to relate to the actors but later realized that he belonged in front of the camera.
Chadwick has broad interests in acting, writing scripts as well as boxing and basketball. His script for the play "Deep Azure" was even nominated for a 2006 Joseph Jefferson Award. He is best known for 'Captain America: Civil War (2016),' '42 (2013)' and 'Get on Up (2014).'
Chadwick Boseman as Superhero Black Panther in 'Captain America: Civil War' (Published on Mar 16, 2017 )
Besides Black Panther, which released on February 16, 2018, Chadwick has also been involved in other projects, including 'Marshall,' a biographical thriller film to be released on October 13 this year, and Marvel Studio's next venture 'Avengers: Infinity War' to be released on May 4, 2018.
Chadwick Boseman's most awaited movie Black Panther Teaser Trailer (Published on June 9, 2017)
The movie, Black Panther, was released on February 16, 2018, and ever since the viewers have appreciated and loved the movie. It has managed to shatter the expectation of the box office. Only on the fourth day of its release, it managed to collect a whopping sum of $235 million. The superhero movie later raised $400 million worldwide. The production cost of the film was approximately around $200 million.
Various celebrities like Michelle Obama, Oprah Winfrey including 'Avengers' superheroes Mark Ruffalo and Chris Evan have taken on their Twitter to appreciate the movie and its superhero himself, 'Black Panther.'
Even 'Deadpool' star Ryan Reynolds was blown away by the movie and pleaded his fans to believe in the hype of the movie.
The movie is in its first week managed to grab massive viewership, and Chadwick was amazed by the fact. During his interview with Good Morning America on 12 Frb 2018, he poured his notion:
"This thing has taken on its own life," he said. "It's amazing to watch how excited people are.There is a sense of pride that I've seen from most people when they come out of the theater that is a very unique experience across the board, whether they're African-American or African, or white, or Asian," 
Unlike other Marvel superheroes, Chadwick did not even have to go through an audition process to land the role of 'Black Panther.' The talented actor was offered the fantastic role via phone.
"I think it was 24 hours between saying his name in a creative story meeting and talking to his agent and getting on a phone with him and offering him the role of Black Panther, which he accepted,"
The net worth of our new superhero equals to $5 million, which he earned definitely from his acting, playwrighting, and screenwriting.