Entertainment
How Many Kids Does Brad Pitt Have With Angelina Jolie?
Brad Pitt is a multiple-time Academy Award-winning actor. He won his first Oscar for his movie, 12 Years A Slave, in 2014, and his second in the category of the Best Supporting Actor for his role alongside Leonardo DiCaprio in the 2019 movie, Once Upon A Time In Hollywood.
Brad has gathered 55 credits as a producer, and 80 as an actor. His films include Mr. & Mrs. Smith (2005), Moneyball (2011), Fight Club (1999), and Deadpool 2 (2018), among many others.
Brad's Personal Life: Ex-Wife & Ex-Girlfriend
Brad previously dated actress-turned-musician Juliette Lewis. They started going out in 1990 after meeting each other for the first time on the set of a TV movie named Too Young To Die. Juliette was only 16 years old when they first got together. They broke up four years later, in 1994.
More On Juliette Lewis:- Juliette Lewis Husband, Family, Net Worth
After splitting up with Juliette, Brad began dating Jennifer Aniston. They first got together in 1998 and got married on the 29th of July 2000 in Malibu, California, the United States.
However, their marriage couldn't continue beyond five years, and they announced their separation in January of 2005.
Then, in 2005, Brad met Angelina Jolie, again on the set of a movie. They met on the set of the movie, Mr. & Mrs. Smith, in 2005. They got engaged to each other in 2012.
Brad and Angelina married twice, once on the 14th of August 2014 in California, and on the 23rd of August 2014 in southern France. They went on to have six children during their relationship.
But, in September of 2016, Angelina filed for divorce. She also requested sole physical custody of all of their six children. Their divorce is still ongoing.
Children: Biological & Adopted Kids
Brad's first kid is son Maddox Chivan. Brad's ex-wife, Angelina Jolie, adopted Maddox when he was 7 years old, in 2002 from an orphanage in Cambodia. However, Brad wasn't involved with Angelina when Maddox was adopted. She took in Maddox with her ex-husband, Billy Bob Thorton. After three months of his adoption, Angelina and Billy divorced, and Maddox stayed with Angelina.
After Brad and Angelina started dating in 2005, Maddox started living with the now-estranged couple. However, in September of 2016, Brad underwent investigation for child abuse against Maddox; during an argument between him and his then-partner Angelina, Maddox stepped in to defend his mother. This happened during a private airplane flight.
And this turned into a physical altercation. However, it is believed that Brad did not actually hit Maddox and that it was Brad's drinking that escalated the fight.
In February of 2020, Brad avoided going to the BAFTAs to reunite with Maddox.
Brad's second child is Zahara Marley. He and Angelina adopted her together when she was only six months old. The former couple adopted her from Ethiopia. Her biological mother, Mentwabe Dawit, conceived her during a rape incident.
In 2006, Brad and Angelina had their first biological child. Their third kid, Shiloh Nouvel Jolie-Pitt, was born on the 27th of May 2006 in Swakopmund, Namibia.
More On Shiloh:- Shiloh Jolie-Pitt Siblings, Transgender, 2019
Shiloh dresses up as a boy. She has always stated that she was exploring her sexuality from a very young age. She is also a gender-fluid person and is an icon for the LGBTQ+ community.
In 2007, the ex-pair adopted Pax Thien. Angelina adopted him on her own from Vietnam despite the fact that Vietnam doesn't allow non-married couples to adopt children. However, after bringing him to the United States, Brad applied to adopt Pax as well. Pax's name was suggested by Angelina's mother, Marcheline Bertrand.
The ex-couple's twins, Knox Leon and Vivienne Marcheline, were born on the 12th of July 2008 in Nice, France.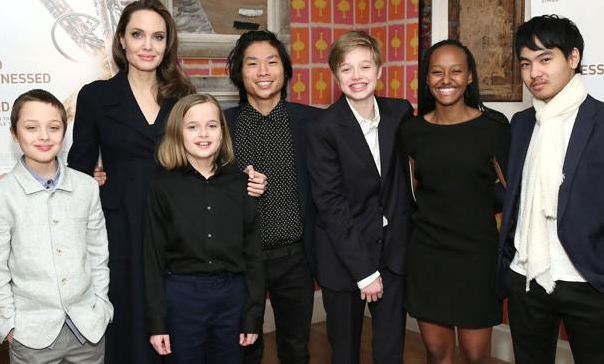 Brad Pitt's ex-wife Angelina Jolie with their kids (Photo: Hello! Magazine)
As for now, the children remain with their mother.
Facts About Brad Pitt: Age, Height & Awards
Brad was born on the 18th of December 1963 in Shawnee, Oklahoma, the United States.
His full name is William Bradley Pitt.
He stands at a height of 5 feet 11 inches or 1.8 meters.
He has 108 wins and 186 nominations in various award ceremonies.
He thanked his kids during his Oscar acceptance speech in 2020.
Brad is banned from entering China because of his role in the movie, Seven Years in Tibet (1997).