Entertainment
Bridget Lancaster Bio: From Age To Family Details & Net Worth, All Revealed
Taking up the position as America's Test Kitchen Online Cooking School's lead instructor, Bridget Lancaster added yet another title to her already decorated career.
An original cast member across all of America's Test Kitchen platforms, she serves as its executive editor. Besides co-hosting America's Test Kitchen aka "the most popular instructional cooking show on television" since 2017, Bridget also acts as an on-screen test cook for the franchise's newest show titled Cook's Country from America's Test Kitchen.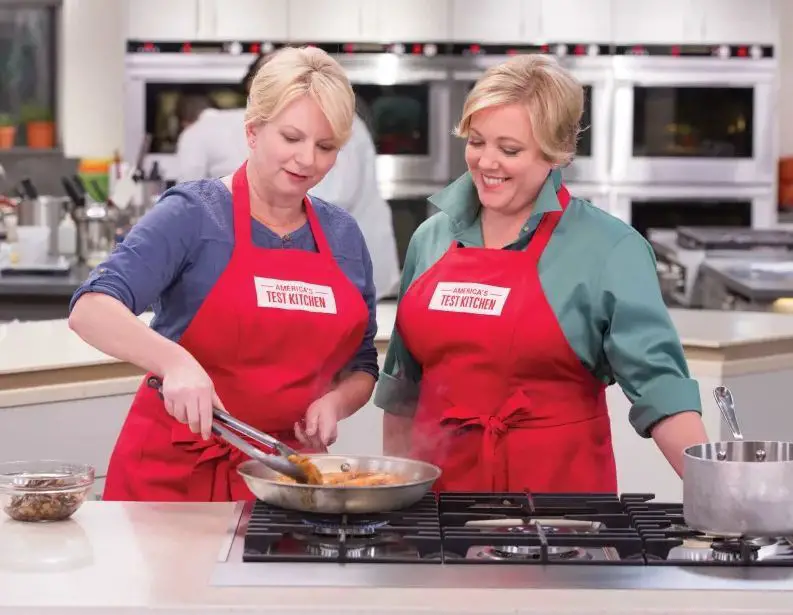 Bridget (right) and her co-host, Julia Collin makes their America's Test Kitchen debut on 12 January 2017 (Photo:- lifehacker.com) 
For the West Virginia native, the act of juggling the weight of her career with family life is an easy task; made possible by the fact that her husband is in the same line of work as her.
Delve into Bridget's biography to learn more about her family, and husband including net worth & salary!
Bio Unveils Chef Husband & Family Of Four
As Bridget and her husband, Stephen Lancaster - chef at Hawthorne-by-the-Sea in Swampscott, Massachusettes - share interest for the culinary arts; cooking should remain an integral part of their married life.
Another Chef In Out Vault:- Mario Batali's Content Married Life With Wife And Family That Is Also Into Cooking! Pays Restaurant Staffs For Alleged Pilferage
And to their credit, she and her chef husband have projected their lives in a way that food & cooking is still the centerpiece of everything they do. That said, at home, the married duo - amid divorce speculations - takes a more practical approach to cooking, saving sophisticated dishes for weekends.
A lot of it has to do with the obligations to their respective jobs. In 2017 interview with North Shore Magazine's Jeane O'Brien Coffey, Bridget - who stands beyond 5 foot and 5 inches (165 cm) height mark - explained:-
"As our schedules change and our kids get older, our expectations of the food change. On weeknight's, I tend to do a lot more simple food than for a Sunday night meal."
Married for over a decade now, the pair along with their two sons - Tom, age 16, & James, age 10 - resides at the Lancaster family home in Marblehead, Boston, Massachusettes.
Inherited Love For Cooking From Parents
Although she takes immense pride on her Boston roots & all her achievements since moving there, West Virginia will, however, always be her only home. And rightfully so.
Interesting:- What Is Olivia Culpo Net Worth? Details From Height, Weight To Ethnicity
Born on 30th November 1968, Bridget credits her formative years in the Mountain State with nurturing an interest in food that guided her in pursuing a lucrative career; her salary and net worth as America's Test Kitchen Executive Editor measures at the six-figure sum and seven-figure total respectively.
Growing up, she saw her mom make everything from scratch -- a trait she would inherit for life. Elsewhere, it was her father's love for gardening that helped develop her affinity with organic productions.
Between her mother's "from-the-scratch" approach to her dad's emphasis on homegrown ingredients, Bridget, now age 50, learned everything there is to about cooking and food from her parents.