Britt Johnson is a successful TV anchor who hosts...her exact date of birth is...lost her mother at the age of...greeted her future baby daddy via Instagram on...qualities desired in her boyfriend...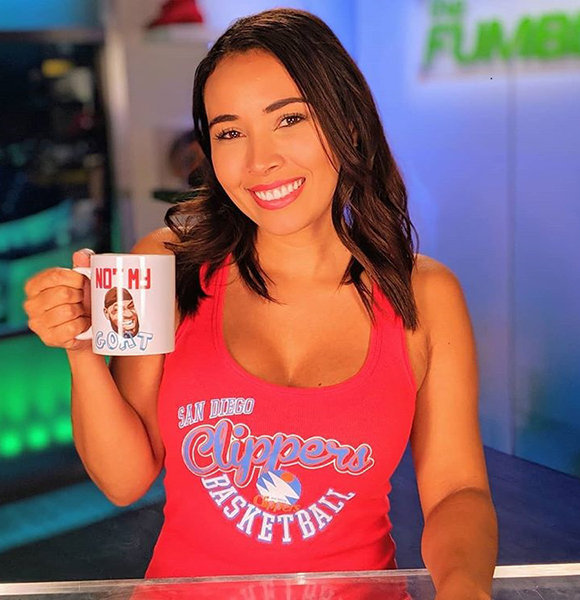 Life is often challenging for teenagers, but parents stand by their side to help them in every way possible. Losing even one of them can be devastating, which Britt Johnson can surely relate to.
Britt lost her mother at an early age of 13, but luckily, her savior and hope came in the form of a bonus mom.
With the help of her new mom and family, the TV anchor is successful enough to become the host of Fumble Sports and The Branded Athlete.
Bio: Age, Height, Family
A native of Fresno, California, Britt's celebrates her birthday on 24 February. Britt's exact date of birth is not known, so her age is hard to extract. However, fans assume Britt to be in her late 20s or early 30s. 
Further, the sports host is of mixed ethnicity as her father is black and her mother was white. After her biological mother died when Britt was only 13, she and her siblings grew up with stepmom Ronda Lu Ryder McCormick. Britt is the oldest child of her parents with a younger brother named RJ and a little sister.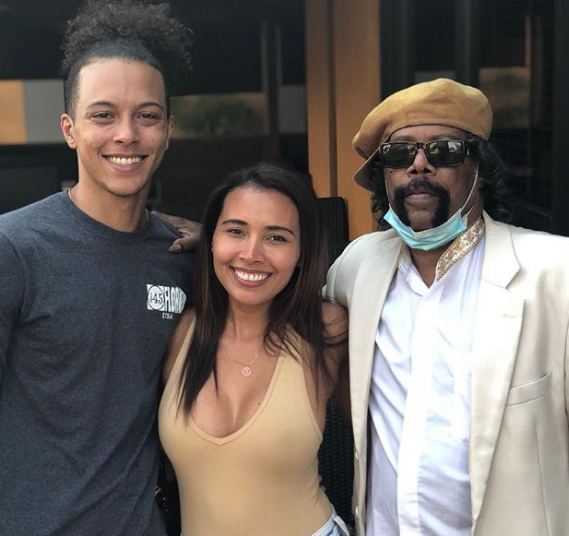 Britt Johnson with brother RJ Johnson and uncle enjoy some family time in June 2018 (Photo: Britt Johnson's Instagram) 
Britt's step-mom Ronda was successful enough to give the three children a new family. Britt adored her bonus mom and felt blessed to be involved in Ronda's life. Sadly, Ronda too passed away after a long battle with cancer in August 2018.
Britt remains a strong pillar in her family and enjoys life with her father and siblings, actively engaging with her family as seen on her Instagram. She earned her college education from the California State University with a major in Communications and minor in Special Event planning. 
About her measurements, Britt weighs around 114 lbs and stands vertically at the height of 5 feet 4 inches (1.6 m),
Dating Boyfriend Or Single?
Hardcore fans of Britt know that the pretty lady is not dating anyone at the moment. She has not been seen with anyone lately, who could be considered as her boyfriend.
Rumors Of  Boyfriend:-Alahna Ly Bio, Age, Real Name, Boyfriend
However, on 18 June 2018, while wishing her dad on Father's Day, she also greeted her future baby daddy via Instagram. Except, Britt wished her future hubby in advance as there were no signs of pregnancy.
Further, Britt has talked in her YouTube videos about the qualities she wants in her future boyfriend or husband. She believes in the language of love, and it's significance in a relationship.
Britt Johnson Net Worth
Britt started her hosting career as an intern for KSEE-TV 24 in 2007. Later in 2014, she worked on the Entertainment Scoop as a Red Carpet Host. After gaining experience from different events and places. She began hosting on The Fumble Sports.
Another Sportsanchor :- Hubie Brown Net Worth, Daughter, Wife, Now
Britt is a sports anchor and hosts prominent shows. Along with her job, she has a Youtube channel with almost 35k subscribers. She is also a star on Instagram with over 70,000 followers.
The exact figure of Britt's net worth is still under the radar, but she reportedly earns a salary exceeding $45,000 a year.