Entertainment
Brooke Hogan Splits With Soon-To-Be Husband Amid News Of Getting Married; Father Not Happy With Boyfriends?
Quick Information
Date of Birth

1988-05-05

Age

32 Years 2 Month(s)

Nationality

American

Profession

Television Actress

Birth Name

Brooke Ellen Bollea

Zodiac Sign

Taurus

Ethnicity/Race

Mixed

Father

Hulk Hogan

Mother

Linda Hogan

Brother/s

Nick Hogan

Children/Kids

Not Yet

Relationship Status

Single

Divorce/Split

Not Yet

Engaged Date

29 June, 2013

Ex-Boyfriend

Jerry Reid (2005-2006), Jonathan Prater (2008), Stack$ (2009)

Fiance

Phil Costa (Ex.)

Dating/Affair

No

Net Worth

$6 Million

Nominees

Choice Reality Star (Female) (2006)
Once you are engaged, you often drown in the hype of getting married soon. You plan for your wedding and are equally excited about the way your life will or might change following your wedding. But when those dreams are shattered, and you end up not taking your engagement to the next level, you are bound to feel bad.
By saying this, today we look back at the split of Brooke Hogan and her fiance, who she had plans for marriage.
The Breaking Of Brooke's Engagement:
Brooke has made herself famous in various fields like acting, TV shows and also pro wrestling like her father, the iconic Hulk Hogan. That has enabled her to have plenty of fans, and all her fans are bound to know the fact that she was once engaged to NFL Dallas Cowboys Player Phil Costa.
Brooke and Phil got engaged on the 29th of June in 2013 when Phil proposed her in LA.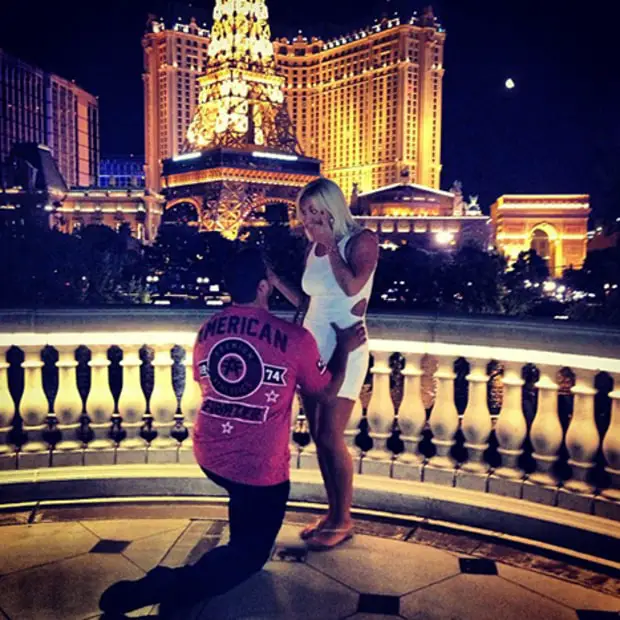 Brooke Hagan gets proposed by Phil in an adorable manner (2013) (Photo: usmagazine.com)
"Happiest moment of my LIFE, I am marrying my best friend. I wouldn't choose anyone else. I am so lucky and so grateful." wrote Hogan on her Instagram showing her happiness. However, this post can be found no longer as she seems to have deleted the tweets and posts following the pair splitting amidst the news of getting married.
Some sources say that the reason for her split and calling off of her engagement is the rush and hurriedness of their relationship which was not allowing her to focus on her musical career.
Following her split up, she moved back to L.A. to put the final nail in the coffin for her new album and wanted to be closer to her mother Linda Hogan who herself split with her husband, Hulk Hogan. While Phil is reported to be single.
Speaking of Hulk Hogan, he came forth in media and said that he was the one who shot the bullet that took the life from his daughter's engagement. The Hulkster said,
"I love the Dallas Cowboys, been a fan forever. But, my daughter was engaged to one of those guys and he didn't walk the walk and talk the talk. I put a bullet in that really quick because there was no way my daughter was going to marry somebody that I don't like that got me mad or has got in my face."
He also added,
"There was a little run in with only one of the Cowboys. But you know what, he knew better than to step up cause he would have gotten slammed just like Andre the Giant."
Hulk Hogan was also the same person who previously stated that he was not a fan of Brooke's black boyfriend. The name was not specifically taken by the Hulkster, but his daughter was then dating rapper Yannique Barker who is single right now. The Hulkster was not amused with this relationship, and he said,
"I mean, I am a racist, to a point. F--king n-----s."
Furthermore, he elaborated,
"I don't know if Brooke was f--king the black guy's son. I mean, I'd rather if she was going to f--k some n----r, I'd rather have her marry an 8-foot-tall n----r worth a hundred million dollars! Like a basketball player!"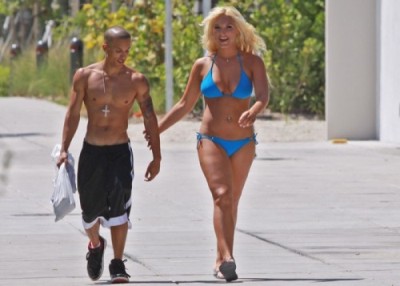 Brooke Hogan and her 'black' boyfriend, Yannique Barker Photo: superstargossip.com)
Since her father has been playing major role in protecting Brooke from the boys, it seems this time, he did not succeed in protecting her daughter from the new dating claw.
New Boyfriend After Split With Fiance
Brooke, who is no stranger to being in a relationship, quickly moved on with life without music, but with a new boyfriend in her life.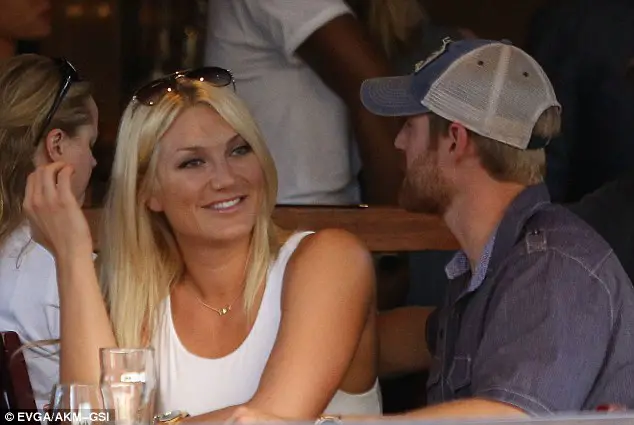 Following the split with her ex-fiance, Brooke welcomed a new man in her life (2014) (Photo: dailymail.co.uk)
'I have the best bf ever. Not only does he know my style but he knows I LOVE turquoise he's damn good!!!" she said.

Clearly, this shows that Brooke is not someone who goes around dwelling on what is done and dusted with. The water under the bridge keeps flowing and so does Brooke with her life.
While she was swirling around the romantic life, she is now silent on her dating life.
Slams Body Shamers
Being the only daughter of the wrestle of Hulk Hogan was not easy for her, as her life has always been on the main focal point of the media.
And growing up on her doting father's reality TV show Hogan Knows Best has made her a more public figure. But she has been slammed down with her body figure being fat on the internet but she has been handling the situation with the great patience and attitude.
The blonde beauty, who stands at the height of 5' 10", flaunted her body in bikini in Miami, Florida on January 2018. Also, she claimed that she is the victim of the nasty remarks about her body figure.
But she said the haters are unfair because body type really comes down to genetics. She stated:
"Being Hulk Hogan's daughter, you definitely don't come out 110 lbs. and petite. It's always been that I'm muscular, I'm 5'10."
Also, she posted the series of jaw-dropping pictures on the internet that shows her flawless body figure.
Brooke Hogan flaunting her body-figure (Photo: Brooke Hogan's Instagram)
Well, her fit and fine is the hard slap on the face to those people who had been making the crude comments about her body.