Entertainment
Is Bryn Forbes Married? Wife, Dating Life, Son, Family
San Antonio Spurs' shooting guard Bryn Forbes has enjoyed a good time at the club. Drafted in 2016, he is bound to play for the team until 2020. Meanwhile, Bryn has developed into a valuable player for the club.
However, the young athlete has not been able to take his personal life with the same smoothness as his professional career. His long legal fight with his girlfriend for the custody of their kids made many headlines in 2017.
Bryn's Girlfriend And Children
While Bryn doesn't have a wife and there is no dating news about him in 2019, his past relationship and the chaos it ensued is very much a topic of interest.
As far as the NBA star's past companionships are concerned, he has only had one to date. He was in a romantic tie with Raelynn Taylor since high school.
The former couple had started dating when Bryn was at Sexton. Raelynn graduated from Eastern High School in 2010.
Don't Miss:- Danielle Panabaker Pregnant, Baby, Husband, Height
The couple never got married but shared a good relationship in the early stages of their romance. Bryn and his girlfriend decided to take their affair to the next level and had their first son, Carter. Carter was born in 2013 - at a time when Bryn was overseas with the Cleveland State University's basketball team.
After the birth of Carter, Bryn asked for a transfer to Michigan State University in an attempt to be close to his son and girlfriend.
After graduating from MSU, Bryn signed with the Spurs in July 2016. However, at the time, he lived in San Antonio while Raelynn was living in Lansing. In December 2016, his second son, Leo, was born. And, Bryn immediately flew to Lansing for Leo's birth.
Beginning Of The Chaos
Bryn and Raelynn's relationship hit some rough patches when Raelynn was pregnant with Leo. But, despite the difficulties, she moved to San Antonio with both their sons to try to make the family work. Leo was just a week old at this point.
However, things didn't go as planned, and the parents of two had a bitter break up in March 2017. The split resulted in Raelynn moving back to Michigan with Leo, and Carter went back to his mom after a few weeks.
Recommended For You:- Yanet Garcia & Gamer Boyfriend Break Up! Split Reason
Fast forward to June 2017, Bryn tried to mend things between him and Raelynn. But, he ended up making things worse. As a result, Bryn took both his children and returned to Texas without Raelynn's approval. The act was the starting point of the battle for custody.
Battle For Custody
After Bryn's departure to Texas with the children, Raelynn tried to get the police to bring back Carter and Leo to her custody. But, that attempt failed, and both Bryn and Raelynn filed for full custody in December 2017.
The case went on for a while, with both former partners giving their reasons as to why they should get full custody. Bryn argued that Raelynn's 'drinking, depression, and parenting skills' were a concern for him. Whereas, Raelynn said that he took the children with him without her consent. 
The case was resolved in April 2018, when both Bryn and Raelynn agreed to give the custody of the children to the NBA star. But, there were a few terms between the two parties while coming to the settlement. Judge Janelle Lawless settled the dispute.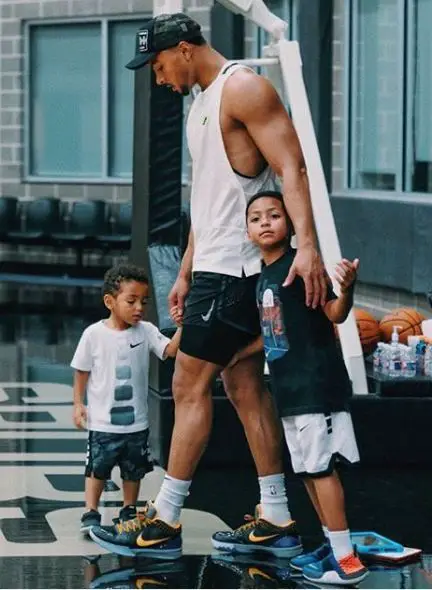 Bryn Forbes with his sons Carter (right) and Leo (left) in August 2019 (Photo: Bryn Forbes' Instagram)
As of now, Carter and Leo live with their father in San Antonio, Texas, while their mother is allowed to visit them in Texas for 60 overnights a year.
Bryn Forbes: Age, Height, Interesting Facts
Bryn Forbes was born in Michigan on 23rd July 1993 to parents Brandon Forbes and Sue Forbes.
The NBA star has a sister named Erin Warmels. She has Lyme disease.
His height extends to 6 feet 2 inches (1.88 meters).
Bryn went to Cleveland State University but later transferred to Michigan State University in 2013.