Warmest congratulations are for Danielle Panabaker and her husband, Hayes Robbins!!!
Sharing the fantastic news of pregnancy on 9 November 2019, Danielle took to Instagram to express her excitement. Photographed with an oversized shirt and a messy hair that sums up the post's simple caption "Eating for Two ;)," the Flash star took the world by surprise.
Her rep also confirmed that Danielle was indeed pregnant.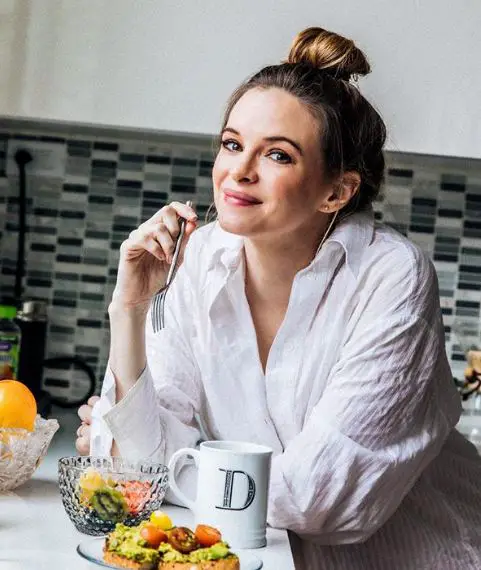 Danielle Panabaker in November 2019 (Photo: Danielle Panabaker's Instagram)
Her co-stars, family members, friends, and fans were quick to respond, flooding her page with messages and notes of well wishes and congratulations.
Interestingly, the upcoming baby will be the first for both Danielle and her husband. As of 2019, the only detail about the bundle of joy is that he/she will be born in the spring of 2020.
Life With Husband 
It's been quite a while since Danielle and her entertainment attorney husband Hayes got married. Exchanging wedding vows on 24 June 2017,  the pair tied the knot in an intimate ceremony with family and friends.
Interesting Tid Bit:- Alexandra Daddario Boyfriend, Husband, Family
The wedding occurred only a year after the couple's engagement in 2016. The proposal took place during a trip they took to Greece. Popping the question, Hayes made sure that the trip became a memory Danielle could never forget.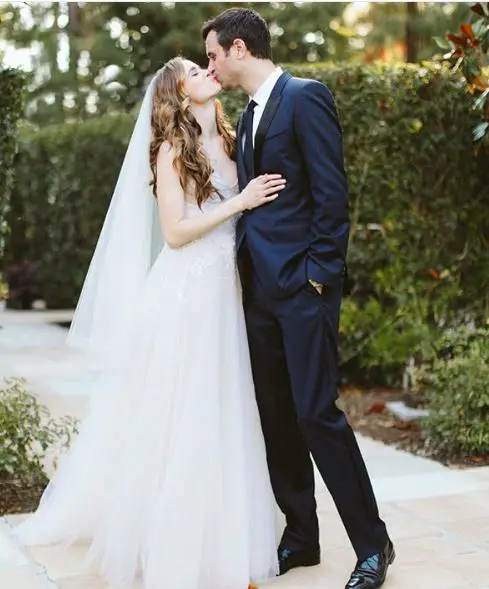 Danielle Panabaker and husband Hayes Robbins on their wedding on 24 June 2017 (Photo: Danielle Panabaker's Instagram)
According to reports, Danielle and Hayes met through mutual friends. Now, in 2019, their relationship is going quite strong with two years in matrimony. As for the remainder of their relationship, with a baby on the way, life is sure to be exciting in a few months.
Family & Sister
Danielle Panabaker is not the only celebrity in the family, however. Being a star actress herself, she also has a sister in the spotlight of renowned fame.
Danielle and her sister Kay Panabaker are the children of Harold Panabaker and Donna Panabaker. Daniella is the elder sister, born on 19 September 1987, while Kay was born on 2 May 1990.
The siblings are both stunning actresses. Kay has worked on projects like Mom at Sixteen, CSI: Crime Scene Investigation, Nancy Drew, and Cyberbully. Much like her popular sister, she has had quite the success in the entertainment industry.
Net Worth Info
Being a star actress and one of the main characters in one of the CW's most popular series The Flash, Danielle boasts quite a succesful career. Totaling 55 acting credits with numerous nominations and awards, the actress' net worth is $3 million.
Since 2014, Danielle - height 5 feet 6 inches (1.69 m) - has been a part of The Flash series as Caitlin Snow/Killer Frost. With news of the pregnancy, fans are wondering about the fate of the character in the coming season.
Whatever her plans may be, the actress is sure to decide well for her career and the baby.