Entertainment
Bryson DeChambeau Personal Life: Meet His Model Girlfriend
American professional golfer, Bryson DeChambeau plays on the PGA Tour. He is best known in the gold world for winning the NCAA Division I and US Amateur title in 2015. He is also the fifth golfer to have achieved both these feats in the same year.
Presidents Cup And Bulking Up
Bryson attracted a lot of attention when he gained 25 pounds for the Presidents Cup. It was a piece of very unusual news as golf isn't exactly a sport where the players undergo a body transformation to gain an edge over their opponents.
Bryson, who was 195 pounds (88 kg), previously turned up for the cup with a bulking 220 pounds (99 kilograms) mass. He had grown so much bigger than the Presidents Cup wardrobe of uniforms he was measured for in May no longer fit him.
According to him, his chest size had increased from 52 to 54 inches, his neck from 17 ½ to 18 ½ inches, and his waist from 34 to 37 inches.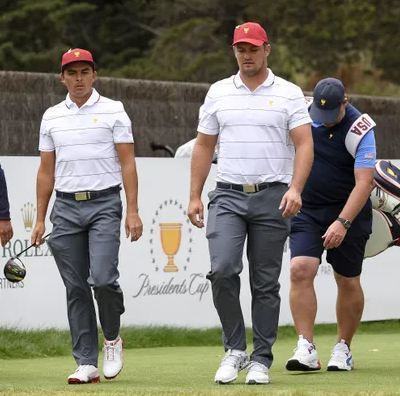 Bryson DeChambeau (middle) walking alongside Rickie Fowler (left) at Royal Melbourne for Presidents Cup on December 2019 (Photo: Andy Brownbill/associated press)
Golf fans are unsure of how to react to such a change. This has never had any precedence, and many are watching keenly to see what kind of changes this might bring to the sport.
Bryson, however, is known for being scientific and adding elements from the study into his playstyle. This can be confirmed by the fact that he uses a system called "vector putting," a system that breaks down the art of reading greens (anticipating how the ball will move from your putter to the hole) and calculating a path to the hole.
He has also tried various breathing methods to find a style that would ideally help him enter the sympathetic and parasympathetic state on will.
Star Golfer:- Professional Golfer Tiger Woods Arrested for the Alleged DUI Charges!
Given his unique perspective towards the game, it wouldn't be surprising if the weight gain did help him.
Bryson is already big, but he said that he plans on gaining 10 pounds more. He firmly believes that it will have a positive impact on his playing, and he isn't the only one. Even Tiger Woods, world-renowned golfer and captain of the United States team, praised Bryson for his change.
Girlfriend? Wife? Dating Life
Bryson DeChambeau was dating Sophia Phalen Bertolami, an Instagram model back in 2018. She has her swimwear line with La Isla and has over 58,000 followers on Instagram.
Sophia graduated in 2014 from Chapman University with a degree in Kinesiology and Nutrition. She is a nursing student who studies Pharmacology at Belmont University in Nashville as of 2019.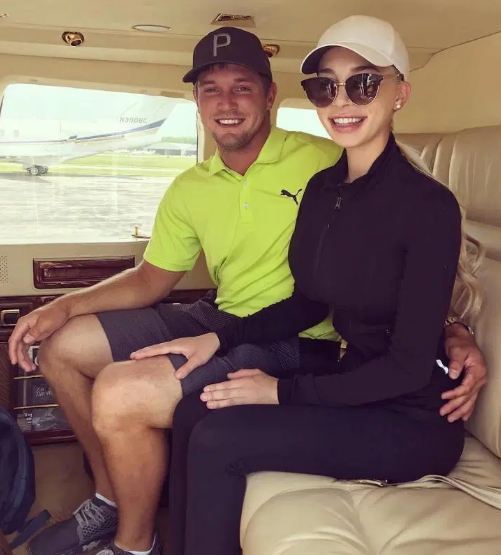 Bryson DeChambeau with girlfriend Sophia Phalen Bertalomi at US Open 2018 on June 2018 (Photo: Sophia's Instagram)
Besides posting saucy selfies on her Instagram, she is also known for owning an 1100 pounds pet pig named Stella. Sophia flew to many places to watch her boyfriend play in 2018. But, the duo hasn't posted about each other, and neither have they been sighted together since August 2018.
For now, it is unclear whether the Bryson and Sophia are still together or not.
Net Worth
Bryson has earned a total of $13,994,379 from his professional career as a golfer. He had also signed an endorsement deal with Cobra in 2016.
You Might Like:- Golfer Justin Rose Wife, Children, Parents, Net Worth
While the young golfer certainly has earned a lot, his net worth is unclear and still under review.