Entertainment
Buff Bagwell Was Not The Same As It Is Now; Has A Story Besides WWE To Share
Buff Bagwell Was Not The Same As It Is Now; Has A Story Besides WWE To Share This proverbial phrase is applicable in the life of Marcus Alexander "Buff" Bagwell who has successfully managed to switch careers despite facing major setbacks in his career and life. The former wrestler now boasts an impressive career in male escort industry with a hefty price tag to acquire his services.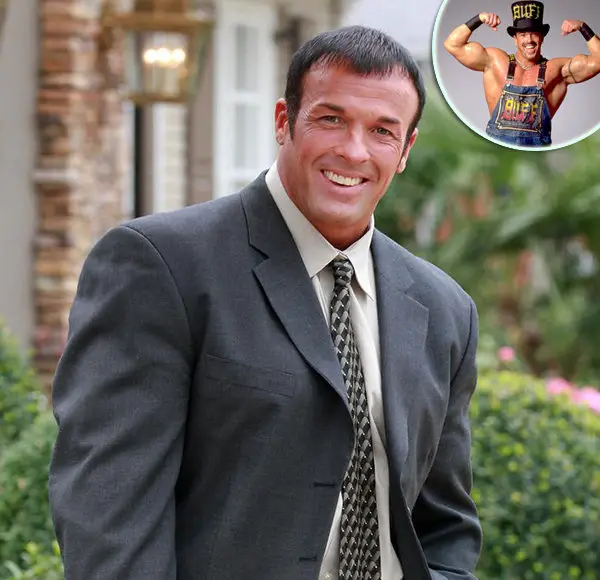 "When life gives you lemons, make lemonade!"
This proverbial phrase is applicable in the life of Marcus Alexander "Buff" Bagwell who has successfully managed to switch careers despite facing major setbacks in his career and life. The former wrestler now boasts an impressive career in male escort industry with a hefty price tag to acquire his services.
So, what inspired this rags to riches story?? Read on to find more!
An Encounter With Death Changed His Fortunes 
In a real-life example of not throwing in the towel no matter what life throws at you, Buff Bagwell's journey from a wrestler going now where to featuring in a reality show to a successful male escort is of undying hope and fearlessness.
Continually re-establishing himself in different wrestling careers, Bagwell's frolick lifestyle and past wrestling injuries caught up with him in April 2012. Trying to cut back on his dependence on various medications and painkillers, his near-fatal car accident after suffering a seizure while driving saw him put in a self-induced coma. His third wife Judy (now divorced) was his savior as she dialed 911 after he called her about having seizures.
She told the 911 operator:
"He's been cutting back on taking certain medications, and he is on a medication right now for a bacteria that's in his system from another antibiotic. He's trying to cut back on pain pills, and maybe that's what's causing [the seizure]."
An account of an eyewitness claims Bagwell being barely conscious behind the wheels with blood running down his face with no involvement of other cars in the accident. Placed in ICU at WellStar Kennstone Hospital for broken nose, neck, face, and jaw; Bagwell recovered after months of surgery and recuperation and was able to walk again in May the same year.
After the horrific car wreck in 2012, much of his wrestling fortune was spent on paying medical bills and became broke by his confession. His then-wife Judy had the ingenious idea to solve their financial troubles; she suggested Bagwell in the American TV Network Showtime's Show Gigolos.
With already flatlining wrestling career, Bagwell was desperate for financial stability, so he traded in his spandex for much more revealing costumes as a male escort. Bagwell joined the Gigolos in season 5 with highest ratings ever of the show in the final episode, and as a part of the same TV deal, he is still enlisted on the roster of escort company Cowboys4Angels.
Caption: Buff Bagwell on Gigolo's Season 5 Episode 6 (Published: Feb 21, 2014) 
To suit his new avatar, Bagwell even adopted new pseudo names such as "Buff Daddy" and "Buff the Stuff" fitting for the male escort industry. He reportedly earns a staggering $400 an hour, which is pretty good for a former wrestler in his late forties. His services will set you back a hefty $800 for a two-hour appointment, $1550 for a four-hour appointment, $3000 overnight,  $4500 per day, $8000 for a weekend trip, and $25000 weekly rate.
However, this hefty price tag hasn't waived off admirers, as the owner of Cowboys4Angels Garren James claims he is the second most popular escort on the website according to TMZ.
Although his career has taken off recently, professional success hasn't materialized into marital bliss. The former wrestler has gone through three divorces, with recent split up with his third wife Judy in 2016. Despite being together for 15 years during darker periods of Bagwell's life and career, the reasons for the couple's split, as professed by Bagwell, was his gigolo career.
He explained in an interview with Wrestling Inc:
"I absolutely was [a gigolo]. Dude, it was actually pretty wild." Bagwell admitted, "I was a gigolo for a night. No, no, no, no, I'm on [Garren James' male escort] website still because I signed a piece of paper, of course. Like I said, I was broke and I signed a piece of paper that allowed him the rights to put me on his website. And it's crazy. $400 an hour, $3,000 for the night, $10,000 for the weekend, and I've done one of those and that was when me and my wife were broke up, so I got $8,000 to go to Paris [France]."
In conclusion, Bagwell has managed to live past his wrestling fame to establish a new identity in Male escort industry with a "buff" paycheck. It remains to be seen for how long the former wrestler fast approaching 50 survives in male prostitution industry, where youth is sought after!
Wrestling Career and Woes
Before his gigolo days, Bagwell started out as a professional wrestler with a 27-year professional wrestling career. Buff has been through thick and thin from being five-time World Championship Wrestling (WCW) Tag Team Champion, a short stint in World Wrestling Federation Entertainment (WWE) to getting fired.
The American professional wrestler rose to fame in WCW with five Tag Team Championships and as a member of infamous New World Order. The acquisition of WCW by WWE in March 2001 saw him face the likes of Booker T on Raw. Bagwell has rubbed shoulders with other wrestling royalties with the likes of Lex Luger, Goldberg, Ric Flair, Booker T, Kurt Angle and Stone Cold Steve Austin during his time at WWE and WCW.
But, his WWE career was cut short when he was released early from his contract in mid of 2001 with complaints about his attitude, an altercation with fellow WCW wrestler and supposedly faking an injury. 
Caption: Booker T vs. Buff Bagwell in WCW Championship on Raw, July 2, 2001,(Published: Feb 15, 2013)
Meanwhile, in desperate effort to revive his wrestling career, Bagwell turned to other minor wrestling leagues after losing his big breakthrough moment with WWE.  He wrestled for another minor wrestling promoter Total Non-Stop Wrestling Action(TNA) and independently wrestles till today.
Bagwell doesn't share a good rapport with WWE, from him getting released early from his contract in the past to filing a lawsuit against his former employer on 9 August 2016. The lawsuit claims WWE's failure to pay him royalties and compensations of the materials he's featured on WWE Network. Another wrestler filed a similar lawsuit in April 2016, but the case was thrown out due to the buyout of agreement in 2011.
Although he was released early from his contract by WWE in 2001, they had sent him a letter stating he will receive royalties due to him as per his contract.  But Bagwell claims not collecting royalties from WWE, and his Q1 2016 quarterly statement was only $64.40 prompting a backlash for more payback on his part.
Think we're missing something? Do let us know in the comment section below!