Imagine meeting the love of your love at the workplace. The couple will not only have the chance to spend time together, but they can also share creative ideas and can give a personal touch to their assignments.
Sounds like a blend of everyone's dream job and partner, right? Well, American comedian-actress Cameron Esposito was fortunate enough to live this scenario. Moreover, her mix of personal and professional life heavily contributed to her success. But it turns out; not all good moments are meant to last forever.
Let's take a look at her love life and find out why?
Married Status, Wife?
While Cameron is not married for now, she was in a romantic marital relationship in the past.
She got married to comedian and actress Rhea Butcher in 2015 for a short period. She was well acquainted with her girlfriend for many years and had worked together in standup comedy events on several occasions. As a result, their love for each other started to take shape.
Standup Comedian:- Leslie Jones Husband, Gay, Net Worth, Family
Furthermore, with the start of their married life, their professional bond grew strong along with love for one another. A year after their marriage, Cameron and her partner Rhea created comedy series Take My Wife for Seeso streaming service.
Interestingly, here's the premise of the show. Two lesbian couple and standup comics (played by Cameron and then-wife Rhea) try to balance work, relationship and attempt to break down gender barriers.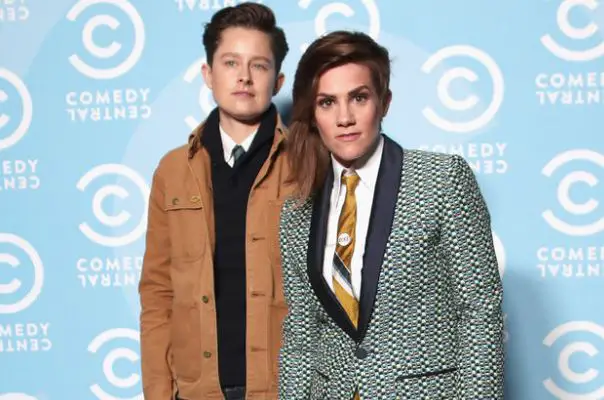 Cameron Esposito and ex-partner Rhea Butcher attend Comedy Central's Pre-Emmys Party on 17th Septemeber 2016 (Photo: billboard.com)
Sounds something familiar, right? Yup, the show was heavily inspired by the couple's real-life relationship and even the actress confirmed it herself in an interview quoting
No, it's(the show) pretty dang close to our life. I won't say it's 100% on the money; just that some of the details were changed because we are really in a couple and there is a need to protect our privacy a little bit.
Unfortunately, the pair split amicably in 2018, and along with their onscreen love, their offscreen relation came to rest too. However, for fans who were heartbroken by their separation, atleast the ex-lovebirds left an onscreen memoir for days to come.
Age, Family
As per the official records, Cameron's birthdate is 17th October 1981. She grew up in her hometown of Illinois, Chicago. When she came out as a lesbian at the age of 20, her mother remained supportive. However,
Her family remained supportive even after she disclosed her lesbian sexuality at the age of 20. Her father had a hard time coming to terms with his daughter's sexuality as he was raised as a Catholic. Later, the whole family, including Cameron's father, let go of the taboo mindset and accepted her as a lesbian,
Likewise, the comedian also has two sisters in her family. One of her sister named Allyson Esposito is the director of the Cultural Grants Program for Chicago's Department of Cultural Affairs.
Net Worth, Charity
A comedian in the US earns in average about $40,000, and it appears Cameron is doing well financially. Although her net worth isn't known yet, she helped to raise a considerable amount of money for humanitarian causes through her work.
In 2018, she released a standup special called "Rape Jokes" on her self-titled website. She also urged her viewers to donate money to Rape, Abuse & Incest National Network (RAINN) - US' largest anti-sexual violence organization.
Sexual Violence On Partner:- Hilary Duff's Ex-Husband Mike Comrie Involved In Sexual Assault Investigation
While many comedians are boosting their net worth selling their standup shows for millions of dollars, the actress move comes as a very selfless and inspiring one. Also, she has been portraying the girlfriend of a lesbian character in hit show Brooklyn Nine-Nine, so she's probably receiving impressive paychecks for her appearance.