Entertainment
Model Cameron Russell Shows Perfect Life Example With Boyfriend/ Partner; TED Motivator's Family Goal
American supermodel Cameron Russell's claim to fame might be modeling, but she got more eyes after being criticized for the modeling industry's drawbacks. Being the model for more than a decade, she credits her road to modeling to her gene rather than sheer talent, quoting herself as a "genetic lottery winner."
Well, for the one who taught the world a different version of beauty, Cameron has found beauty in her life with her lover and child. She is a proud mom who has been romantically involved with her child's father for a long time now.
"Genetic Lottery Winner" Met Boyfriend As "Equals"; Blessed With Baby
Cameron Russell, who has appeared in ad campaigns for brands like Ann Taylor, has a life as a perfect example of a perfect relationship and family life. Cameron is dating Damani Baker, a cinematographer.
They have been together for a few years. Unlike many public figures, Cameron has remained public about her relationship letting her fans and followers in on her private life.
You May Also Like: Nick Vujicic Family Prospering With Wife Despite Hindrances! Limbless Preacher Personal Life
However, when she first met and fell in love with Damani is still a mystery as they have been seen together for a long time now. Cameron often posts pictures relating to her relationship with Damani on her social media. Talking to independent, i.e., in July 2016, the model recalled,
"We met after I wrote a short script for a climate change video. We worked together on that as a creative project and met each other as equals."
Their picture together dates back to December 2013. Back then, she posted a picture in ski suits with helmets beside Damani. The caption on the picture reveals that Damani got back on those slopes after a 12-year break. The caption read as,
"@damanibaker gets me back on they slopes after a 12 year break :p"
Moreover, back in October 2014, she posted a picture that revealed Damini being her "boo." In the picture, they both sat alongside each other and had all smiles on their face. The caption on the picture revealed them being romantically involved. Cameron wrote,
"That's my boo too @damanibaker"
Adding to their public display of affection, Cameron also posted a picture on her boyfriend's social media wishing him on his birthday. In the picture, Cameron planted a sweet kiss on her partner's cheek.
Well, they sure seem like a perfect couple for each other. However, as far as the report goes, the pair has not made any vows yet. Moreover, there has not been any talk about tying the nuptial knot.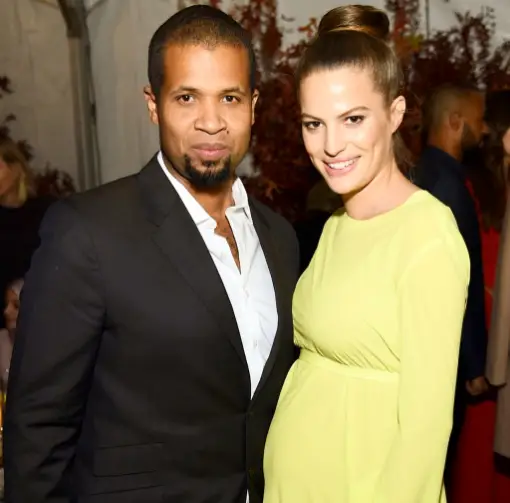 Cameron Russell showing off baby bump with boyfriend, Damani Baker. (Photo: Cameron Russell's Instagram)
However, despite their marital status, the couple is blessed with a baby. Cameron recently gave birth to her first baby in March 2018. Cameron first posted the picture of her kid on 8 March and named her Asa Baker Russell.
TED Talk Motivator; Defying Modeling Industry
Cameron Russell, whose net worth is still a mystery, has also motivated a lot of her admirers through a speech at TED talk. She stood in front of the people and the camera and spoke how a look could say so much about someone.
But those looks are all only because those people are genetically blessed, and the looks are not everything. Adding to it, she even gave a pep talk to her young admirers aspiring to be a model like her. She motivated them to become something more than just a model, and there's hardly any truth in the pictures that portray the modeling world.
Moreover, she even made a revolt against sexual harassment that takes place everywhere daily. She focused much on sexual harassment in the modeling world and encouraged her followers on Instagram to send her a direct message if they have ever come forth with such situations.
Cameron took a baby step and posted the screenshot of the messages anonymously on her Instagram while raising voices against sexual harassment along with awareness against it.
Stands Against Family Separation, Supports For Abortion
Apart from her voice against sexual harassment, she has been pouring all her support for the families that are separated and detained. Cameron has been trying her best to end the separation of families that the U.S government has been doing for a long time.
See Also: American Journalist Emily Bazelon, A Rising Voice On Abortion and Bullying, Juggles Between Her Work and Personal Life
Cameron has also been promoting to raise the donations for the campaign to reunify families separated by the Trump Administration. The campaign Families Belong Together is a coalition of different organizations raising funds for family reunification after the detention.
She even took serious steps to nurse infants in front of government buildings to stand against the matter.
Adding to it, she even showed her support for the allowance of abortion. She stood for free access to abortion for women who need it under the age of 45.