Entertainment
Cancer Survivor Clare Balding: Married to Her Lesbian Girlfriend Of 14 Years, Where is She Now?
Cancer is a life taking disease when it not cured properly in its initial stage.It sees no age, no color, no class when it attacks the individual.It takes a lot of courage to stand against it and fight against it till the end. The television presenter Clare Balding was too caught by the ill-fated disease when she took the heroic stand and fought against it and accordingly married to her lesbian girlfriend.
At present, we shall learn about her ironic stand against the life-threatening disease, her marriage with her lesbian partner and about her current whereabout.
Married to her long time Lesbian Girlfriend!
Clare Balding entered into a civil partnership with Alice Arnold, the announcer, and newsreader at BBC Radio 4 in September 2006.
As posted by Hellomagzine.com on 4th April 2005, the duo entered into the sacred relationship after being involved in 14 years of relationship.
Caption: Clare and Alice at Chiswick House at the reception for the Civil Partnership in 2009.
Source: hellomagazine.com
The lady had not revealed the period or the dating events of their relationship before they entered into the civil partnership. When talking about the civil partnership Clare said:
"We didn't have a big party at all actually,nobody came apart from us."
However, she converted her civil partnership into an official marriage when gay marriage was legalized in the UK. On April 2015, in a private ceremony where the duo invited few of their few friends from their field.
As posted by dailymail.com.uk on 4th April 2015, she expressed her happiness after getting recognition for her marriage. She said:
"Alice and I are very, very happy and we go to a lot of things together. We are conscious of the responsibility we have as a high-profile gay couple and are quite happy to embrace it."
Well, even though previously the lady was criticized by her grandmother for being lesbian but currently she is seen enjoying her married life with her partner. The couple in their recent anniversary was spotted together enjoying a fresco lunch before heading towards their residence Chiswick, London.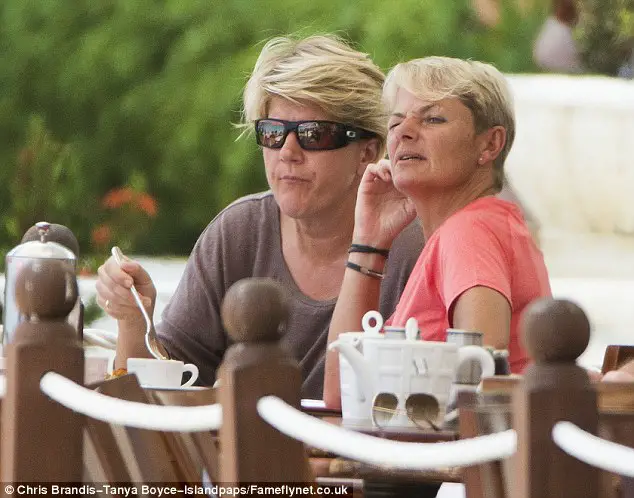 Caption: Clare with Alice enjoying fresco lunch to Barbados in 2016.
Source: dailymail.co.uk
After all, they make a good pair. Although she struggled for her rights along with her wife for few years, the effort was worth it. The duo is still together and is enjoying their happily married life together. 
There is no rumor of splitting off or divorce neither there will be any such kind of situation as both the lady has faced tumultuous years along with constant criticism.
Get to know about her huge fight with cancer?
Clare was diagnosed with the thyroid cancer in the year 2009 although she had discovered it in the year 2008.
As posted by dailymail.co.uk on 1st December 2013, the lady had noticed a lump in her throat while watching television. On an interview with BBC Radio 4's Desert Island Disc, she expressed her anxiety when she discovered it. She said:
"I was terrible. I couldn't take it in. I was pretty hopeless. I pretended it wasn't happening.'
When she broke the news to her partner, it both had created an emotional situation for both of them. She said:
'We sat and cried while Alice kept saying to me,about "What did the doctors say?" and I couldn't remember, so she ended up coming to every consultation with me.'
The anchor removed the lump from her throat in the month of August, where the doctor completely drained the lump. The lady immediately rejoined her work after the surgery, but the lady got a green signal of full recovery in the early days of 2011.
Where is she now and what is she doing?
The lady in the year 2015, was spotted spending a day at Saints Foundation after she agreed to become an ambassador of clubs official charity.
Caption: Clare Balding visits Saints Foundation on 2nd October 2015.
Similarly, the television presenter is currently rumored to be working on Channel 4's show Great British Bake Off.
As posted by tv.bt.com on 12th October 2016, the report of Balding replacing the television presenter Merry Berry and Sue Perkins.
The lady on an interview at ITV's Lorraine with  Lorraine Kelly expressed her excitement.She said:
"No. I'm very flattered because it's such a wonderful show and I love watching it but I really can't cook, I seriously can't cook."
Well, this means we shall be soon seeing Clare in Channel 4 in one of the cooking show where the reporter shall host the cooking show with some of the best recipes in hand.