Entertainment
Candice Patton: Dating Affair, Boyfriend Only Exist On Screen?
The beautiful actress, Candice Patton is a familiar name for "The Flash" fans, and there may be no need for words to describe Candice Patton's works. However, her dating life might require having a thorough look at since Patton has kept it hidden.
Well, if you are still wondering about what's hidden behind the Patton's off-screen life, keep on reading till the end!
Candice Patton's Love: Confined Only To On-Screen?
Candice Patton exchanged her vows and married Grant Gustin at the church in 2017 wearing a beautiful white dress. All of it sounded too good to be true!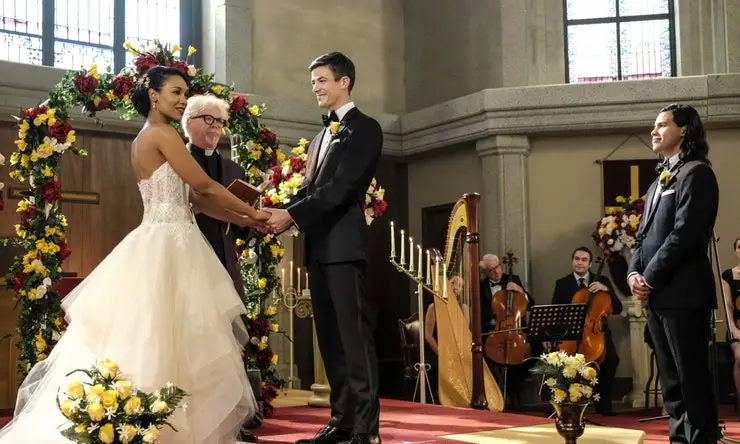 Candice Patton and Grant Gustin at their on-screen wedding (bustle.com)
However, all of the Patton's wedding moments was the excerpt from the "Supergirl" crossover where Barry Allen (Grant Gustin) tied the knot with Iris West (Candice Patton). Patton even expressed that their wedding was probably the wedding of the century, as the fans waited for it for three years long.
"It's been a long time coming. Fans have been waiting for three years.  [Barry and Iris] had other partners, relationships, trials, tribulations, so I think it's time. Season 4 is a good time for them to make it all happen. The wedding of the century, essentially."
The beautiful actress, Patton, who stands at the height of 5'4" (1.63 m), escalated her on-screen love to the wedding in January 2015. 
However, when it comes to her real life, Candice Patton is not as forthright as her on-screen life. She has kept her private life details fairly hidden which makes it hard to pinpoint anyone as Patton's boyfriend; let alone figuring out if she is possibly married keeping her married life with her husband a secret.  
Well, everybody has the choice whether or not to reveal their personal details and Patton is no different. So, it will be appropriate to wait for the actress, herself to come forward with the information shortly. 
Candice Patton's Short Bio: 
The 29 years old, Candice Patton was born on June 24, 1988, in Jackson, Mississippi and raised in Plano. Her parents are pretty much her inspiration, and she still looks up to her dad. Back in 2013, while wishing her father on her fathers day, Candice shared a major throwback picture, with her father, Paul Patton, thanking him for being her protector and provider.
Moreover, she seems to have inherited the beautiful looks from her mother, Arianna Jackson who is as beautiful as Candice is.
Additionally, apart from her parents, Patton also has somebody who she looks up to; her theatre professor, from Plano East High School, who helped her in building an acting career.
With the passion for the acting career, Patton made a debut in acting world from the CBS series "The Young and the Restless" (2004-2005). Patton further landed roles on the TV series like "The Bold and the Beautiful," "Sorority Forever" but she portrayed her most acclaimed role of Iris West in the TV series "The Flash" (2014).
Moreover, the stunning actress who possesses mixed ethnicity was ranked as No. 61 in the Maxim Hot 100 List in 2015.