Entertainment
Carl Reiner, 95, Not Dead! Alive; "Way Too Busy To Die"
Whenever the internet comes to death rumors, it spreads more than a wildfire does! As obvious as it seems, celebrities surely would not be safe from such death hoaxes.
Well, legendary actor, comedian, and director in Hollywood, Carl Reiner is also the frequently seen name in the list of such death rumors. But despite being rumored to be dead, Carl Reiner has his own way of waking the audience by letting them know he is still alive.
So if you are wondering, what Carl Reiner does to prove that he is just a victim of false death rumors? Follow us down below for the answers.
Carl Reiner Not Dead; Still Doing Remarkable Works!
Legendary Carl Reiner is the man whose talent runs to everything; acting, comedy, directing; and guess what, the legend is in the age of retirements, 95 to be exact!
For the one whose famed show, Dick Van Dyke Show, itself has turned to be more than 55 years mark, Carl Reiner's age can be a miracle feat for many. No wonder, his age would summon death rumors along; however, evidence has it that the legendary personality, Carl Reiner is not dead!
One of such affirmation would be the latest tweet, which Reiner posted on 10th January 2018, where he lays it out that he is enjoying his rolled rice, chopped meat, and grape-leaf dinner.
I am wishfully thinking that while I'm having my rolled rice & chopped meat, grape-leaf dinner, I will see on my big screen TV that Trump's reasons to resign or be impeached will reach its' apex & he & staff will start packing.

— carl reiner (@carlreiner) January 11, 2018
Similarly, Reiner also made his online presence in December 2017, by tweeting about Rose Marie's death who was one of the casts of Reiner's show "Dick Van Dyke Show."
I was so sad to learn of the passing of Rosemarie. There's never been a more engaging & multi-talented performer. In a span of 90 years, since she was four, dear Rosie performed on radio, in vaudeville, night clubs, films, TV, & Vegas & always had audiences clamoring for "more!!"

— carl reiner (@carlreiner) December 29, 2017
Not only tweets, but Reiner is also contributing his skills, doing amazing works despite his age. The nine-time Emmy Award winner, Carl Reiner, recently re-aired his show "Dick Van Dyke Show" named as "The Dick Van Dyke Show- Now in Living Color!" featuring two episodes in colors which broadcasted on December 22 last year. Reiner personally chose the episodes "My Blond-Haired Brunette" and "October Eve" for the CBS one-hour special show.
He even went to the records to talk about coloring his show, when asked, 'how the idea came together for creating "The Dick Van Dyke Show – Now In Living Color!?' Carl answered,
"Whoever got the idea wasn't me, but I thought it was a great idea. During the course of the show, at one point they said we can go to color. All of us got together and said, "How much will it cost?" We all decided against it because we wouldn't have gotten profits for years. We were wrong. Now we finally see it in color and it looks sensational."
Furthermore, he even published his recent book called "Way Too Busy to Die" in 2017. Considering his works at old age, Reiner is full of energy and expecting to lengthen his old days, enough to see the new President in America after Trump.
In an interview with Guardian, Reiner expressed that he has the desire to witness either a lady or a Jewish president,
"I need to see a woman president in my lifetime. Or the first Jewish president."
That's not the end of Reiner's expectations! Reiner is also working on a new book called Approaching 96 which he revealed in his interview with Vanity. He expressed,
I was ready to accept that 72 was the age that I was going to go out! [Laughs] But now here I am approaching 96 . . . and with a new book titled Approaching 96!
For the man who is vibrant in his old age, Carl Reiner has already experienced the tragic incident of losing his wife. He lost his wife, Estelle Lebost on October 25, 2008, who was 94 years of age at the time.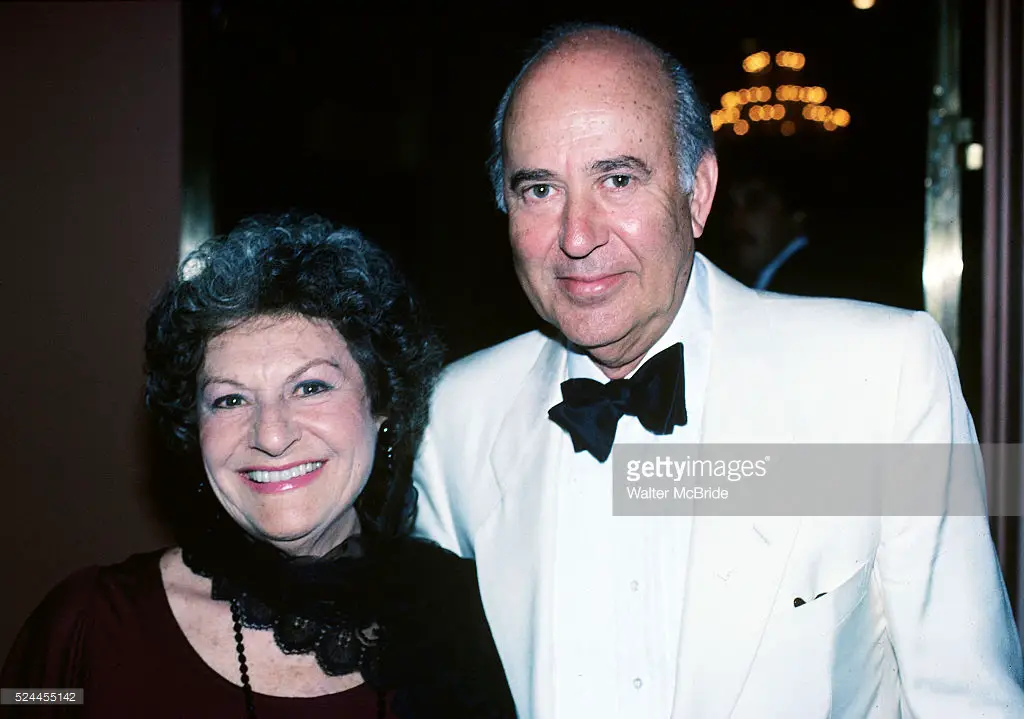 Carl Reiner, with his late wife, Estella Lebost (Gettyimages)
Married on December 24, 1943, Reiner embraced 64 years of marriage with his wife, Estelle and shared three children; Rob Reiner, Sylvia Ann Reiner, and Lucas Reiner.
Moving from his married life to career, Reiner debuted in the entertainment world from the TV series "The Fashion Story" (1948). Reiner, whose career's age itself is around seven decades, has delivered many praiseworthy works in projects like "The Dick Van Dyke Show," "Ocean's Eleven," "The Jerk" and "Ocean's Thirteen." His long and superb career awarded him not only with the net worth of $70 million but also with nine Emmy Awards, one Grammy Award and Mark Twain Prize for American Humor(2000).