Entertainment
Carol Burnett Still Alive! This Is How Golden Globe Awards Honors Her Legacy
Legendary comedian, Carol Burnett had won the hearts and smiles of millions of people throughout her career of over six decades...But her absence in the comedy genre in the last few years had many suspecting whether Carol was still alive or dead in a low-key death event...As it turns out, the performer is in good health and living happily with her husband and family...Further, she is recently honored with the greatest achievement of her life, a Golden Globe Award established in her name... Awards,still alive,husband,spouse,children,net worth,age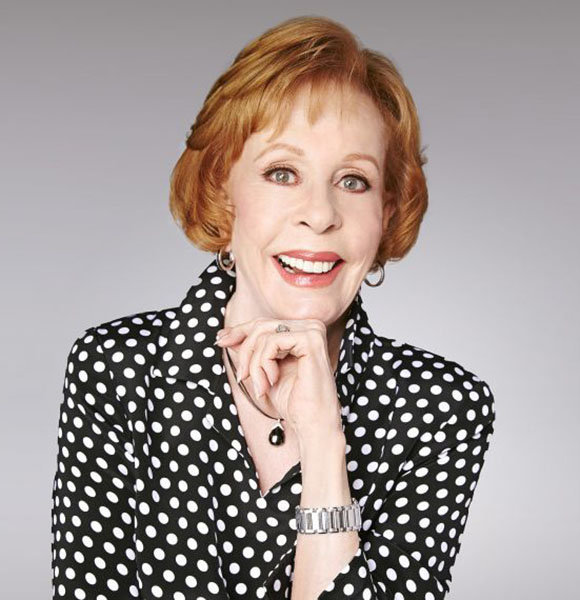 Legendary comedian, Carol Burnett won the hearts of millions throughout her career of over six decades. But, her absence in the comedy genre in the last few years made many confuse whether Carol was still alive or dead.
As it turns out, the performer is still alive. Her well-being came to the limelight as she got honored for her dedication by the Golden Globe Award in the best way possible. 
Still Alive, Recipient Of First-Of-Its-Kind Golden Globe Award
Appearing in 2019's 76th Golden Globe Awards, Carol Burnett not only proved she is still alive but also made it clear that hard work always pays off well.
The program held on Sunday, 6 January 2019 honored Carol with its first ever award; an award on Carol's name called the Carol Burnett Award. The award, a first of its kind, will continue in the coming years and will be given to a person making contributions to the Television; whether on or off the TV screen.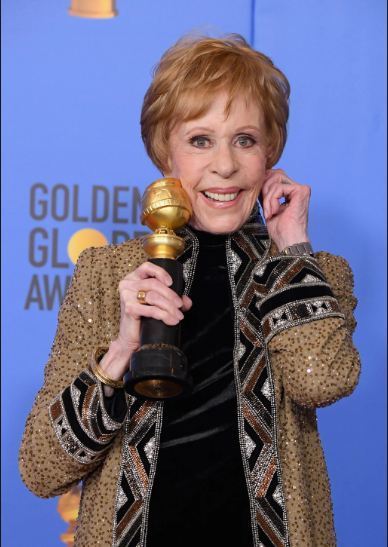 Carol poses with the first Carol Burnett Award at the Golden Globe Awards on 6 January 2019 (Photo: Popsugar.com)
The artist received her honorary award with a heart-melting and inspiring speech. She expressed her gratitude toward the opportunities that laid bare in front of her and the people, who supported her to grasp what she dreamt. 
"I realize how incredibly fortunate I was to be there at the right time. All those who made my dreams come true and to all those out there who share the love I have for television and who yearn to be part of this unique medium who has been so good to me. I'm just happy our show happened when it did and I can look back and say once more, I'm so glad we had this time together."
Carol, who ages 85 and is soon to celebrate her 86th birthday on 26th April, became the heartthrob of America when she starred in the CBS' variety show, The Carol Burnett Show. The series became a significant win for both CBS and Carol as it received nearly 25 Emmy Awards and eight Golden Globes during its 11-season run.
Further, the comedian personally won recognitions including People's Choice Awards, the Screen Actors Guild's Lifetime Achievement Award, the Mark Twain Prize, and more.
See Also:- Teen Choice Awards 2018 | Winners List of Movies and TV Shows
Carol even had numerous foundations and scholarship programs established in her name like the Carol Burnett Musical Theater Competition, the Carol Burnett Fund for Responsible Journalism, the Carol Burnett Scholarship, and the Carol Burnett Award for the Performing Arts. 
The Texas native, who proclaims a net worth of $25 million, also made good use of her money by establishing a charitable organization called the Carrie Hamilton Foundation in the memory of her deceased daughter.
Living Healthy Life With Husband, Previous Marriages And Children 
Not only is Carol still alive but she is living a lovely married life with her husband of years, Brian Miller with sound health.
Carol, who is 23 years older than her husband, married the Hollywood Bowl Orchestra drummer in 2001; after dating for nearly three years. Talking about the age gap between the beaus, Carol once said to People Magazine,
"He's funny and not easily intimidated. As we get older, the gap between our ages narrows. If you were 40 and married a 20-year-old, I don't think you could communicate like [we do]."
The comic legend currently resides with her spouse in the couple's home located in Santa Barbara, California. Although the pair never gave birth to any children, Carol mothered three children of her previous marriage.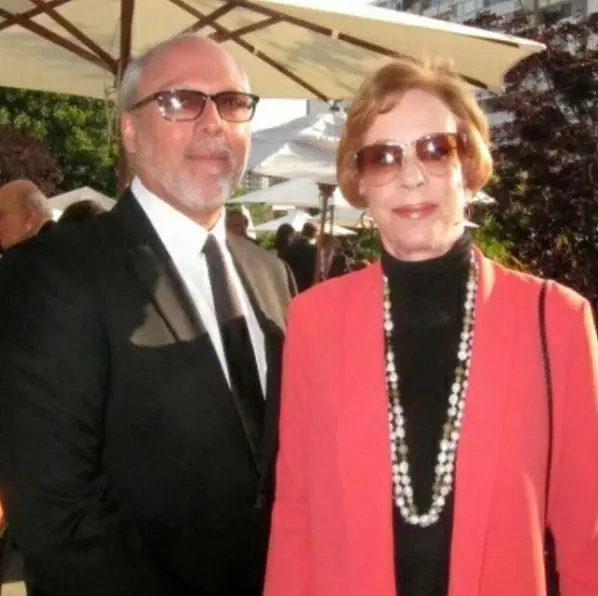 Carol Burnett with husband, Brian Miller, at a social event in 2016 (Photo: Carol Burnett's Instagram)
Before marrying Brian, Carol was married twice. She first got married to her college sweetheart Don Saroyan on 15 December 1955. Her first spouse was an actor; famous for movies like Blast of Silence, Decoy, and Cuban Rebel Girls. The couple later parted their ways with a divorce in 1962.
Don't Miss:- Emilie Ullerup Is Married, Explicit Bio Reveals All There Is - Age, Height, More
One year after her divorce, Carol tied the wedding knot with the TV producer, Joe Hamilton on 4 May 1963. Together, the pair shared three children before getting divorced in 1984. The couple's children were named Carrie, Erin, and Jodi. Unfortunately, Carol's eldest daughter, Carrie Hamilton, died of cancer in 2002, at the age of 38.