Becoming a famous social media personality is the dream job of millions of people all over the world. However, it is a harsh industry to crack. But, YouTuber Carter Sharer has proven that if you stick with it, you will eventually taste success.
Throughout his career as an internet sensation, he has made numerous videos that have gone viral and received millions of views. Some of his famous clips include Scuba Diving in Pond for Treasure, RC Car Drives on Pool, and many others.
Carter Sharer's Bio; Family Details
Carter, age 25, is an American by Nationality. A Virginia native, the YouTuber's date of birth is revealed as 23 October 1993.
He grew up in the Sharer household alongside his two siblings; a brother named Stephen Sharer and a sister named Grace. Following steps of their brother, Stephen and Grace are also YouTube personalities.
Getting Married Soon:- Lucie Fink Bio, Boyfriend, Wedding, Parents
While he has chosen a career as an internet personality, Carter is also an intellect. He attended Carnegie Mellon University to pursue studies in the field of robotics, automation engineering, and mechatronics.
Girlfriend Talks, Married Or Single?
It's no forbidden knowledge that Carter is in a relationship with a fellow YouTuber named Lizzy Sharer. His girlfriend is originally from Washington, D.C and her real name is Elizabeth Chang.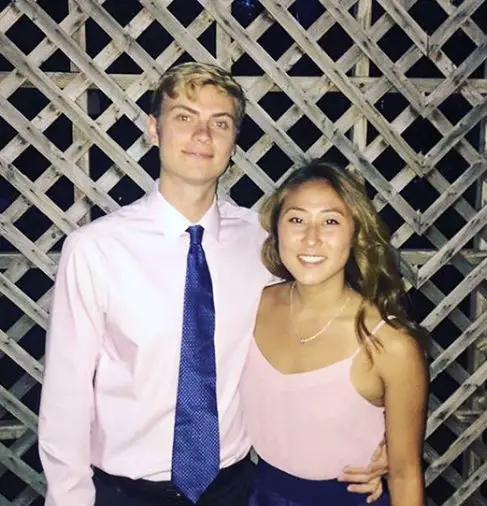 Carter Sharer pose for a Photo with Lizzy Sharer on 3rd of June 2019 (Photo: Lizzy Sharer's Instagram)
Back in November of 2018, Lizzy planned to ask Carter if he wanted to be her boyfriend, but things didn't go as she expected. Carter hid behind the door while his friend told Lizzy that he wasn't home. However, Lizzy found out the truth.
The couple has been officially dating ever since then. It took the pair six years to step into a relationship. So, it would not be wrong to assume that fans will have to wait a few years before the couple gets married.
YouTuber's Net Worth
Carter is one of the OG vloggers of YouTube. He created his self-titled YouTube channel on 24 September 2009 and has been active ever since. His first video was a vlog titled "My First Vlog- (Carter Sharer)" in which he introduced himself.
Soon after he uploaded a science experiment video, where he and his brother exploded soda bottles by dropping them on Ninja Weapons. The video soon went viral and added flame to boost the youngster's fame.
Younger YouTuber:- JoJo Siwa Background, Parents, House, Age
As of 2019, he has garnered almost 5 million subscribers on his channel. His girlfriend has had similar levels of success; she has 3.5 million fan-following on the platform. Just from his channel's ad revenue alone, the star earns anywhere from 180.5K - $2.9M per year.
With the considerable audience base by his side, the YouTuber has also launched his online store CarterSharer.com, where he sells his merch.