Entertainment
CeeLo Green Engaged with Longtime Girlfriend- Are They Still Together?
First and foremost, congratulations to CeeLo Green! This songwriter, actor, businessman, record producer, and singer is engaged to the love of his life and girlfriend. So at least some couple in Hollywood is together.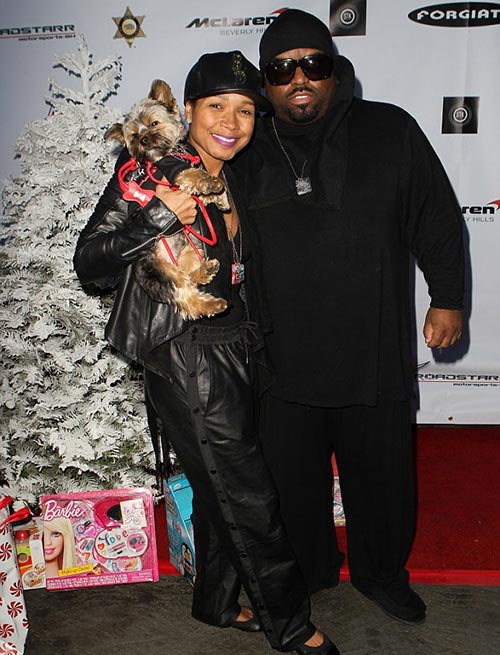 Caption: The couple attended a Toys for Tots event in December 2014, where girlfriend Shani wore an engagement ring on her finger.
Source: dailymail.co.uk
In gist, Green is engaged to his long-term girlfriend, Shani James. CeeLo Green has revealed that he was engaged to James in 2014.
Whenever Cee-lo Green was filming for "Work" in his new album "Heart Blanche," which was released in 2015, he decided to share details of this news with the PEOPLE.  Green recalled the moment and couldn't help blushing with his girlfriend James by his side.
"It was just a typical night at the studio, but then again, not so typical cause I did something extra special, out of the ordinary," Green, 41, told PEOPLE.
"I went and purchased a ring that we had seen together, maybe four or five months or so prior. I went back and purchased the ring and I just kind of had it stashed away in some old equipment. And I said, 'Will you reach in there and grab something for me?'
Green had something special waiting for his girlfriend. James was surprised and couldn't believe her eyes; after all, she was purposed.
"It was the most beautiful diamond ring I had ever seen in my life. It was lit up by a light," said James. "I said, 'What is that?' He just looked at me and said, 'Well...?' And I was just like 'Oh my goodness.'
She added, "I said, 'Babe, I can't believe it.' He said, 'You've been such a good woman. You're a such and amazing person. You're my life partner. You're my best friend. I want to share the rest of my life with you.'"
Caption: Celeb TV about CeeLo Green being engaged.
And they let the world know through PEOPLE:
"Truth be told, it's not something we wanted to promote," said the singer. "We're a collective power together because our private life is sacred. But you know what, though, maybe it's time. Maybe it is time for the world to know that I have a very secure situation and a loving woman supporting me the entire way." Well this proves he is not a gay, at least !
Green is an American singer, songwriter, record producer, rapper, actor, and entrepreneur. He is also a former judge of 'The Voice.'
He has a net worth of $22 million which he will be sharing with his to be a married wife and former girlfriend, Shani James. Cee-lo Green resides in a $3.295 million house paying $10,000 per month.
CeeLo says in a video that he is "alive and well" after a video leaked online appeared to show him being knocked out in the cold by an exploding cell phone.
The "Forget You" hitmaker said on December 18, 2016, that the video people had seen earlier in the day was a clip from a music video he was shooting. He said in a video posted to Facebook:
"Truthfully, I'm really upset that anybody had to be emotionally disturbed by what they saw today. I'm OK. And I just want to thank everybody for their love and concern."
It seems he did not appear to be hurt in the live stream but does not make sure if he staged the exploding phone. The cell phone emitted smoke after looking to ignite next to his face. Moreover, he added:
"I want to thank everyone for their love and support and concern. I've had a difficult day dealing with everything."
Green said the leaked footage was filmed for a new music video as the video circulated on social media earlier on December 17 and depicted the 42-year-old artist falling out of his chair and lying cold on the ground before cutting out.
A Short Bio of Thomas
Thomas DeCarlo Callaway was born in Atlanta, Georgia, on May 30, 1974. He graduated from Riverside Military Academy in Gainesville, Georgia. Green is an American singer, songwriter, record producer, rapper, actor, and entrepreneur.
But Green is best known for his soul work; most favorites were "Crazy" by Gnarls Barkley, which was released in 2006 and reached number 1 in various charts all over the globe. He is a five-time Grammy winner.
Stay with us for more updates.