The coming out story of actor Chad Allen is no short of an actual Hollywood flick.
In 1996, then-21-year-old Chad came out as a gay man after his management received a heads-up about a potentially damaging story involving his sexuality. His former lover had sold pictures of them kissing by a pool to a US tabloid.
Until the said magazine ran with the story, the world at large was oblivious to his sexual preferences. 
Devastated at first, Chad - with aid from his team - quickly went into action. A brief consultation with friends and family followed. Getting ahead of the curve, he then acknowledged his gay identity.
In the years since then, the Our House actor turned himself into a towering LGBTQ figure. A regular face on The Advocate, his coming out story inspired many. 
Gay Actor's Partners & Dating Affairs
For as long as Chad's memory could serve him, he was always into guys. His teenage years saw him maintain a low-key affair with partners of the same sex.
Notable Gay Figure In Hollywood:- Peter Paige Gay, Boyfriend, Net Worth, Family
Never the one to openly boast his dating life, the former child star was in his 30s when he ignited a first-ever public romance with actor Jeremy Glazer.
Beginning in November 2006, Chad and his once-partner Jeremy's love affair lasted for about nine years. While still dating each other, the former openly gay lovebirds led a public life, attending award ceremonies together.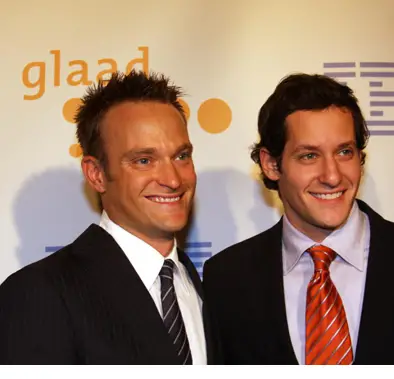 Chad Allen with his former-boyfriend Jeremy Glazer at the 2009 GLADD red carpet (Photo:- sanfranciscosentinel.com)
Following his split from Jeremy in 2015, the Not My Kid actor's dating life was never the same. In that, it wasn't worthy of a headline.
Net Worth - Movies & TV Shows
The same year that Chad broke things off with Jeremy, he announced his retirement from acting. Via YouTube, he cited education and shift in career trajectory as the reasons.
For what it was worth, the Save Me star's three-decade-long run in Hollywood was mostly fruitful. As an actor, he netted over $6 million in net worth.
Chad's acting journey commenced at age nine as he starred on NBC series St. Elsewhere. Landing his skillsets, he then earned industry credits through his performances on TV Shows such as Our House, My Two Dads, Dr. Quinn, Medicine Woman, and General Hospital: Night Shift.
Husband Of Former Co-Star:- Jim Toth Bio: Net Worth, Age, Family Life With Reese Witherspoon And More
Over to the big screen, he gets best recognized for roles on TV movies including The Bad Seed, Camp Cucamonga and Murder in New Hampshire: The Pamela Wojas Smart Story.
Bio Unveils Age, Family & Height
Chad was born in the year 1974 into a strict Catholic family. Both of his parents are very accepting of his life choices. A native of California, he has two biological siblings - twin sister Charity and brother Steve.
Belonging primarily to Italian and German heritage, the 45-year-old stands five feet and seven inches (1.7 m) in height.
Now a clinical psychologist, Chad is a graduate of the St. John Bosco High School.