Entertainment
Awesome Chef Rocco DiSprito's Weight Loss Campaign: New Diet Plan, Also Find Married Life, Wife or Girlfriend!
Surrounded by fragrant smell, mouth watering food and getting paid for tasting and making those breathtaking food is just the day to day life of high profile chef. Similar is the ritual of great Chef Rocco DiSprito, who has recently launched a weight loss campaign and has introduced the new diet plan to keep his customer healthy, fit and updated from all the aspect.
Today we shall learn about his weight loss campaign along with the adequacy of his introduced diet plan and personal background for his good-wishers and his food lovers.
Know about his weight loss campaign:
Tasting food at your restaurant kitchen, tasting alcohol before including them in a menu are some inconvenience which had added an extra layer of pounds in the weight of chef Rocco DiSprito as posted by Bravo tv.co on 22nd July 2016, he said:
"I have six to eight meals every day, I'm on what's called metabolic fasting. It's funny, people think if you eat less you lose weight, but it's actually not true at all. If you eat good, whole foods, the more you eat the faster your metabolism works."
As posted by dailymail.co.uk on 2nd January 2014, the chef before entering into weight loss campaign and looking 41lbs, had a weight of 226lbs, causing an uproar in his blood pressure level and cholesterol. The unhealthy weight of the star did not only affected his health but also affected his sex life. He said:
"My sex wasn't as good as it should be. I went to the doctors and he was like,Well you're about 40lbs overweight"'
 
To overcome the situation he started to have a healthy diet where he reduced the size of his food portion along with intense work out twice day. Removing the title of a fat chef with flat feet and crooked spine the celeb lost few kilos of 10lbs which encouraged his lose weight every year making him loose 30lbs completing a 70.3 mile-long Ironman.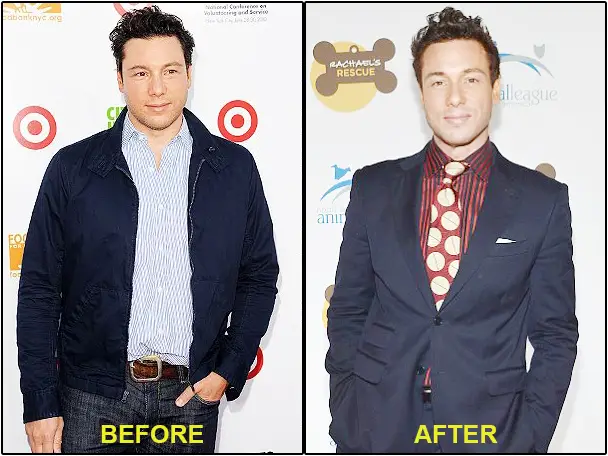 Caption: Chef (right) before shredding weight, (left) after an intensive workout.
Source: liverampup.com
Currently, the chef has managed to maintain a healthy physique with a reformed diet plan inclusive of healthy foods.
New Diet Plan for Weight Loss:
Well, the cooking master just to keep the health check of his foodie fans launched a book "The Pound A Day Diet" in the year 2014, just after his weight check. The book includes all his dietary plans which he used to shred his weight. The book comprises of his plan including a healthy breakfast tip of grapefruit with salmon teriyaki, 10egg white with reduced fat cheddar cheese.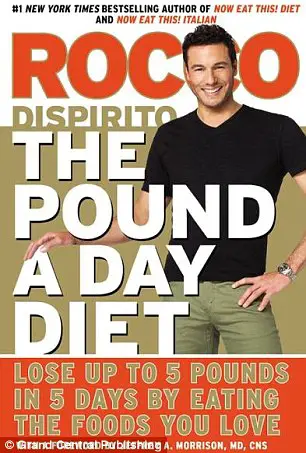 Caption:"The Pound a Day Diet" book written by Chef Rocco DiSprito in 2014
Source: dailymail.co.uk
The book attracted both the positive review as well as negative review making it the New York Times Best Seller for the year making the celeb the most desired health doctor.
Similarly, his second book "The Negative Calorie Diet"(2015) urged the food lovers to eat ten foods that are of negative calorie. As posted by Chewfo.com on 21st February 2016, the book contains the exercise suggestions,goal-setting, guidelines for eating out and on the go, meal plans, and another healthy recipe. It includes all the negative calorie diet plan of what to eat and what to avoid.
Caption: Second book of Chef Rocco"The Negative Calorie Diet" in 2015.
Source:chewfo.com
On an interview posted by Fox News.Com on 5th January 2016, the celebrity chef has mentioned the book to be his 12th publication which allows the food lover to eat delicious food by losing weights.
Caption: The star celeb speaks about do's and does not's while picking a right food on January 15, 2016.
Well, Chef Rocco is leaving no stone unturned to make his fans and followers be healthy and stay fit while having delicious food through his impressive menu.
Know about his Personal Life: Girlfriend, Dating or Married?
Well, the star is reported to be single. However, while going through his dating history, we found out the series of women he had dated in the past before being single.
The celeb Chef Rocco DiSprito was said to have dated Tracey Edmond, CEO of Edmonds Entertainment since the year 2008. Even though the chef has not disclosed anything about his dating period, he was frequently seen with the lady in plenty of events and spotted together in various functions.
As posted by eonline.com on 25th February 2008, the duo was spotted together at the Mercedes-Benz's Oscar viewing party at the Four Seasons in Beverly Hills.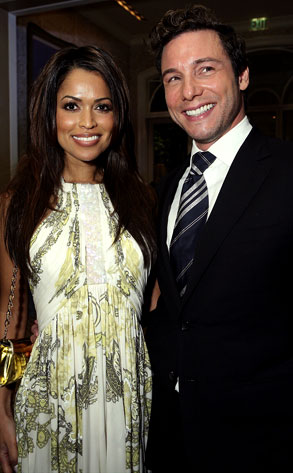 Caption: Chef Rocco with Tracey Edmonds at the Mercedes-Benz's Oscar viewing party on24th February 2008.
Source: eonline.com
However, the man has never spoken anything about his relationship with the women. Nor has he made any official statement about it. Therefore, there remains an illusion weather to accept the fact about them dating or to believe that both of them are still dating but is keeping their relationship under shade and out of media attention. Tracey after that relationship with chef Rocco is reported to have dated Deion Sanders.
Simultaneously, the Mastercook was also involved with  Whitney Casey, the CNN host in the year 2006. Some source posted that the man was involved with the women. Although the emerging star has disclosed no dating events, the source confirms him to be in a relationship with the wonderful CNN host.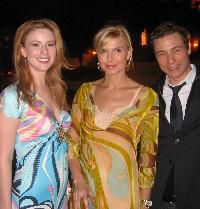 Caption: Chef Rocco(Right) and Whitney Cassey(center) at an event with a friend.
Source:whosdatedwho.com
Well, even though the star has kept his relationship confined, they were spotted at an event together. As he had never disclosed about his relationship with the lady, it's a complete maze for us along with his fan followers whether to take it as a gossip or a fact. While the lady is reported to be married to Jason Sehorn, the American football cornerback.
His Net Worth?
Having the total net worth of $4.5 million, the man needs women and a family to share his increasing and existing net worth. So, let's wait till the man discloses about his marital status. Till then let's be healthy with his nutritious diet tips and with his delicious food recipe.