All You Need to Know about Chris Fischer: Age, Family Affairs, Nationality and much more in Wiki-Like Bio of The Person Dating Amy Schumer. Chris Fischer! A new man in the life of 36-year-old actress and comedian, Amy Schumer. As the new couple got spotted enjoying a romantic candlelit dinner date in New York City last week on November 7, Amy now seems as if she is off the market.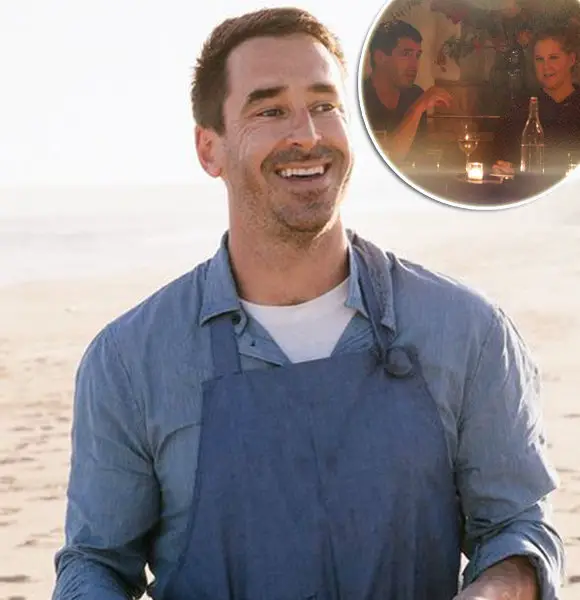 Chris Fischer! A man in the life of 37-year-old actress and comedian, Amy Schumer.
As the couple got spotted enjoying a romantic candlelit dinner date in New York City on 7 November Amy got off the market! 
With the encounter of the new couple and the media, the fans of the Trainwreck star Amy now pine for the facts regarding the love interest of her. So, we have initiated to bring the details of Chris in this few minutes read.
Chris Fischer's Wiki-Like-Bio
Chris belongs to a family of Martha's Vineyard, who has owned the Beetlebung Farm in Chilmark, Massachusetts since 1961. He traces his family's origin there to 1670 and also shares that he grew up on Martha's Vineyard, which makes him a man of American nationality.
Furthermore, he has a sister named Molly Fischer in the family, who is indeed Amy's assistant.
Moving a step ahead from Chris' family background, he is a chef by profession. He runs the Beetlebung Farm purchased by his grandmother. He previously made his name in the food world working as the sous chef at Manhattan restaurant 'Babbo' owned by Mario Batali.
Besides settling people's hunger with his delicious dishes, Chris loves fishing and vesting his thoughts into writings. Well, he also won the coveted James Beard Award 2016 for his cookbook 'Bettlebung Farm Cookbook.' Additionally, he moonlights for Boston University's 'Food & Wine' program as a part-time instructor.
Comedian Dating Hollywood A-list Actress:- Colin Jost Girlfriend, Gay, Affair
Moreover, Chris also has a link to Hollywood as sources report that he met the Food Network superstar through Jake Gyllenhaal resulting in a cameo appearance on 'Inside Amy Schumer' in 2016.
The link has undoubtedly strengthened as he was found to be dating Amy Schumer.
Amy and her beau Chris enjoying their candlelit dinner (Photo: People.com)
The 39-year-age man, Chris is indeed the first man Amy was spotted spending quality time with since her split with her boyfriend of one and a half years, Ben Hanisch. Amy and Ben, a furniture designer, met each other on a dating app around November two years back.
Well, the past life of Chris also includes dating affairs with his girlfriend. Earlier in 2013, he opened up with 'Esquire,' that his bae assisted him on the farm and he dated her for a couple of years.
His words with the lifestyle publication were:
"It's fun when we design menus together."
He further explained:
 "She grows the food, we harvest it together and come up with a concept for the food, and then she prints the menu and I have no idea what it's going to look like. And then it blows me away every time."
People were deeply invested in the relationship of this new couple and waited to see what unfolded in the romance.
Married In Private-Surprise Wedding Ceremony
The two tied the knot in a private ceremony in Malibu on Tuesday, a source confirmed to PEOPLE. Schumer and Fischer exchanged vows in front of about 80 people, including Jennifer Aniston, Jake Gyllenhaal, Jennifer Lawrence, Larry David, and David Spade.
Nearly eight months later the couple got married, Amy got pregnant in October 2018. Shared the exciting baby news on friend Jessica Yellin's Instagram, Amy wrote, 
"I'm pregnant—Amy Schumer"
Amy won't let her pregnancy slow her down. She planned to have an active pregnancy and went forward with boxing class to stay fit.
A busy woman, she even performed live shows joking about her pregnancy. She also made a Netflix special named Growing and dropped it on 19th March 2019 to share her experience as a pregnant woman.
Inside American Comedian's Married life:- John Mulaney Married Life & Net Worth Details; 'Big Mouth' Meet Proudest Wife
Amid her intense schedule, she protested about the appointment of controversial Brett Kavanaugh as US Chief and even got arrested on 4th October 2018. Well, she was released after posting a bail of $50. Interestingly, her baby will have a unique story to tell about how Amy got arrested with him/her inside her womb. 
With big news about her upcoming baby, the comedian dropped another vast information when she revealed about her husband's condition in the sneak peek of her 2019 comedy special. Well, the news was her baby father's diagnosis of the Autism spectrum. 
Amy shared the very symptoms that pointed towards her husband's condition were the reasons she fell in love with him. With a baby coming up, the pair's bond appears to grow stronger, along with support for each other in sickness and in health. 
Baby Bliss
Chris became the happiest man when he held his son for the first time on 5th May 2019. His comedian wife shared the happy news to the world the next day via Instagram.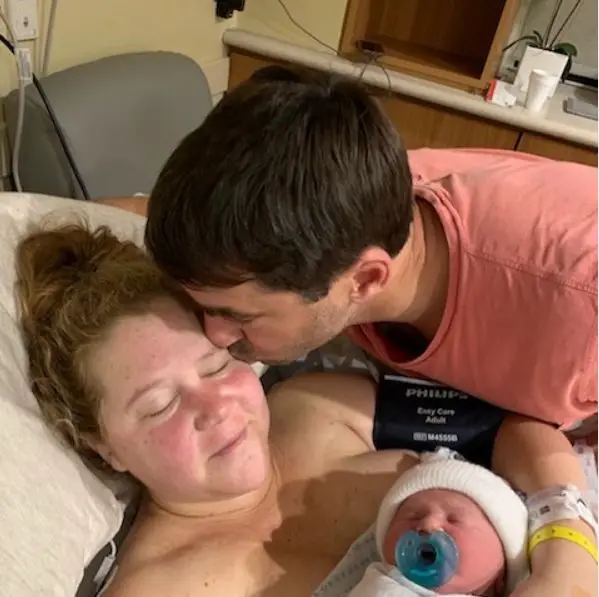 Chris Fisher kisses his wife Amy Schumer while she holds their newborn baby on 7th May 2019 ( Photo: Amy Schumer's Instagram) 
The post featured a cute snap of the chef's family; he was seen kissing his wife while Amy held the baby in her arms. People were going gaga over the cute beanie their child was sporting.
Chris's wife added,
10:55 pm last night. Our royal baby was born.
The comedian took a dig at people melting over the birth of the actual royal baby(6th May 2019) - son of Prince Harry and Meghan Markle. In the past, Amy had joked about her similar due dates with the Duchess of Sussex.
Well, the new reveal post was not the only hilarious one; the ace-comedian posted a photo of her posing on the steps of the Met Gala while on the way to the hospital. It was her funny take on not being able to attend the fashion event while the world was going gaga over the annual fashion event.
Jokes aside, Chris and his wife are yet to reveal the name of their little one.