Entertainment
Chris Hansen, On Cheating Wife: Fired From NBC Due to Extra-Marital Affair
"To Every Action there is an Equal and Opposite Reaction", maybe that is the reason why many people believe in the concept of 'Karma'. Like in the case of Chris Hansen, who as you all know, was in an extra-marital affair scandal. Learn the consequences he and his mistress in crime faced after the scandal.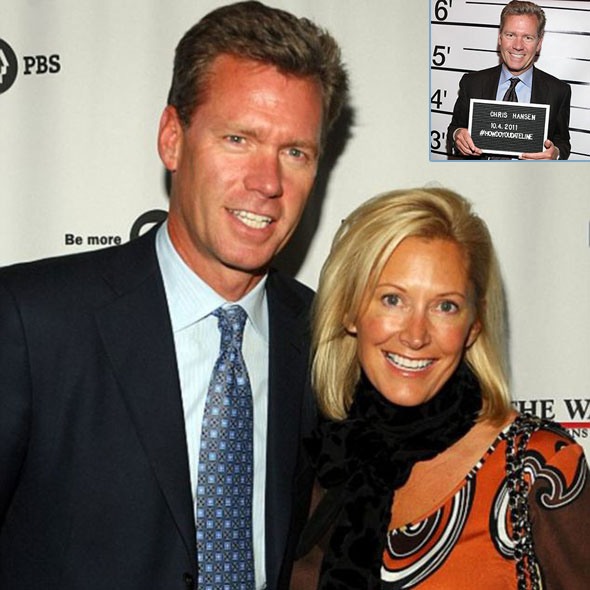 Quick Information
Wedding Date

18 November 1989

Rumors

Kristyn Caddell (Dating)

Instagram

https://www.instagram.com/officialchrishansen/?hl=en

Twitter

https://twitter.com/chrishansen

Eye Color

Brown

Hair Color

Blonde

Height/ How Tall? 6' 2" (1.88 m)
Education

Bachelor in Telecommunications

College

Michigan State University

High School

Brother Rice High School

Career

1981–present

Awards

Emmy Awards, Edward R. Murrow Awards, Clarion awards

Net Worth

$12.5 Million (Estimated)

Gay

No

Date of Birth 1959-09-1
Divorce/Split

Not Yet

Wife/Spouse

Mary Joan Hansen (Filed for divorce)

Relationship Status

Married

Son/s

Chase Hansen & Connor Hansen

Mother

Pat Hansen

Ethnicity/Race

White

Zodiac Sign

Aries

Birth Name

Christopher Edward Hansen

Profession

Journalist

Home Address

New York

Birth Place

Lansing, Michigan, United States

Nationality

American
Chris Hansen created his reputation working as the host of 'To Catch A Predator,' a reality television series that mainly focuses on bringing justice to Pedophiles and alike.
However, Hansen himself has been found involved in a Sex scandal involving a woman more than 20 years younger than him. Such an irony!
The Infidelity of Chris Hansen: Involved in Sex Affair
On June 2011, Chris Hansen, 58, was caught red-handed while cheating on his wife; the cameras 'National Enquirer' caught him on an alleged date with Kristyn Cadell.
Given the fact that his show itself used the same idea of hidden cameras to investigate and monitor possible criminals, Chris did play poorly. Kristyn, a journalist from West PC and Chris, later on, was also seen leaving together to Kristyn's apartment after the dinner.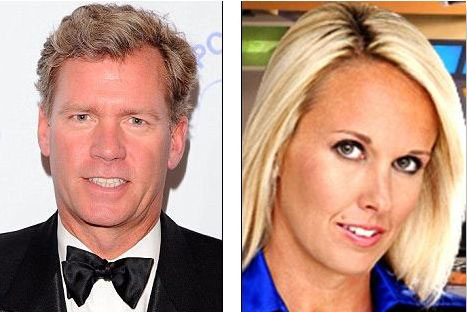 Caption: Chris Hansen and his mistress, Kristyn Cadell.
Source: sott.net
 Chris and Kristyn had been having a dating affair for about four months before everyone got wind of what was going on. 
The affair scandal got more attention than it was expected which even led NBC to fire him. NBC announced that they will not be renewing his contract.
Kristyn also expressed the fact that she was blackballed from the industry. She had been refused employment by many new organizations and struggled to land a permanent job.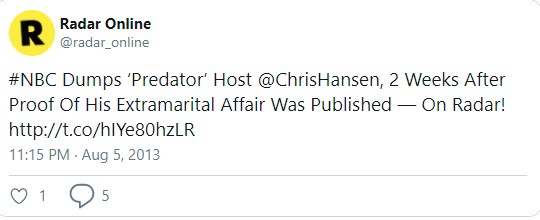 Chris, however, has a good number of years in his career and will easily get a second job or even find another type of job, but it will not be that simple for Kristyn. 
An article in radioonline.com, dated 3 Jan 2014, has quoted Kristyn's words from an exclusive video interview regarding finding a job for her-
"No matter what your philosophy is on someone who has an affair — if it was the man or the woman's fault — there are two people involved and if I can't work, he should not be able to work. I have lived the double standard… a double standard is an understatement as to what happens in this industry. The women get fired and the men keep going."
Eventually, Kristyn got a job and started working with Orlando's ABC affiliate, WFTV Channel 9.
She previously shared that she considers herself equally responsible, but still, she only did it because Chris showed her hopes of getting married or at least getting a divorce from his wife, as his marriage was filled with misery and was on the verge of disarray.
"Chris told me a divorce was inevitable, and the wedding ring on his finger was all but for the show."
However, this doesn't mean one can compare Chris Hansen to the criminals he successfully detained in his career, right?
His Married Life, Wife, and Divorced?
Chris Hansen is married to his long-time wife, Mary Joan Hansen. He also has two sons with her. According to dailymail.com, despite his affair with Kristyn, in reality, he had no intention of leaving his loyal wife, Mary Joan.
Although there have been issues that question the strength of their relationship, the married couple has been together for over 20 years. The couple did stand their ground of keeping to their vows. At least Mary did!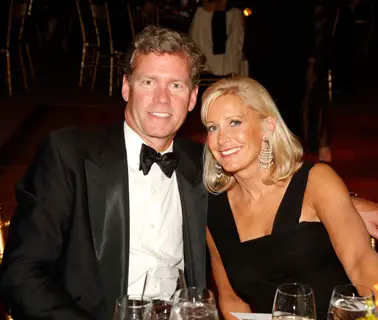 Caption: Chris Hansen with his wife, Mary.
Source: celebitchy.com
Chris Hansen's Short Bio:
Chris Hansen was born on September 13, 1959, in Chicago, Illinois, USA. He studied at the Brother Rice High School and had become a reporter for Lansing NBC affiliate during his senior year at Michigan State University. He has an estimated net worth of about 2.5 million dollars.
This year he was seen in two TV series namely "Killer Instinct with Chris Hansen" and "WGN Morning News ." Currently, he is busy responding to the scam allegations about his new crowd-funded show.