Entertainment
Fox 5 Chrissy Russo Family Insight With Husband Who Met Her Wearing This
While most women tend to go with expensive and fashionable items of clothing, American journalist Chrissy Russo loves to stick to comfortable dresses. Though she believes that men find ordinary clothes unattractive - probably choose the woman with a high sense of fashion - she opts for a simple attire. 
And, against all the odds, Chrissy impressed her husband while wearing a casual dress. She and her partner have been married for several years now, and they have started a family of their own with the arrival of an adorable child.
Met Husband While Wearing Pants, "I can't believe he married me!"
Chrissy is usually a private person. But, for good, even if she doesn't much talk about her married life, she occasionally shares the glimpses of her family via Instagram and other social media handles.
You May Also Like:- Deena Cortese & Husband Christopher Buckner Welcome First Baby - A Boy!
In April 2015, she gushed about how she met her husband in the first place. Chrissy mentioned she first encountered her partner while wearing pants. Humiliated by her own dress up, the meteorologist also admitted she had never expected her relationship to go past the first date; let alone the thought of getting married.
"i was wearing pants when i met my husband. i can't believe he married me! #nicecallout"
However, as destined they were, Chrissy started dating her boyfriend before they got engaged. The duo then married in a low-key wedding ceremony. 
Chrissy got pregnant with her first and only child in 2011 which was a shock to many of her viewers. Some even insisted that they had stopped watching Chrissy's show following her pregnancy. However, it was no issue for the reporter as she was quite excited about starting a family with her husband.
Although her childbirth date is not disclosed, she gave birth to a baby boy named Enzo Russo via regular delivery.
Chrissy, who now leads a prosperous family with her husband and son, revealed on Instagram that being a parent has transformed her from a pant-wearing careless woman into a responsible mother. Further, with the love and support from her partner, she is comfortably raising her seven-year-old son while also maintaining a professional career.
Lifeguard Before Being Fox 5 Meteorologist
Fox 5 San Diego meteorologist and producer, Chrissy Russo grew to have an interest in becoming a TV host since a young age. Pursuing her dreams, she joined Fox Network in 1996. As a meteorologist now, she earns a handsome salary of $56,434 per year.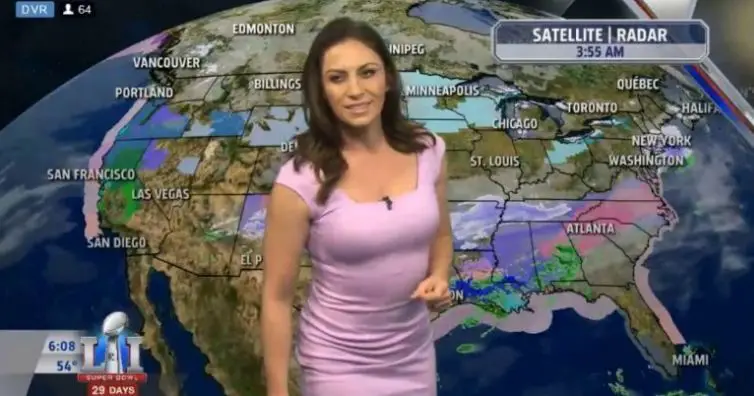 Chrissy Russo reports the weather news for Fox 5 San Diego in 2018 (Photo: Marriedheight.com)
Another Fox News Reporter:- Is Fox Sports' Rachel Bonnetta Married? Bio Reveals Husband & Family
Other than her skills as a meteorologist, Chrissy is also an expert in self-defence, who excels in Krav Maga, a form of Israeli martial arts. She previously handled her job as a lifeguard at the Virginia Beach and helped save countless lives.