News
Deena Cortese & Husband Christopher Buckner Welcome First Baby - A Boy!
It's a boy!
Reality star Deena Cortese is officially a mom at the age of 31. The Jersey Shore star and her husband, Christopher Buckner welcomed their first child, a baby named Christopher John on 5th January 2018 at 4:41 pm.
At the time of the birth, baby Christopher John (CJ) measured 20.5 inches and weighed approximately 6 pounds and 8.5 ounces.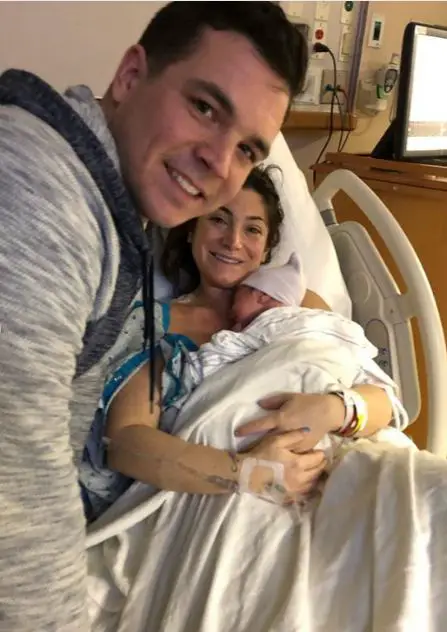 Reality star and her husband, Christopher Buckner embrace their bundle of joy, a baby boy named Christopher (Photo:- Deena Cortese's Instagram)
A day after welcoming CJ into their lives, Denna took to Instagram to share the happy news with her fans. Sharing a video of their baby yawning and sleeping alongside a series of images of her and her husband Christopher holding the newly born, she began the announcement as:-
"Our Little Man has finally arrived! Christopher John Buckner (CJ)... "
According to the Jersey Shore Alum, the sight of seeing her husband clasp their baby made her love him more.
The news of Deena and her husband, Christopher welcoming their bundle of joy into the world comes a little over a year after the duo tied the knot in Jersey Shore. The latter popped the question in November 2016 during their vacation in Mexico, following five years of courtship.
All of the Jersey Shore crew including Mike "The Situation" Sorrentino, Nicole "Snooki" Polizzi, Jenny "JWoww" Farley, and DJ Pauly D attended the pair's wedding.
And, a little over a year and a half after sharing the "I Do's," in July 2018, Deena and Christopher announced their pregnancy via Instagram. At the time of the announcement, the Jersey native couldn't help but profess an eagerness. Unable to hide her baby fever, in the caption, she gushed:-
"December can't come soon enough! Daddy and Mommy can't wait to meet you Christopher John you are going to be the most spoiled little boy ever!"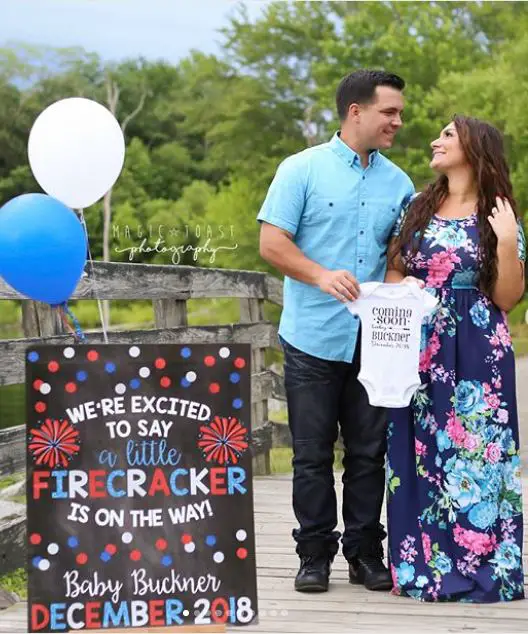 Denna and her husband, Christopher Buckner announce their pregnancy in July 2018 (Photo:- Deena Cortese's Instagram)
Baby CJ has brought joys not only in Denna's and her husband's married life but also mediated a truce between her and her former Jersey Shore co-stars.
Celeb Welcoming First Baby:- Leafar Seyer First Baby With Wife Kat Von D | Find Out His Name
Deena's one-time co-star Sammi "Sweetheart" Giancola, who famously didn't make an appearance on Jersey Shore: Family Vacation reboot, got reunited with fellow Jersey Shore Alums at her baby shower.