Entertainment
Christi Lukasiak: Enjoying Life With Husband and Children, Example of Perfect Family?
We sometimes have to wonder if the whole country is a part of a big reality TV, as there are so many reality shows in the United States of America, which will make you forget the real world.Nevertheless, we are all guilty for loving the drama that comes along with it, aren't we? And one such family who we adore is Lukasiaks from Dance Moms. Let's find more about them.
Christi Lukasiaks' Married Life and Family!
Christi Lukasiak grew up in Churchill, Pennsylvania. Further, Christi got engaged with her husband Marc Lukasiak on Christmas Eve of 1998. And eventually, she got married to her husbaMarc, who is the director of marketing and communications at the Children's Hospital of Pittsburgh. However, the exact wedding dates of the couple have not surfaced in the media till now.
Nevertheless, Christi shared a picture of the most meaningful moment of her life which happens to be the day of her wedding day with her husband Marc, through an Instagram post on March 31, 2016.
And together they share two beautiful daughters Chloe Lukasiak born on May 25, 2001, and Clara Lukasiak born on August 17, 2009. And they have appeared on Lifetime's hit reality series, Dance Mom.
We first saw Christi Lukasiak and her daughter Chloe Lukasiak when the duo starred in Lifetime's hit reality series, "Dance Moms," as two of the original cast members in 2011. Since then, we have seen Chloe grow and develop right in front of our eyes. And we know how much Christi loves her dancer daughter.
Moreover, Christi shared a cute picture, with her husband Marc, through Instagram on August 7, 2016, where their adorable relationship is beautifully captured in the photo.
Marc and Christi along with their two gorgeous daughters, Chloe and Clara, reside in their house in Pittsburgh. The family also owns an apartment in Los Angeles. Also, Christi flaunts her two gorgeous daughters through Instagram post back on July 31, 2016.
The family is a role model for many and is an example of a perfect family.
Christi's Dance Mom Journey with Her Daughter:
We all know how Christi and Chloe's relationship with Abby Lee Miller, the director of Reign Dance Productions and the chief choreographer of the Abby Lee Dance Company, turned bitter. 
Christi and Chloe became two of the original cast members of the Lifetime's reality series Dance Moms when it debuted on July 13, 2011.
They finally decided to quit the show after the final episode of season 4 in 2014. If you guys are a regular viewer of the show, you might know the exact reason behind their exit. But if you aren't a regular viewer, the real reason behind it was the way Abby treated Chloe. 
Abby never really favored Chloe and always had something negative to tell her. On the other hand, Chloe always showed maturity and moved on, improving herself.
Millions of fans were frustrated from their exit. Fans had admired Chloe for her dancing skills, and her mother Christi had always stood firm, supporting her daughter like her backbone, on the show.
The Exit!
The mother and daughter duo shared all the reasons behind leaving the show during an interview on the Morning Show.
Caption: Christi and Chloe in the Morning Show, Australia. ( Video Published on July 3, 2015)
Like Christi, amazing dancers like Brooke Hyland and Kalani Hilliker have presented their amazing dance performances in "Dance Mom."
Everyone one has few problem in their life and Christi's recent problem was her body fat, so let's read to know which options she chooses as a solution?
Christi Lukasiak's Laser Liposculpture:
After losing over 50 lbs Christi has left with uneven body proportions and loose skin. Further, she was not able to lose stubborn fat in some areas with diet and exercise. Thus, she opted for the liposculpture to get rid of the fat.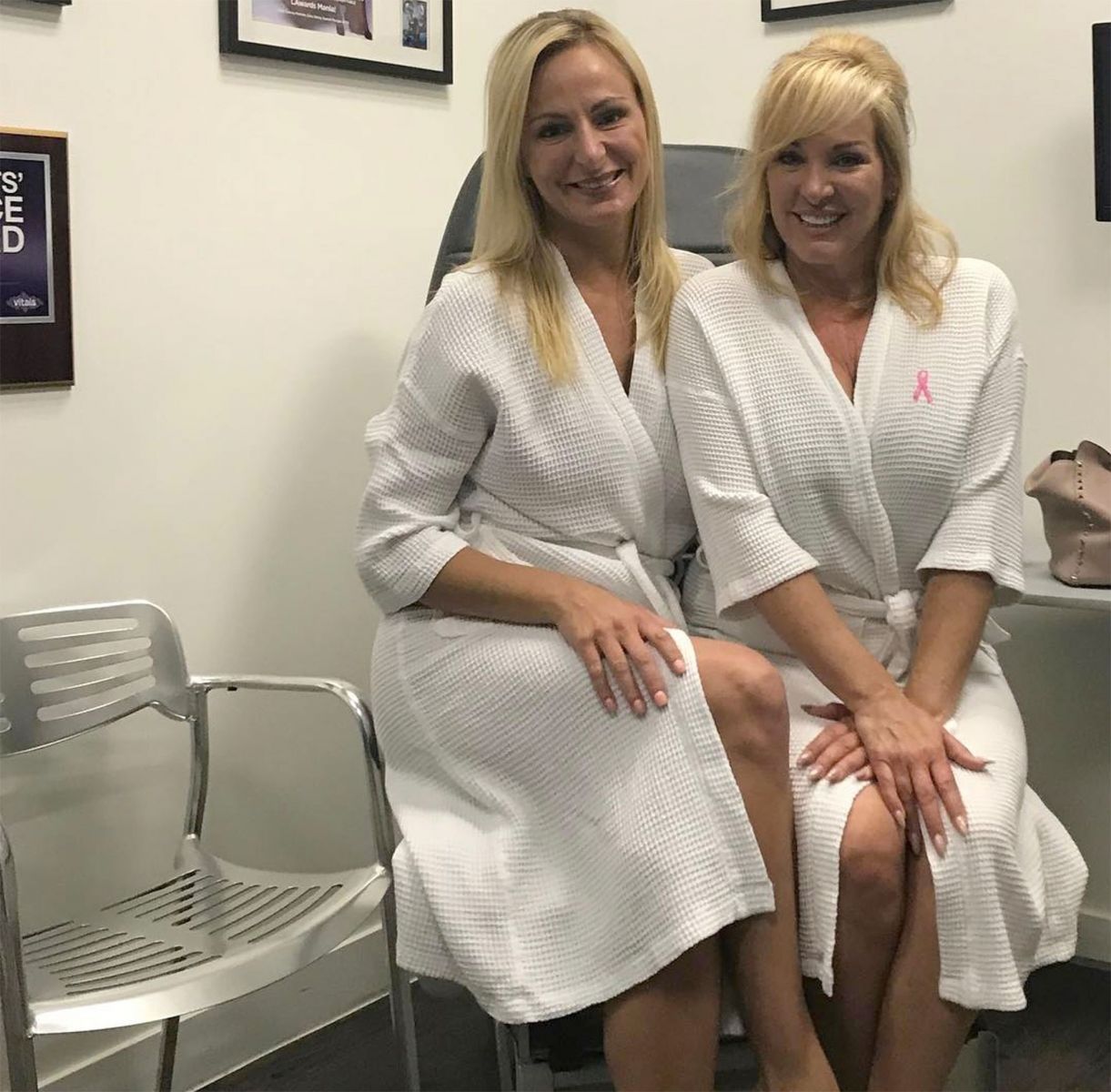 Caption: Christi Lukasiak with Jill Vertes in the robes at the Beverly Hills for the Laser Liposculpture on May 1, 2017.
Photo Credit: People
The plastic surgeon Dr. Aaron Rollins did an AirSculpt- a lipo-laser procedure on May 1, 2017, which uses air pressure to remove the excess fat via 2 mm hole to slim her abdominal region.
Moreover, talking about the necessity of the weight loss in an interview with People on May 16, 2017, Christi said,
"I am getting a little bit older and I've had two children and I just felt like it was something I wanted to do for myself, I had c-sections with both of my children, and I recently lost some weight, and I still was having issues losing weight in that area. It seemed like a good fit for me at this point in my life."
And witnessing the amazing results post weight loss happy Christi said,
"I am looking forward to just not having to wear Spanx all the time! It was probably one of the easiest things I've done, and I'm really happy I did it."
Christi was born on March 3, 1977, in Churchill, Pennsylvania. She was the star of Lifetime's popular television reality series Dance Moms along with her daughter Chloe Lukasiak. Her net worth has not been revealed yet,  but we can assume that she might have earned a hefty amount from her television deal.