Most people would be freaking out or trying to figure out what they should do next if they are about to go to jail...But for the Dance Moms' star Abby Lee Miller, it was vacation time...Cancer Journey; Death Imminent?... Married With Husband & Daughter?... Weight Loss Story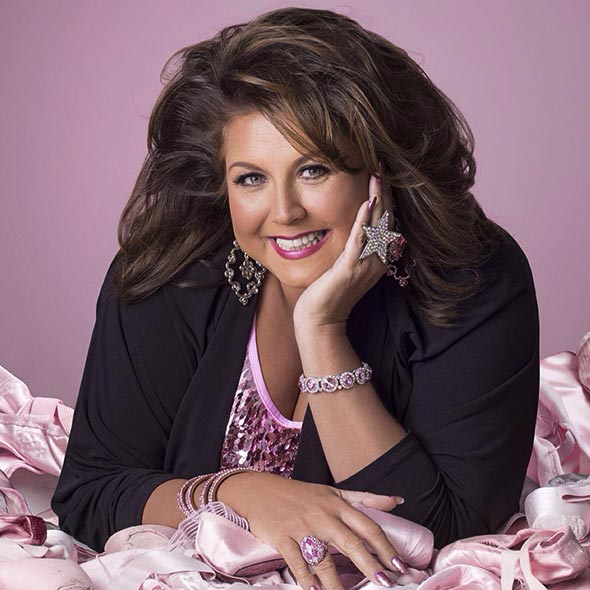 Most people would freak out or trying to figure out what they should do next if they are about to go to jail. But for the Dance Moms' star Abby Lee Miller, it was vacation time.
Vacation Before The Final Verdict
In October 2015, Miller got accused of bankruptcy fraud, false bankruptcy declarations in hiding around $755,000 and concealment of assets. If found guilty, she could have seen up to five years of imprisonment along with a fine of $5 million for the twenty counts.
Though the sentencing of her case got set for 2nd December 2016, due to a conflict in scheduling, government counsel was not available on the stated date. So Miller received another on 20th January 2017.
But her situation was not something that could startle Abby in any way possible. She got spotted spending her final days of liberty vacationing in and out of the country. Due to the legal issues, Abby had to seek permission from the authority to travel internationally and domestically.
Vacationing Amid Drama:- Rosie O'Donnell's Delightful Beach Vacation with Children: Excitement After Divorce and Sole Custody of Kid
So after appealing, she recieved permission to travel to places like Las Vegas, Tijuana Mexico, LA, and Dublin.
After a couple of days of the hearing, in May 2017, Abby got sentenced to 1 year in prison and recieved $40 thousands in fine. In June the same year, she began serving jail sentence at the Victorville Federal Correctional Institution in Victorville, California.
Because of her subsequent ailment, the 52-year-old didn't serve all of her sentences.
Cancer Journey; Death Imminent?
In April 2018 - while still serving her sentence - Abby underwent spinal surgery. Upon the operation, she got diagnosed with Burkitt Lymphoma -- a kind of non-Hodgkin's lymphoma cancer.
She spent the remainder of 2018 in physical therapy, teaching herself to walk again.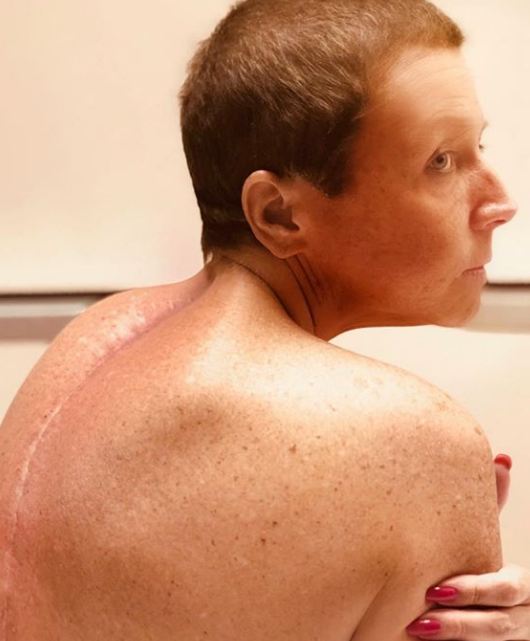 Abby Miller bares her back to show the surgical scar amid cancer battle circa April 2019 (Photo:- Abby Lee Miller's Instagram)
Then, a year after her diagnosis, in April 2019, Abby penned a heartfelt Instagram post by sharing her cancer journey. On the caption, she took shots at the "Federal doctors," who failed to give her proper prognosis.
Battling Cancer:- Vanderpump Rules' Ariana Madix, 33 Shares How Her Cancer Got Removed
In upcoming Lifetime's documentary titled Dance Moms Resurrection, the Miami-Florida native will share her thoughts on the near-death experience.
Married With Husband & Daughter?
Abby Lee, though not confirmed, was once an engaged woman. She and her younger fiance Michael Padula had the making of a perfect married duo.
The rumors emerged as she posted an Instagram photo, sporting a ring on her finger, captioning it "I do!!!"
About half a decade on and the fans haven't heard anything about them, so are they ever going to be husband and wife or are they good enough being just girlfriend and boyfriend? Only time will tell!
Contrary to popular gossips, Abby's Dance Moms' co-star Maddie Ziegler isn't her daughter. Per Maddie, the two don't even keep in contact despite wishing each other best.
Weight Loss Story
Abby used to be a size 24, but she dramatically shrunk to size 16 and how did it all happen?
Weight Loss Journey:- Where Is Kirsten Vangsness Now? Married Status & Weight Loss Info
Well, people may suppose that it was the magic of diet, exercise or weight-loss surgery, but the truth is she lost all the weight while her mother got hospitalized due to colon cancer. Also, she later got diagnosed with diabetes.
And the medicine she refilled in Australia was different from that of the US which led to the dramatic weight-loss as in her statement she said;
"I would take this medicine and within an hour, I was vomiting like I was in fourth grade and had the flu or like I had food poisoning. It was awful. After I would throw up, I couldn't even look at food for the rest of the day."
she further added;
"So that is how I lost the weight,There's no diet, there's no exercise, there's no this, there's no that."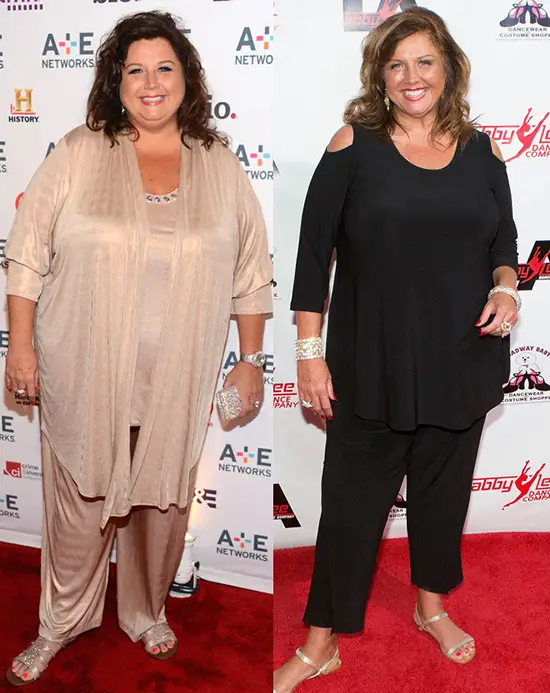 Abby Lee Miller before and after the weight loss (Photo Credit: eonline.com)
Abby believes that she is not slim and still has a long, long way to go.
Abby Miller Now - Age & Net Worth
Abby Lee Miller - now age 52 - is a familiar figure when it comes to reality television. She is the star of Lifetime's television reality series Dance Moms. She is also a choreographer, a dance instructor, and the founder of Abby Lee Dance Company.
Abby was born in Miami, Florida, on 21st September 1965, in a family with a dancing background (she is a daughter of a dance teacher, Maryen Lorrain). So she got exposed to dance at a young age. She founded her dance company when she was still a teenager and has taught 3000-4000 students till date.
As a successful choreographer and a well-renowned reality star, the 52-year-old boasts a reported net worth of over $2 million.