Entertainment
Is Christina Cole Married Or Dating? Personal Life Status Amid Escalating Career
She grabbed hearts with her pretty face and strong British accent. If you are familiar with one of the best IMDb rating series Suits, then you must know the role of Dr. Paula Agard portrayed by none other than actress Chistina Cole.
Christina who has gained much fame through her various roles in television series and movies has won many fans as well.
Well, the curious fans are more interested in knowing about her romantic affairs going strong in her personal life. And here are few details you might like to know about Christina Cole.
Christina Cole's Personal Life
Christina Cole, an English actress who is rising in her career while gathering fans with her acting skill, has a personal life which she does not talk much. Christina with her silence has raised many quires among her admirers.
However, Christina has covered her romantic life under a veil. Even though Christina is seen romantically involved on the screen, her love life off the camera is still a mystery. She has neither talked about having a boyfriend in any of her interviews nor has revealed about it on her social media.
Her silence has led to speculation that she might be single and enjoying her personal all by herself. But chances of her having a secret dating affair cannot be excluded too. Whichever, the case may be fans are hopeful that she would come forward to speak on the matter soon!
Moreover, she has made all her fans wonder whether she is married and has a husband or not. Since she has maintained silence regarding her love life, it would not be appropriate to arrive at any conclusion.
Christina Cole's Rising In Career
Christina Cole was born on 8 May 1982, in London, the capital of England. She was raised under the wings of her parents along with her siblings. The eldest of three siblings, Christina, graduated from the Oxford School of Drama in 2002. 
Upon graduating, she grabbed herself a role as Lizzie on the television production The Project in the year of her graduation. After a year, she was seen as Clarissa Payne in the teen movies, What a Girl Wants.
However, even though she was still in school at that time, she was fortunate enough to grab herself a role alongside actors like Colin Firth and Amanda Bynes. 
Later in 2004, Christina grabbed a role of a young and withdrawn loner with mysterious abilities, Cassie Hughes in the first season of Hex. She appeared in about eight episodes till 2005.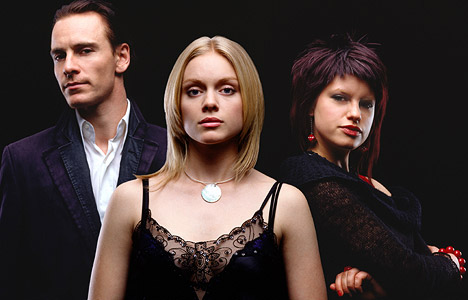 Christina Cole, Michael Fassbender, and Jemima Rooper in Hex (Photo: tvguide.com)
Later in 2006, after leaving the show, Christina moved on to television mini-series Jane Eyre where she portrayed Blanche Ingram. She even appeared as Rebecca Muir in Sea of Souls released in 2007.
Back in 2008, she managed herself in three projects altogether. She was cast in television mini-series Lost in Austen as Caroline Bingley. Along with it, she was witnessed in Agatha Christie's Poirot as Sarah and in Miss Pettigrew Lives for a Day as Charlotte Warren. During 2009 she appeared in Maggie Hill, Surviving Evil and series like Emma.
With her acting skills, Christina was able to land many character roles for herself. She was on series like Human Target, Midsomer Murders in around 2010. Later, she was witnessed in various movies and series including Chaos, Before You, Second Sight, Silent Witness, The Assets, Partners in Crime, New Tricks, Lumen, and few more.
Moreover, in 2017 she featured on various popular television shows. She was cast in television series like SS-GB as Mrs. Sheenan, The Indian Detective as Robyn Gerner, and in Suits as Dr. Paula Agard which gained her much popularity.