Entertainment
Ciara Renee's Legends of Tomorrow Exit: Dating co-stars, Falk Hentschel or Casper Crump?
Well, well, well. DC's Legends of Tommorrow first season is over, and immortal villain Vandal Savage is finally defeated by the unlikely heroes. No wonder, millions are looking forward to the upcoming season 2 of the unpredictable superhero show. But wait, we have so much to talk about Casper, Ciara, and Falk, even though the Vandal Savage arc is over.
We are curious Ciara, like you said. 
Ciara Renee and Falk Hentschel, better known as "Hawkgirl" and "Hawkman," have a great chemistry together. Onscreen, they are one of the best couples we have seen. And of course, they both look great together. But do they have the same chemistry off-screen too? Let's be honest; we all want to see them together, don't we? But are they real-life boyfriend-girlfriend? Look how good they look together in the pictures below.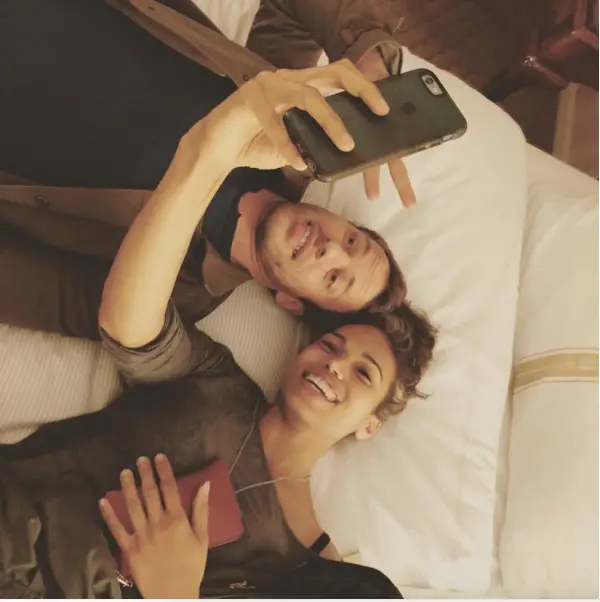 Caption: The onscreen couple Ciara Renee and Falk Hentschel capturing the moment by clicking a selfie.
Photo Credit: fanpop.com
And what about, the first season villain of Legends of Tommorrow, Vandal Savage a.k.a Casper Crump. Although Vandal may have killed her beloved Hawkman (Carter) on-screen, it is not stopping her to enjoy a healthy bond with Casper Trump off screen.
Video Caption: The singing face off between co-stars Ciara Renee and Casper Crump published on May 22, 2016.
Even though people speculate that these co-stars might be dating, we cannot verify such speculations. All of them: Renee, Hentschel, and Casper are very private when it comes to their personal lives. Over and above that, Ciara's boyfriend tweets are far more confusing.
Let me break the ice for you all and just say that Ciara Renee is SINGLE. Of course, it will be safe to know her as a single woman, since she hasn't officially mentioned about dating someone currently: Neither Falk nor Casper.
Good news for all the single men out there who's been eyeing Hawkgirl from day one. Renee probably does not have a boyfriend, so no Hawkman is there to block your way. (I mean just look at her, she is smoking and talented).
For your info, Renee was in a humiliating relationship during her high school.
Back to the story now.
Ciara and Falk might not be dating currently, but they sure are good friends. In an interview with TV Insider, the co-stars talk about their amazing chemistry and what kind of relationship they have off-screen. On the other hand, she thinks that Legends of Tommorrow's immortal villain Casper is a kind soul.
Casper Crump is the "goofiest, nicest" man, so it's fun to see him playing someone so different (the immortal bad guy).
Ciara Renne's Fitness Secret!
Ciara has a fit and toned body and the credit for the impressive body goes to her yoga routine and gym session.
Also, she taught yoga to the young ladies as a volunteer in Police Athletic League. Also, she confessed that she wished had done yoga as a young girl, through an Instagram post on April 1, 2017.
Furthermore, Ciara flaunted a perfect yoga pose which shows her passion for fitness through yoga which is evident in her Instagram post back on November 26, 2016, 
Ciara also burns fat and sweats in the gym, and she keeps her followers updated with the gym session photos and videos. Let's have a look at few of them.
Ciara Renne's Ethnicity Revealed!
The 25-year-old actress, who stands tall at the height of 5ft 8 inches, has been questioned multiple times about her ethnic background. However, she has always been super cool when it comes to answering such questions. In an interview, Ciara said that she always tell people that she is a mixture of different races. She's white, black, Native American, Indian and Latina (since her mother is a Latina). She is proud of the fact that she got to grow up with her multi-racial parents.
I always tell people, I'm black, white, Indian and Indian, because I'm Native American and Indian. People have asked me that a lot so I've answered the question different ways. Sometimes I'll just say, "Well, I'm white" which is true. And sometimes I'll say, "Well, I'm African-American." Or sometimes I'll say I'm Indian. These are all parts of me. It's an un-talked about dialogue at this point. People aren't really talking about mixed. We say, "Oh, she's black" because that's what they are saying now. Yeah, I am black but I'm also all these other things. I think it's great to now have this platform to really start talking about multi-racial and multi-ethnic people.
Ciara Renne's Mother Love!
A mother's love is unconditional and even sacrifices, in many ways for her child, but only a few acknowledges a mother sacrifices. On the occasion of mother's day 2017, Ciara showed her gratitude towards her mother via an Instagram post on May 15, 2017.
Also, Ciara flaunts her mother through Instagram time and again. And one such occasion was recently on May 22, 2017, where she shared a video where her mother is boxing along with a caption "#MamaHawk is learning to be a badass!" Also, Ciara tagged her co-star Falk Hentschel and stated that her mother could give him a run for his money.
Moreover, the mother-daughter duo was seen having fun together as evident in her Instagram post on May 23, 2017
Ciara Renee is not only a terrific actress, but she is also a beautiful singer as well. Ciara flaunted her singing talent as she sang Justin Timberlake's "That Girl" which was published on September 9, 2014.
Video Caption: Ciara Renee's beautiful vocal on Justin Timberlake's That Girl published on September 9, 2014.
Moreover, Ciara even shared her singing video, where she was playing guitar and completely soaked down in the music, through an Instagram post back on February 26, 2016. 
A lovely woman like Ciara wouldn't stay single for long, right? We hope she finds her real life Hawkman soon. 
But it's also possible that Ciara might be dating a boyfriend secretly away from the limelight and even planning to get married who knows!
Last but not the least, reports have it that Ciara will not appear as a season regular in Season 2. Likewise, it looks like the show's writers may have found a backdoor to bring in dead Hawkman a.k.a. Falk back to the pilot. 
Ciara, an emerging multiracial actress, has achieved immense success by the age of twenty-five. Popular for her portrayals in Big Fish, Pippin, Arrow and The Flash, she is best known for portraying the popular character "Hawkgirl" in the CW series DC's Legends of Tomorrow as a series regular on Season 1 (January 2016 to May 2016). Most importantly, she cashed in the opportunity to be the first Latina superhero in the US, portraying "Hawkgirl", a.k.a. Kendra Saunders on Legends of Tomorrow.