Entertainment
Conor Maynard Says He Won't Have A Dating Affair! Who Was His Girlfriend Previously?
Love is an emotion that is rarely denied, but, when one does so, the reason behind it becomes the matter of curiosity!
Famous singer, songwriter and producer Conor Maynard, who undoubtedly is the heartthrob to many of his fans, has initiated such curiosity as he too has opted not to date as of now!
So what might be the logic behind it? Does his decision got anything to do with his former relationship or is it just the way he feels right doing?
Well, let's see through to find out!
Conor Maynard Opts Not to Date, As of Now: But Why? 
If you are a big fan of Conor Maynard and groove to his songs, you might also know some major things about his personal life. 
Born to parents Helen and Gary, Conor is equally recognized for being the brother of Jack Maynard, who was evicted from 'I'm a Celebrity...Get Me Out of Here' due to his racial and gay, homophobic tweets. The family also comprises of his younger sister Anna, who has appeared in some projects that he has worked on as well.
The popularity Conor has garnered via his outstanding vocal has rewarded him with a huge fan base, who are not just curious about his new songs hitting the market but about his romantic unions as well!
Conor too keeps his fans updated which is why it is not rocket science that he is single as of now. But, he was once in a relationship with someone which ended up with a split, and the primary concern as of now is the reason behind him uttering his will to halt himself from dating again anytime soon! 
Most of the fans know that he previously dated his model ex-girlfriend Victoria Tansey, but the star then called off the relationship back in mid-2015.
Speaking about the split, he opened up,
"It was very very sad obviously but this break up wasn't a f*** you break up it was more of a mutual decision and having to do the right thing.

"We had to be adults and realise what was best for us at the time.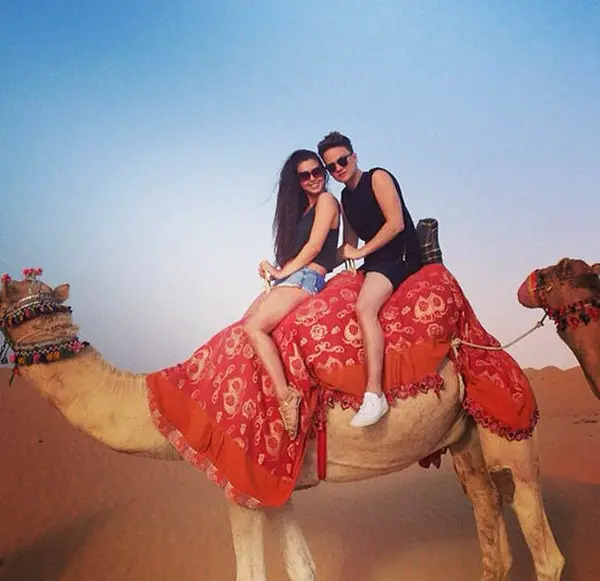 Caption: Conor Maynard and his now former girlfriend Victoria Tansey while they were in a relationship.
Photo Credit: dailystar.co.uk
Conor continued,
"There was no hatred or anything like that, it's hard though.

You can't help writing about a breakup as it is part of you - it takes over your life, 
He concluded,
"I'm just working on my album so there will be a lot of breakup songs on there.

"You sometimes think that maybe you shouldn't write about it as then I will keep singing about it and not let the other person move on."
In a similar interview, he also shed more light on the possible reason behind their split. Conor gushed,
"It was nearly impossible. Well, it was impossible — we broke up! You need someone who's very confident and secure. It's make me think maybe I should put off relationships for a while."
Adding more to his statement, he explained as to how female attention can get tricky to handle,
"It was a problem. Girls would come up to me and they'd be drunk and trying to flirt. It's a bit odd to be like 'by the way I have a girlfriend' so you have to be wary. If they asked for a picture they'd go: 'Is it OK if I kiss you?'. There's a thin line between all right and not. I'm not going to make out with them in a picture.
He ended explaining things, saying,
"If they ask to kiss your cheek, it's kind of harmless, but if [your girlfriend's] friend says, 'Oh my God, there's a picture of this girl kissing Conor', it gets blown out of proportion.

"That's why I'd say: 'No, I can't do that'. Sometimes [fans would] understand, sometimes they'd say: 'You're so up yourself'." 
This all makes sense as to why he has not expressed his will to date and have a girlfriend again, as he first wants to make things secure and stable in his life.
Fair play Conor!