Entertainment
Controversial Show Host, Joe Buck: Incredible First Meeting With Wife
Some memories are cherished forever. First meeting with your love can't be forgotten even if tried upon. Well, the controversial show host Joe Buck and his gorgeous wife Michelle Beisner's first meeting was something very incredible.
Just like in the movies where the actor and actress have a disastrous first meet but eventually fall in love with each other, Joe and his wife's first meeting also resembles the same drama. After an extraordinary first meeting, the two astonishingly fell in love with each other after some hilarious run of events which led them to marriage.
Controversial show host Joe's errand of love with Reporter Wife, Michelle:
Michelle Beisner and Joe Buck first saw each other in NFL press boxes for years, but their first conversation began with the help of NFL Network's Rich Eisen in 2012. Rich was the pioneer in their emerging love story. Eisen called Beisner and said-
"Somebody in the booth wants your number"           
During that time, she was in a relationship and was living with her boyfriend. Right after when Eisen asked her number, she stated that she didn't want to date anyone even if he was an announcer.
You May Also Like: Bob Fitzgerald Takes Out Time For Family After Wife Died Suffering From Cancer
After guessing few names, Beisner was sure that the person asking the number was Buck. At that time, she thought Buck as a swell guy. She regarded him as an arrogant and smug look.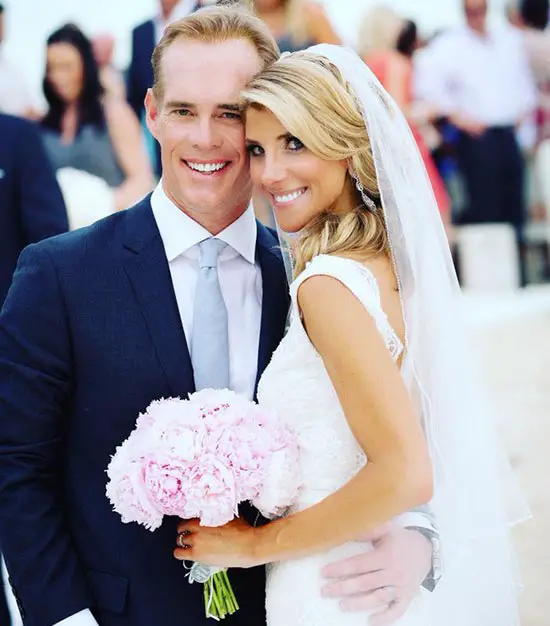 Joe Buck tied the knot with Michelle Beisner in 2014, in a private ceremony. (Source: twitter.com)
Don't Miss: Mike Tirico Not Only Possess a Humongous Net Worth And A Beautiful Wife But A Dark Past Many Men Are Afraid To Have
By 2013, Beisner was single and destiny had some funny ideas down its head. The same person who she found smug and arrogant, had now started to seem charming and handsome to Michelle.
The two soon began dating post-Michelle's breakup to her former boyfriend, and eventually got married to each other on 14 April 2014 in Cabo San Lucas.
Is Beisner his First Wife? Gay Rumors?
Well, Joe was previously(on January 23, 1993) married to Ann Buck.
They have two daughters Natalie, 22, and Trudy, 19 altogether. Buck, who is not a fan favorite, went through a divorce with his wife Ann in the year 2011. He married Beisner three years after his divorce with Ann. Joe Buck and Michelle Beisner are now sharing a blissful married life.  
Despite receiving some hateful comments where the viewers have termed him as a 'gay' following his ever-so-controversial show, Joe's two marriages have completely cleared the air regarding his sexuality. Furthermore, news regarding the birth of twins baby with his second wife Michelle has put a clear stamp on Joe being a straight guy.
The couple welcomed their two children Wyatt Joseph Buck and Blake Andrew Buck on 26 April 2018. Michelle shared her happiness in her Instagram post welcoming the newborns into the world with a heart-warming message.
"Welcome to the world Wyatt Joseph Buck and Blake Andrew Buck. What a ride we've been on. Now to see you. Smell you. Snuggle you. All worth every second of it. What a gift from God. Okay, two. This is actually Joe typing this. Michelle has her hands full at the moment. Happy Birthday Lil Men.....We are so in love with you. 4.26.18"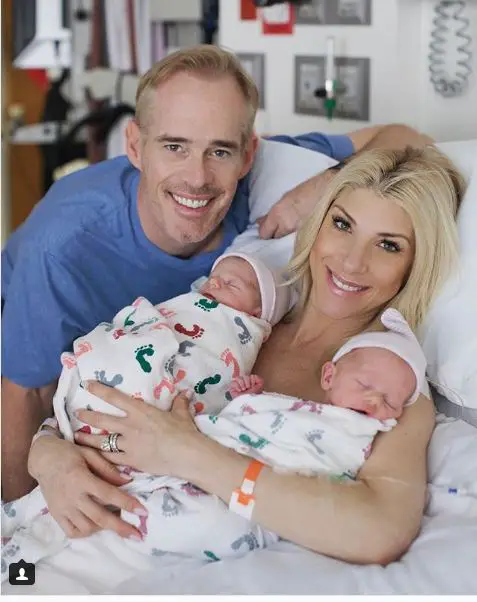 Joe Buck and wife Michelle posing alongside their new-born twins. (Photo: Michelle Beisner's Instagram)
Read Also: Matt Altman, 42, & Wife Welcomes Twins 'Boy & Girl'! Family Is Now Four
The duo seems to be endlessly in love with each other going by their social media, where both of them never miss an opportunity to wish their significant other on special occasions, be it anniversary or birthday. With the addition of a new member in their family, Joe and Michelle are all set for happily ever after.
Joe Buck's Bio:
An American sportscaster Joe Buck was born on April 25, 1969, in St. Petersburg, Florida. Raised in St. Louis area, Buck attended St. Louis Country Day School. As an undergraduate of Indiana University Bloomington, Buck began his broadcasting career in the year 1989.
Numerous Sports Emmy Awards winner Buck is popular as play-by-play announcer for Major League Baseball coverage and National Football League. It's not a matter of surprise that Joe Buck earns a spectacular salary of $6 Million Per Year from his profession. His is estimated to have $15 million of net worth.