Dubbed "The Dragon Lady" by fans worldwide and often considered one of the most prominent martial artists, Cynthia Rothrock is an American actress/stunt woman best recognized for her performances in movies such as China O'Brien, Guardian Angel, and Honor & Glory.
A five times consecutive World Karate Champion in the Forms & Weapons category between 1981 and 1985, she owns multiple black belts/slashes in Oriental martial disciplines including Tang Soo Do, Taekwondo, Eagle Claw, Wushu, Northern Shaolin, Ng Ying Kungfu, Tang Soo Do Moo Duk Kwan, and Pai Lum Tao Kung Fu.
The first ever woman in history to be on the cover of a martial arts-based magazine, Cynthia is the brainchild behind the 1986 book, Advanced Dynamic Kicks.
Recognizing her contributions, HBO honored her with the Legacy Award at the Urban Action Showcase and Expo in 2014.
Bio - Age, Family, Height & Weight
Cynthia was born on 8 March 1957. A native of Wilmington, Delaware, she spent her formative years in Scranton, Pennsylvania.
Fellow Martial Artist:- Tim Kennedy Bio Reveals Married Life! Net Worth, Salary, Family & Height
The martial artist-turned-actress began training when she was 13 years of age. Because she was the only child in the family, her biological parents were probably very supportive of her aspirations.
Now aged 62, Cynthia stands 5 feet and 3 inches (1.6 m) in height while boasting an above average body weight (mostly muscles).
Career - Cynthia's Net Worth Now
The Honor & Glory actress' acting career began to take shape in 1983 as Golden Harvest discovered her. With the Hong Kong-based film entity, she starred in the commercially successful flick, Yes, Madam.
After five years of stay in Hong Kong and seven acting credits to her belt, she then returned to the United States. Martial Law was her Hollywood debut.
Over the years, Cythina became a staple in martial arts movies - both A and B grades. No Retreat No Surrender 2, Prince Of The Sun and Mercenaries are some of her most notable acting gigs.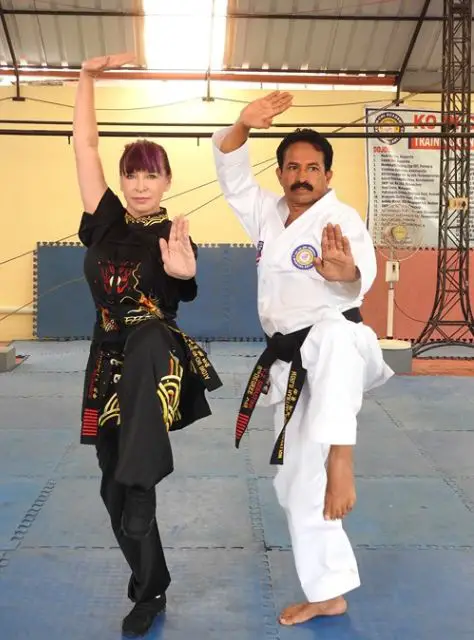 Cynthia Rothrock and her Indian compatriot strike a pose for camera circa May 2019 (Photo:- Cynthia Rothrock's Facebook)
Now a martial art teacher at her studio, the Guardian Angel actress owns a reported six-figure sum net worth.
Once Married: Wedding With Ex-Husband
Beneath her tough exterior - hardened through years of grueling training - lies a loveable individual. Perhaps, it's the reason why her then-instructor Ernest Rothrock married her.
Though the specifics of Cynthia and her former husband Ernest's wedding remains a private affair to the date, it is public knowledge that the ceremony took place in 1979.
Another Secret Wedding:- Miranda Lambert Wedding, Husband, Boyfriend
By the mid-80s, the former married duo's marriage was on the verge of collapse. Unsurprisingly though, the divorce coincided with Cynthia's move to Hong Kong.
During her stay in Hong Kong, she built romantic ties with fellow stuntman Mang Hoi. Though never married in a typical wedding fashion, the former lovebirds share a daughter named Syklar Sophia Rothrock, who was born in the year 1999.
As for now, she is single, like her Facebook profile suggests.