A part of the most renowned wrestling platform World Wrestling Entertainment (WWE) since 2015, Dakota Kai is the first female wrestler to feature in the franchise from New Zealand.
Previously participating as a track and field athlete, Dakota made the transition to wrestling following a series of international competitions. The kick stomper was a former PWWA Champion for Pro Wrestling Alliance and a former three-time Women's Champion for Impact Pro Wrestling.
Single Or Dating?
Dakota Kai created a lot of rumors in regards to dating her fellow wrestling partner Nixon Newell. The partners-in-crime were seen hanging out and visiting places whenever they got an opportunity, which inflicted the false rumor in the first place.
The Karate Hottie:- Michelle Waterson Husband, Family, Net Worth
Different from the rumors, the tag team partners call each other best friends and sisters and also count on each other as family.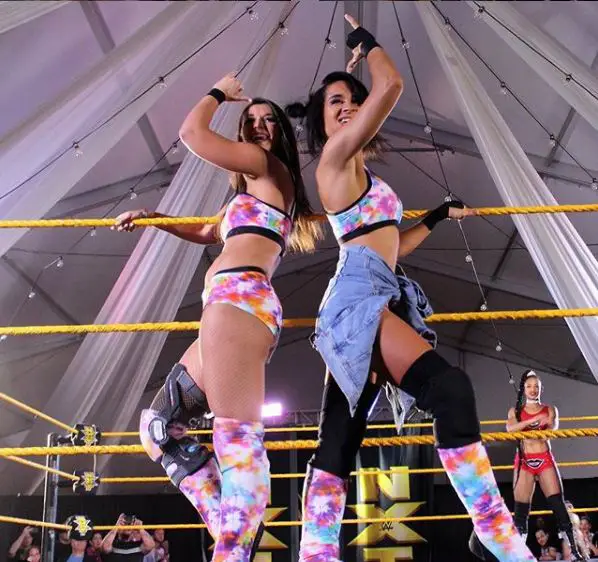 Dakota Kai (left) and tag team partner Nixon Newell on WWE NXT in February 2019 (Photo: Dakota Kai's Instagram)
As far as dating a boyfriend is concerned, the NXT star has not confirmed dating anybody special until now. As in 2019's Valentines Day, she wished everyone a happy valentine's day and tweeted a picture of her injured leg, which was strapped with a leg brace.
Net Worth 
Making her professional wrestling debut in December 2007 from Impact Pro Wrestling, Dakota Kai entered the wrestling ring after tasting success in the music video for Sweet December by the Auckland Band.
After a consistent performance in the wrestling mat, the kick stomper slowly established herself in the wrestling entertainment scene. She claimed the IPW Women's Champion title and shifted to Pro Wrestling Alliance Australia in 2012.
With Same Career:- Dean Ambrose Wife, Children, Net Worth, Real Name
Also, the New Zealander worked on the promotion of Shimmer Women Athletes at Volume 53 before signing the biggest contract of her lifetime in WWE in 2017.
From her venture in the WWE's NXT platform, the versatile wrestler accumulates an overwhelming net worth.
But, as of 2019, the high flyer underwent a severe knee injury during NXT's house show at the beginning of the year and was sidelined from in-ring action for several months. The NXT mainstay confirmed that she tore her Anterior Cruciate Ligament(ACL) and underwent the recovery procedures.
Ethnicity, Measurement, Age
Dakota Kai - real name Cheree Crowley - was born in the hills of Auckland, New Zealand on 6 May 1988. Recognized worldwide with her ring name Dakota Kai, she boasts a Samoan ethnicity from her mother Alailevao Crowley, who was a native on the island of Upolu in Samoa.
Growing up, she was raised alongside her sister Nyrene and brother Earl Jr. The siblings would often participate in sports events and cross country events as a teenager.
Dakota, with her slender body weight of 60kgs and decent height of 5 feet 6 inches(1.68m), did very well in track and field games. Her perfect body measurements helped her jump and sprint better.
Now, the Queen of kicks is one of the most loved NXT female divas in the WWE, and her fans are eagerly waiting for the 32-year-old to return in the ring.