Entertainment
Damon Thomas Married Kim Kardashian First But Who Is He? Wiki Details
Damon Thomas is a music producer, who has shared the workplace with the countless A-class recording artists.
He has earned fame and name in the showbiz world; however, his rising career got affected by the downfall of his relationship with Kim Kardashian. Damon Thomas was the first husband of the reality star.
Well, many people might be unaware of Damon Thomas and his separation with the young wife. So if you want to be familiar with the Damon Thomas and the real reason behind their divorce, then we present you the wiki-like-bio of Damon Thomas with interesting tidbits.
Married Kim Kardashian; Husband And Wife Shares Different Story
Damon Thomas got married to the reality star Kim Kardashian in 2000. After four years of married life, the two couple got separated in 2004 ending their relationship with divorce.
The couple gave different explanations for their divorce. According to the divorce paper, Kim claimed that she was a victim of the domestic violence and he became abusive a few months after their wedding, whom she eloped at the age of 19.
In the court papers, Thomas was accused of having control over his wife including her to force to quit jobs and college and prohibited her from seeing any friends.
However, Damon was the one who filed for the divorce. And he denied all the accusations thrown at him. Further, he revealed that he filed for the divorce because Kim cheated on him during their married relationship.
Following the divorce, the Keeping Up With The Kardashians star dated the R&B singer Ray J., But they broke up after dating for three years. Then after she was romantically linked with Nick Lachey in 2006, Nick Cannon from 2006 to 2007, Reggie Bush from 2007 to 2010, and with Miles Austin, Gabriel Aubry and Kris Humphries in 2010.
As of now, Kim Kardashian is in a romantic relationship with her 21 Grammy winner rapper Kanye West when she was still married to Kris Humphries. After the divorce, Kim got married to Kanye West in 2014 and now she shares three children with her present husband, Kanye West whereas Damon Thomas shares a son named Dimas Thomas with former partner Sarai Torres. 
Kim is still strong with her rapper husband and also they attended Chainz and Kesha Ward wedding ceremony. After the ceremony, while they were on their way to have ice cream, the 41 aged rapper was spotted carrying Kim on his arm.
Who is Damon Thomas? Kim Kardashian's Musician Ex-Husband
Born on 15 December 1970, Damon Thomas is a Grammy Award-winning music producer, who works alongside Harvey Mason Jr. as a part of the pop production, The Underdogs. They started working together since 1999 and produced a single for Tyrese's I Like Them Girls which was their first big-time production.
They collaboratively worked with the popular global megastars together including the name, Chris Brown, Pink, R.Kelly, and Lionel Richie. They also made the soundtrack of Dreamgirls which featured tracks sung by the popular artist like, Beyoncé, Jennifer Hudson, Jamie Foxx and Eddie Murphy.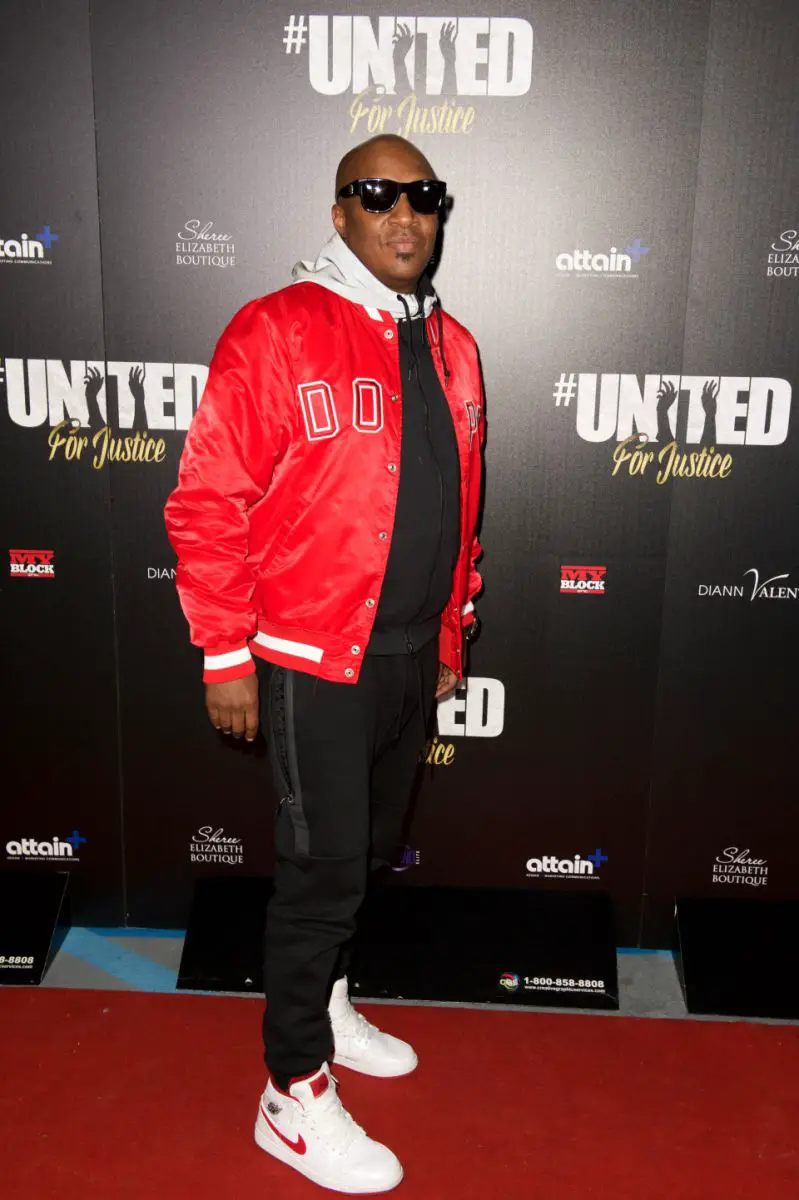 Damon Thomas attends 'United For Justice' at Hotel Angelino (Photo: Getty Images)
The Underdogs reunited to produce the single, UP 2 You for Chris Brown's album F.A.M.E and the song, Living Proof with Mary J. Blige for Hollywood blockbuster picture, The Help in the year 2011. Similarly, their most significant projects were producing the music for the film franchise, Pitch Perfect. 
Today, he has reached the height of a famous songwriter and music producer who makes him the artist with a net worth of $ 1 million.
Previously, Damon, who stands at the height of  5 feet 10, was a production partner of Kenneth Edmonds in the late 1990's.