Entertainment
Dan Bilzerian & Girlfriend Cutest Moment Together, Massive Net Worth & Height - All Revealed!
American internet personality, Dan Bilzerian has been rightly called the "King of Instagram" but his fame and luxurious lifestyle came with a cost.
He has turned into a controversial figure with his lavish lifestyle, his carefree attitude towards women and his compulsive behavior of gambling. The venture capitalist, who is also a professional poker player and actor, lived most of his adult life engaging in casual sex with upcoming models and gorgeous ladies.
However, it looks as though the playboy is slowly turning into a loving boyfriend as found has found his love amid from one of his meaningless coitus.
Found His Love After Sleeping With Over Thousand Women
Already boasting the followers more than 23 million on Instagram alone, Dan has been leading an outrageous lifestyle of luxury and extreme freedom. Adding numerous ladies, Dan has been around with his playboy image where one example could be him getting his hair cut from topless women wearing nothing but bowties and spending vacations with the ladies in exquisite locations.
Well, Dan has also confessed to sleeping with 17 girls within one week, which is just a fraction of his dating life. 
See Also:- Gregg Leakes, Age 63, Divorce Was Lesson For Both; Wife Spills The Reason
However, it seems like he is finally ready to settle down as he claims to be committed to a beautiful model. 
The 37-year-old gambler is dating model Sofia Bevarly, who is 16 years junior to Dan. The dating rumors had first sparked when he posted a picture on Instagram alongside Sofia on 27 April 2017 wishing her for her birthday. 
The relationship was later confirmed in a July 2017 interview with Square Mile magazine. He said in the interview,
 "Yeah. Got a girlfriend. First time. Well, I had a girlfriend before, but I was still f***ing other girls."
Dan, who claims to have slept with more than a thousand women, first met Sofia at a marquee pool party and had a casual sexual relationship before getting serious with her. 
The multi-millionaire with a height of 5' 8½" (1.74 m) added,
"I think I f***ed like three girls before her that day. We just started hanging out… She's a little different, you know? She's smart, she's cool, and she liked a lot of the s*** I like. So here we are."
In the interview, Dan revealed that he was in a monogamous relationship with Sofia. The couple is known to spend their time enjoying holidays in luxurious destinations and even go on a date in Dan's private jet.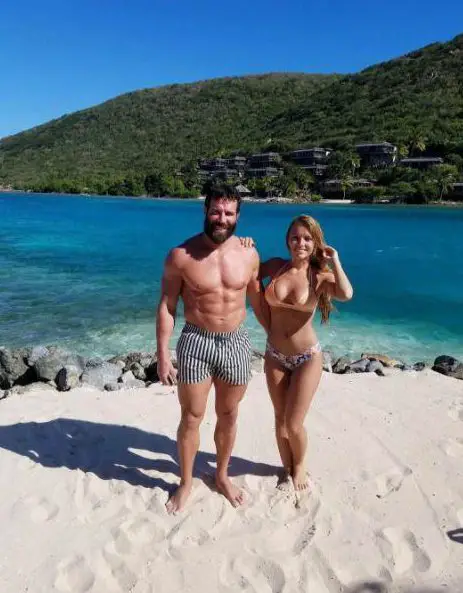 Dan and Sofia enjoy their vacation in the Virgin Islands (Photo: Dan Bilzerian's Instagram)
Recently, in April 2018, the pair took a trip to the Galapagos Islands located in the Pacific Ocean. Dan even shared a photo of the two adoring a tortoise found in the island on 19 April 2018.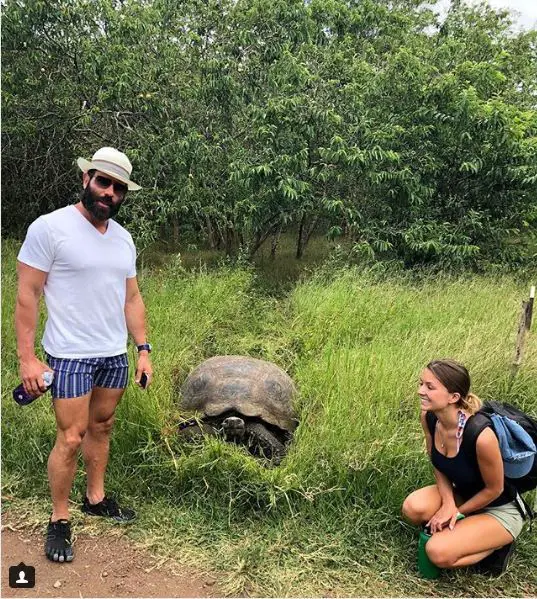 Dan and girlfriend Sofia during their stay at the Galapagos Islands in April 2018 (Photo: Dan Bilzerian's Instagram)
The couple is getting serious in their relationship but has not revealed their intention to remain committed for a lifetime.
Don't Miss:- Has Gabe Kaplan Never Married? Has A Daughter But What About A Wife?
Previously, Dan also dated model Lindsey Pelas in the past and even boasted about boosting her modeling career. However, the pair has now long broken up, and Dan is happily romancing Sofia.
Father Claims Wrongly Prosecuted; Massive Net Worth
Dan Bilzerian has accumulated a net worth of $150 Million from his profession as a gambler, venture capitalist, and actor. His career as a professional poker player has contributed a large portion of his net worth. In a recently held tournament, he won an astounding amount of $10.8 million in a single match after which he took off in a private jet to celebrate in Mexico. 
Further, he also won $50 million playing poker in a single year in 2014.
Bilzerian even invests in various business sectors including real estate, oil, and the entertainment industry.
Dan, who boasts a massive collection of guns, the "King of Instagram" has also shown a glimpse of his kingly life standard with the acquisition of numerous luxurious cars. 
His collection of vintage cars include a 1965 Shelby Cobra which has a base price of more than $2 million, a Rolls Royce Ghost which costs $250,000 in the US, a Bentley Flying Spur, a 1970 Toyota Land Cruiser, and a Mercedes-Benz G63 AMG 6×6 which has a price of $975,000.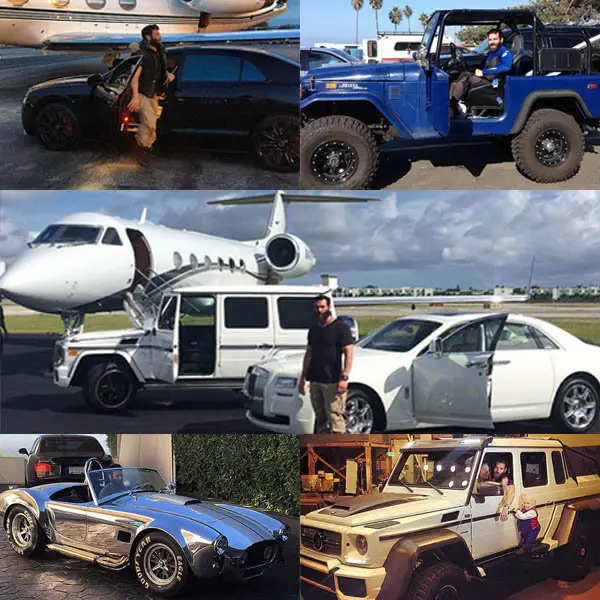 Dan Bilzerian's collection of luxury cars (Photo: Cartoq.com)
Moreover, he also owns a Gulfstream IV jet which had the cost of $36 million during its launch in 1996.
However, his lavish lifestyle may not have much benefitted his health as he had already suffered three heart attacks before reaching the age of 32. 
Dan's father, Paul Bilzerian, who was also a private equity investor, had earned a net worth of $40 million before he reached the age of 36. However, he was later charged with tax and security fraud in 1988, which he denies to this day.
Paul filed for bankruptcy in 2001 claiming he had $15,000 in assets against total debt of $140 million. He currently resides in the Caribbean island in a voluntary exile and has won a civil suit against the Securities and Exchange Commission, who sued him for $62 million.