Entertainment
Hollywood Icon Dave Bautista Wife, Daughter & His Updated Net Worth
Dave Bautista is one of the most entertaining wrestlers in the world...transitioned from wrestling to acting...married his third wife Sarah Jade in 2015...has a huge net worth from his career as a wrestler and an actor...is of American nationality...has many tattoos on his body...his height and weight figures are given below...Dave's mother is a lesbian...parents were poor during his childhood...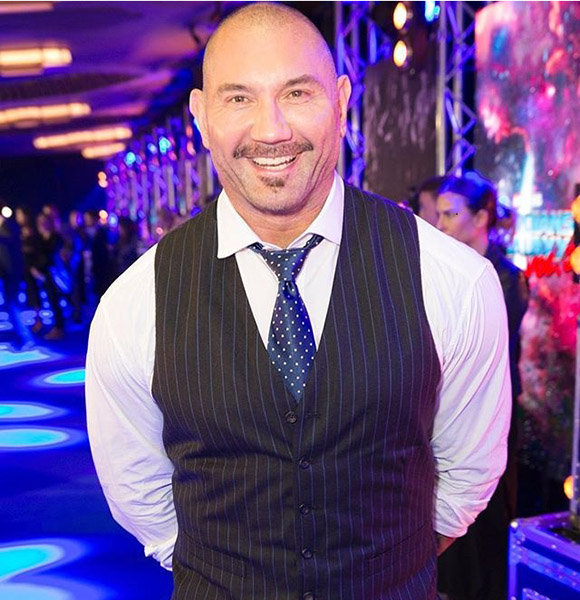 Dave Bautista is a former American wrestler who competed in the WWE. He is many WWE fans' favorite because of his electrifying moves and the sheer presence he has inside the ring.
But, Dave isn't just a retired wrestler. He is one of the few wrestlers to have made a smooth transition from the grueling job of wrestling to acting. He has starred in cinematic productions such as Guardians of the Galaxy series (2014-2017), Final Score (2018) and Avengers: Endgame (2019).
Dave Bautista's Personal Life: Wife & Children
Dave has had a life full of relationships, marriages, and divorces. He has married three times in his life.
The former wrestler's first wife is Glenda Fe Bautista. Not much is known about their relationship except for their marriage date and relationship length.
The ex-couple married on 25th March 1990 and went on to have two daughters - Keilana (born - 1990) and Athena (born - 1992). However, Dave and Glenda's marriage could last only eight years as they separated on 1st April 1998.
You May Also Like:-Who is Carmella Dating Now? Boyfriend, Family, Net Worth
After the split with Glenda, Dave went on to marry for the second time, this time with Angie Lewis. They tied the knot on 16 November 1998.
The couple did not have any children of their own. However, Angie did come into the marriage with a daughter she had from her previous relationship. This made Dave a step-father, and father of three daughters.
But, Dave's second marriage, too, was destined to end up as his first one. And in a weird, coincidence, Dave divorced Angie in 2006, making his second marriage last just as long as his first one - eight years.
Third Marriage With Sarah Jade
After the failure of two marriages, Dave decided to enjoy the single life for a while. But seems like he couldn't bear being alone for a long time. And thus started his journey to his third marriage.
Dave had been dating pole dancer Sarah Jade for a few years before finally tying the knot with her on 7th October 2015.
Going by the looks of the marriage ceremony, it could've been said at the time that Dave finally landed the right one. The wedding was a beautiful ceremony, and in attendance were many VIPs such as WWE stars Titus O'Neil, Chris Jericho, MVP, and William Regal.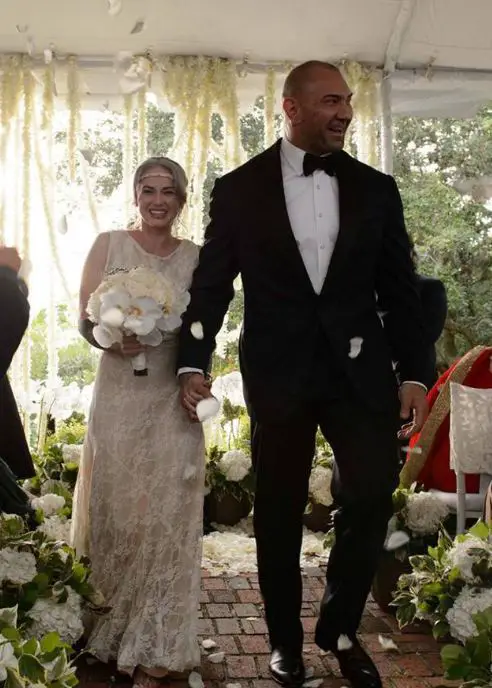 Dave Bautista with his third wife Sarah Jade on their wedding day (Photo: EOnline)
But, unfortunately, this relationship wasn't meant to last a long time, either. Dave and Sarah separated at sometime around 2019, although the exact date of their separation is not known. Also, whether this is just a break from each other, or the couple is already divorced, is, too, yet to be confirmed.
Dating Life After Three Marriages: Twitter Flirting And Dana Brooke
Seems like the single life isn't for Dave. His marriage with Sarah is still hanging in the air, but that hasn't had any effect in Dave's cheeky attempts to get dates.
And this was evident by his late-November 2019 flirty session on Twitter with Dana Brooke, a current WWE Diva.
The session, which included them talking about his gym, squats, and Jiujitsu, ended with Dana saying she would visit his gym and would send her number to Dave via direct message. She even said that their plan sounded like a date, but whether that was just a joke or anything concrete happened later remains a mystery. 
Net Worth
Dave transitioned from a successful wrestling career to being a Hollywood icon. This transition alone shows how talented he is. But, how much has his talent actually earned him?
That question can be answered by looking at his net worth alone, which stands at an estimated $13 million as of December 2019. Both his WWE and his acting career have added a significant amount to this wealth.
Dave was successful as a wrestler. At one point in time, Dave, who goes by the name Batista in the wrestling sphere, was one of the highest-paid athletes in the WWE. He bagged a massive $813,000 per annum in 2004, and reportedly earned $1 million per year after 2004 till 2010.
Another WWE Star:- Nia Jax Married, Dating, Family, Net Worth
Moving on to his Hollywood career, Dave has received impressive amounts of money for his acting roles, too. He got paid $1.4 million for his role as Drax in Guardians of the Galaxy, and $3 million for the same role in Guardians of the Galaxy Vol. 2. Similarly, he earned over $4 million for Avengers: Endgame.
Dave also has a few movies coming out shortly. His movie, My Spy, which was previously scheduled to release on 23rd August 2019, was pulled from release by its production company, STXfilms.
The movie, in which Dave plays a CIA agent who is forced to team up with a nine-year-old girl, is now set to release in the first quarter of 2020. This comedy movie is expected to do well at the box office.
Interesting Facts: Age, Height, Parents
Dave Bautista was born on 18th January 1969 in Washington DC, US. He was named after his father David Michael Bautista and has a sister who was named after their mother, Donna Raye Bautista.
He has Filipino descent from his father's side and Greek ancestry from his mother's side. The star of mixed ethnicity has American nationality.
The former WWE star is a grandfather. He has two grandkids - Jaco and Aiden - from his eldest daughter Keilani's side.
Dave has a weight of 287 lbs and stands at 6 feet 2-and-a-third inches tall (1.9 meters).
He has a total of 32 tattoos on his body. The tattoo that attracts most people's attention is the Illuminati tattoo on his chest.
Dave has immense respect for the LGBTQ community and has stood up against anti-gay voices on multiple occasions. On a similar topic, Dave's mother is a lesbian.