Entertainment
David Dimbleby's Perfect Family With Wife - Despite Past Married Life Chaos
David Dimbleby is the face of BBC's current affairs and political program, Question Time. He has been hosting the program since 1994 - grilling the politicians with his point-blank questions and hardline stances; being unaffected by the ever-rising right-wing bias allegations against him.     
However, the rigid looking presenter known for his firm political views and tough questioning is known as a big softie in real life.
David enjoys romantic family life. He is married to his second wife with whom he enjoyed a secret honeymoon in 2017. The famous TV host has gotten over his traumatic divorce with his first wife.
Also attached to the report is his bio-related information.
Married To Television Producer, Children 
David Dimbleby, the 79-year old British journalist, is aging finely like a vintage wine. He is enjoying his twilight years with his second wife, Belinda Giles, a television producer.
Married in 2000, Belinda and David were too busy to have a honeymoon after their wedding, a friend of the couple told Dailymail in 2017.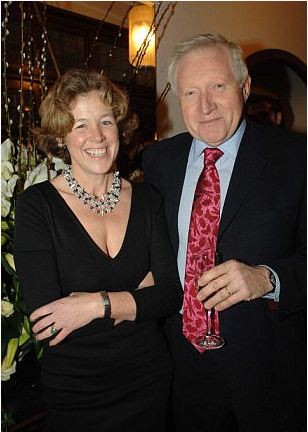 Wedding Rings On Display: David Dimbleby enjoys secret honeymoon with his second wife Belinda Giles in 2017 (Photo: dailymail.co.uk)
However, as the quote goes "better late than never," David, who commands more than $450,000 per annum, was reported to be enjoying his honeymoon away from all the chaos of the BBC's Question Time, in 2017, 17 years after his marriage.
The couple not only spent their time loving each other but also renewed their wedding vows together with a romantic fire still burning in them, thanks to the secret honeymoon.
Previously, in 2015, David fulfilled one of his wishes in his life's bucket list and went for a tattoo. He got a scorpion inked on his shoulder at a ripe age of 75, adding that his wife Belinda was mildly amused with his decision. He even added in an interview that he might persuade her to get one.
The Surrey native has enjoyed a fruitful career after joining BBC in the 1960's as a news reporter. In the family department, he is a proud father of 4 kids. 
David has a teenager son from Belinda named Fred, who is the youngest of the four children. 
The present-day context is a far cry from the days of 1993 when his marriage with his first wife was on the rocks due to his alleged extramarital relationship.
Cheating On Wife With Common Friend, Divorce
Earlier, David Dimbleby got married to Celebrity chef and cookery book writer, Josceline Dimbleby, in 1967. The pair who have three kids remained together for 26 years before rumors about David's relationship with their common-friend, Belinda Sykes started surfacing. Belinda, a TV production company owner, was married to a photographer named Christopher when she began dating David.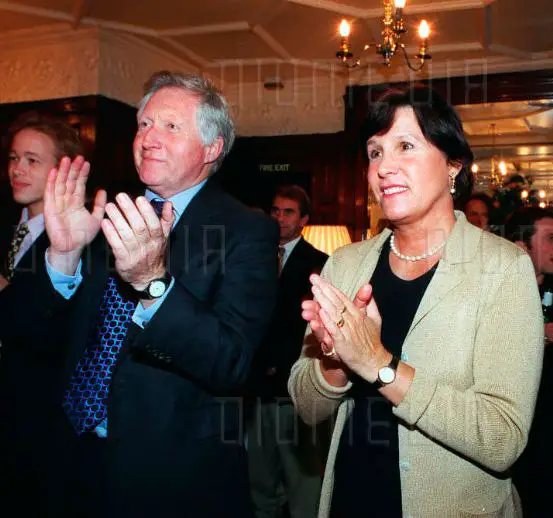 David Dimbleby with his then-wife Josceline Dimbleby (Photo:diomedia.com)
Then, Josceline had full faith in her husband and felt no need to discuss the topic. She opened up about her divorce with Mailonline in 2004 and said that she never thought David could have an affair behind her back. She was quoted saying:
"You don't want to face the things you're worried about. You don't want to be told that they're true. I will always regret that we didn't talk enough. I knew that something was wrong, but I didn't think David could possibly be having an affair."
The BBC journalist himself told his then-wife Josceline about his relationship with Belinda on the eve of their 25th anniversary in 1993. The couple divorced in 2000.  
It must have been difficult for Josceline to forgive her former husband for cheating on her back. David and Josceline have remained friends post their separation in 1993.