Entertainment
Deirdre Mullins Bio: Does The Actress Have a Husband Hidden Behind Her Work?
When it comes to spilling the beans on one's personal life, some celebrities life is like an open book while some prefer to shy away from the media attention and keep their personal life's details safe to themselves.
Well, one of the celebs, who prefers to keep her personal life under the wraps, is actress Deidre Mullins. However, fans will be fans, and they wish to know every small detail about their favorite star. And for her fans who are curious about the details of her personal life, we will be discussing everything there is to know about Mullins along with a bio. So, let's start!
Everything There Is To Know About Deidre Mullins 
The beautiful Deidre Mullins is a multi-talented personality and is actress, director, voiceover actress and an activist too. Although Mullins is not quite vocal about her family, she talked about her parents' occupations in an interview. She said her father is a professor at Trinity College Dublin, 
"My father is professor of statistics there,"
Mullins, who still makes her fans wonder about her age, also added that her father is from Clonmel and that her mother works for Christian Aid, 
" We moved to Howth when I was about 10. Before that we lived in Stonybatter. My father's from Clonmel, his father was a garda and my mother, she's very impressive. She works for Christian Aid, she's a banker's daughter, so she grew up all over the country."
Growing up, Mullins was a head girl at 'Mount Temple Comprehensive School' in Dublin. She then studied 'Drama and Theatre Studies' at Trinity College Dublin. Mullins attended the University of St Andrews to study English literature in the year 2006 in Scotland. She then got her diploma in acting from 'Bristol Old Vic Theatre School' in 2008. 
In 2012, Mullins became a continuity announcer for ITV3 for a year. She also gave her voice to the character of 'Mina' in 'Dracula' by 'Big Finish Productions.'
When it comes to Mullins's directing skills, she did her debut for a production of Mary Zimmerman's Metamorphoses which later earned her rave reviews at the Edinburgh Fringe in 2006. After almost ten years later, she directed her second show which was an experimental play by Bea Roberts, called 'Infinity Pool.' The play won a 'Toast of The Fringe Award' at 'Plymouth Fringe Festival,' and it also landed on The Guardian's list of recommended shows at the particular festival. Additionally, the play also earned five stars from 'The Stage' and was even short-listed for the most-coveted 'Total Theatre Award.' 
However, amongst the list of Mullins's works, she is best-known for starring in the British series, 'Man Down' which was even nominated for 'Best New Comedy Programme' at the British Comedy Awards in 2014. 
Caption: Deirdre Mullins in Man Down. (Published on October 16, 2013) 
The Irish actress also appeared in 'The Frankenstein Chronicles' for ITV Encore in the year 2015 and also in the same year she greeted the screen with the role of a mercenary soldier in the feature film, 'Belly of the Bulldog.'
Mullins also won a Scottish BAFTA Awards 2017 in the category of 'Best Actress' for her performance in the movie, 'The Dark Mile.'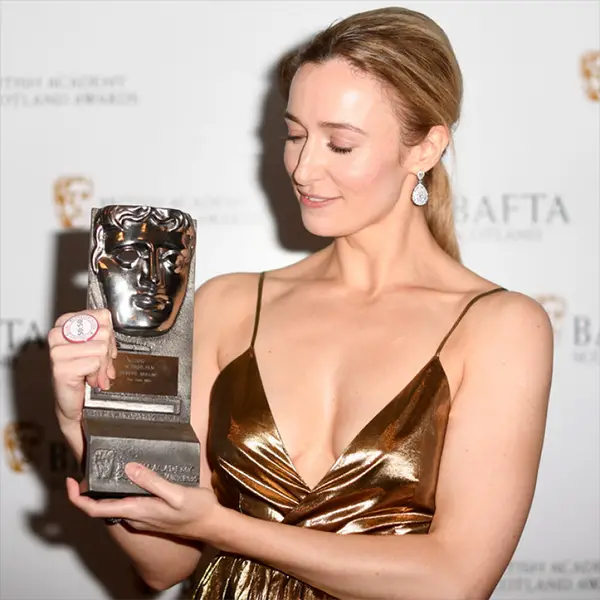 Caption: Deirdre Mullins with her BAFTA Award for Best Actress. 
Photo Credit: Sueterryvoices.com 
In recent news, Mullins also raised her voice to stand up against gender inequality in the entertainment industry which ultimately prompts to the personalities like Harvey Weinstein who can get away harassing woman taking advantage of their power and position. Mullins, who says 'imbalance within the industry is to blame,' stated, 
"If you have a balance in the industry, that includes equal pay, then you don't have the kind of abusive power structures that have shown the likes of Weinstein, and Kevin Spacey. All these things are a result of imbalance and people not thinking hard about what they make and the responsibility they have in the industry. It's all part of a systemic, sort of, misogyny or lack of awareness. It's sort of a result of a certain historical sexism, which we're not quite up to date with society, I think. We are not a mirror to society anymore, where we have become imbalanced. 51 per cent of the population are female, you know, and our stories are supposed to reflect that."
Mullins further added that everyone needs to do something about the matter, 
"We need to do something about it and so this is about raising awareness and encouraging commissioners, producers, writers to just think a little bit harder and think do characters have to be male characters, if the character is a police officer or a judge or whatever, can those characters be women, yeah they can. It's an easy thing to fix. They just need to be aware of it."
According to Mullins, Olivia Colman is one of the major supporters.
"Olivia Colman is one of our major supporters and advocates, so we have got a lot of very powerful actresses supporting us. It's amazing."
 Meanwhile, when it comes to Mullins's earnings, she must have earned a decent amount of net worth. However, it remains confined to herself. 
Is Deirdre Mullins Married? 
Deirdre Mullins is undoubtedly one of the talented actresses in Hollywood and has successfully won the hearts of many fan followers. She is famous and has a fan base among which many are eager to know about her love life. 
However, the actress doesn't prefer sharing her personal life to media. Further, she has not spotted with a man who could be conjectured as her boyfriend. Thus, the curious fans are questioning if she is involved in a dating affair or if she has stumbled upon a man who could be her possible future husband?
Following a mysterious love life, she remains to be single in the eye of the public but the possibility of her secret love life cannot be discarded. However, she hasn't been married yet.
Well, the questions related to her romantic unions remained unanswered until now, but the fans are hopeful that she would share more about her love life in the days to come.