Entertainment
"Loose Women" star Denise van Outen's Holiday With Ex-Husband For Family, New Partner Is Oil Broker, Boyfriend Wants Kids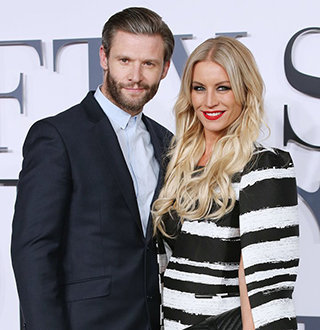 Denise Kathleen Outen Denise Van Outen, a judge on Ireland Got Talent series, took the term "Staying Friends with Your Ex" to a whole new level when she went on a holiday with her ex-husband.
She not only shared an amicable relationship with her ex-husband but also allowed her ex-husband and the new boyfriend chatting to one another.  
Besides, already a mother of a daughter, Outen's new boyfriend also wanted a child together with her. 
Let us learn Outen's love life.
Pregnancy, Amicable Divorce With Partner, 
English actress Denise Van Outen has had many serious relationships over the years.
Among them, her relationship with the winner of the BBC talent show Any Dream Will Do, Lee Mead, was perhaps the most serious one.
Denise Van Outen with then-husband Lee Mead and daughter Betsie (Photo: studiolicensinginc.files.wordpress.com)
Denise and Lee first met on the BBC's talent hunt television series, Any Dream Will Do (2007). They started dating each other in November 2007.
The English singer first revealed about her pregnancy to Daily Mail Online in November 2009. Then, she was pregnant for the first time, but she had previously stated about her desire to have children with Lee. She had said,  
'I think it's important to have children with the right person - and Lee's the first guy I have ever wanted them with. I look at him and know he'd make a great father. Our kids will have so much curly hair!
Later, on 29 January 2009, the pair got engaged, and two months later, in April 2009, they got married in Seychelles in a quiet ceremony, only inviting their close friends and family. 
The English dancer welcomed a baby daughter, Betsy Mead, with husband, Lee Mead on 1st May 2010.
The couple seemed perfectly happy, but something occurred in their four years of short-lived marriage, and they eventually split in July 2013.
Later, the couple's busy schedules led divorce was finalized on 8 December 2013 at the Central Family Court in London. However, they remained good friends for their daughter's sake. In March 2016, the friendly exes even went to Dubai for a vacation with their 5-year-old daughter. 
The duo's divorce was so amicable that both Outen and her ex-husband didn't need to file for custody agreements.
Talking about her friendly relationship with her ex-husband, Outen, the English presenter revealed how they handled the custody agreements in July 2017's edition of Loose Women. She said, 
"We do get on well. We sat down, and we talked about it [custody arrangements]. And there was no animosity. When you have a child with someone it's about your kids. We didn't decide to do anything, it was just an organic thing."
Lee also mentioned in April 2016 that he would be spending Easter holidays with ex-wife Outen and daughter Betsy. 
From 1998 to 2001, Denise dated Jay Kay, the lead singer of the British funk band, Jamiroquai.
Denise Van Outen's New Boyfriend Post Divorce!
The Essex native, Denise, was spotted for the first time with her new beau in July 2014.
Since then, they have been seen together many times on different occasions.
In January of 2016, both, Outen and her new boyfriend were spotted together at the airport heading to attend the wedding of English actress/singer Kimberly Walsh.
The couple was also seen together in Dubai in March 2016 with ex-beau Lee also present.
Later, Denise celebrated 2018's Valentine with her loving boyfriend at Rudding Park Hotel. She even shared an Instagram image that showed one of her Valentine's moments.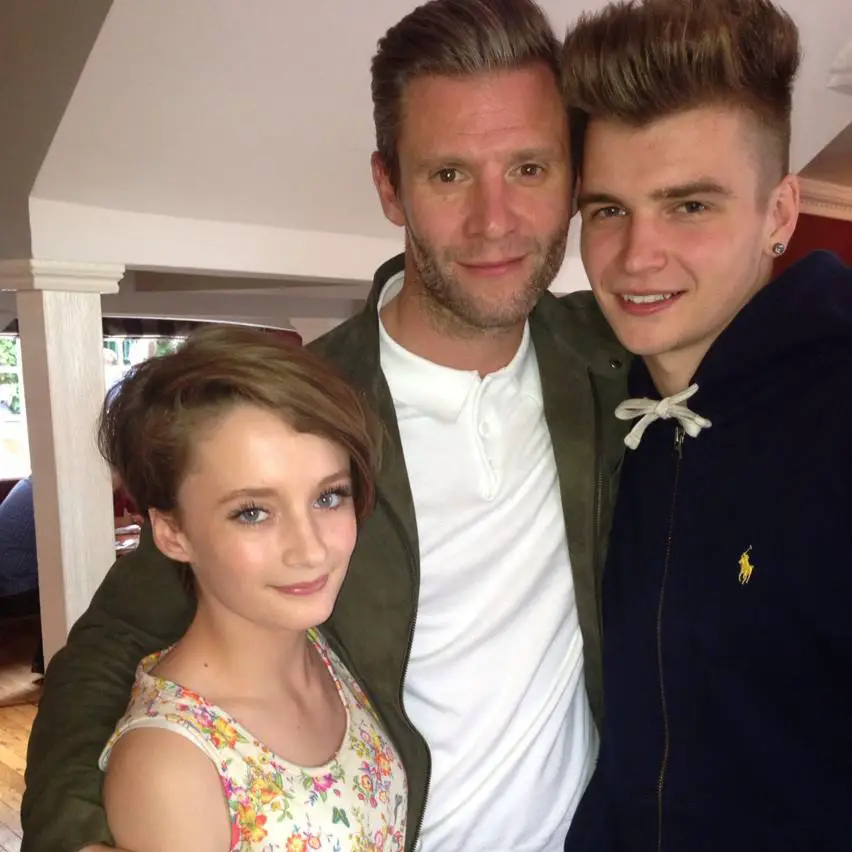 Stylish Hair: Denise Van Outen's beau Eddie Boxshall and his kids from his previous relationship, (Photo: Eddie Boxshall Facebook)
Denise started dating boyfriend, Eddie Boxshall, a commodities trader from Essex, following her split with her ex-husband, Lee Mead.
One of the mutual friends set up the pair's first date, but the City trader didn't know about the actress celeb status when he met her. 
Talking about their first date with Dailymail on May 2017, Eddie stated,
"All I'd been told was that I would be meeting a woman called Denise, I had no idea it was Denise Van Outen. When I saw that it was her, it came as a surprise - a lovely one. To be honest, it was an advantage not knowing too much about her career because it meant there was even more for me to find out about her. The chemistry, for me, was definitely there and I couldn't wait to see her again."
Denise also said on Loose Women that she clicked with Eddie in the first 10 minutes of their meeting, 
"Constantly talking on a phone and messaging each other is a waste of time, you might as well go and meet that person and you'll know within the first half hour if it will work or not. With Eddie I knew within ten minutes - we just clicked."
She was close to turning 40 and didn't want to try online dating, so she agreed to a setup date organized by the friend. The date turned out to be a productive one, as she got the man she was looking for the whole time. 
Oil broker Eddie Booxshall, a father of two from his previous relationship, enjoys more than two-decades of experience in the oil trading industry. 
Denise Van Outen's Ex-Husband And Boyfriend In Same House:
The 43-year-old TOWIE narrator, Outen, in 2017, revealed that her ex-husband still made frequent rounds to her house and often met her boyfriend, Eddie.
She shared her sound relationship with her ex and new partner to Loose Women in 2017, stating, 
"Lee still comes round at least one day a week for tea. Eddie's there. They will sit there with a cup of tea and have a chat."
She also jokingly said that sometimes she would be ignored when her ex-husband and boyfriend's gelled so good. 
 "Sometimes they do my head in as they'll just be sat there talking about footie, and I think, 'Hello! I'm here!'"
Despite ending four years of marriage with Lee, Denise still shared an amicable relationship with her ex-husband. 
Golfing With Her Boyfriend
Outen and Boxshall are a perfect golfing partner.
Fond of golf herself.
Moving With Her Boyfriend, Who Wants Baby
Loose Women panelist Denise was househunting in late 2017 to move in with her boyfriend in 2018 after putting her £1.4m funky farmhouse up for sale. She had even found a place but whether she moved in with him or not, that's not clear, but it's true that she talked about her sound sex life on television in 2018. 
She said that she was enjoying a healthy sex life in one of the Loose Women episodes, while the matter of discussion was if initiating sex with robots would be considered cheating; of course, she voted Yes! and said that they don't need to masturbate.      
In late 2017, she and the father of two, Eddie decided to move in together after dating each other for nearly about four years
Previously, Eddie had shown interest in having children of their own, but the actress wasn't sure about the idea.   
During one of the Loose Women episode in 2017, the 43-year-old revealed about her husband demand, stating,
 "Eddie gets really broody. He would have one tomorrow if he could. I go through waves if I'm honest. I've got one child Betsy, who is seven, but I think, I am so lucky to have her but for me it's that thing of thinking I have to go through it all again, the sleepless nights and everything. Whereas for him, he will do it at the drop of a hat, if he could. He would share it. But don't get me wrong, if I fell pregnant I would be over the moon but I can't overthink it because I just don't know."Denise Van Outen born on 27 May 1974, as . She had attended Sylvia Young Theatre School. Despite being a 40-year-old mom, she has kept her body fit.
Denise Kathleen Outen, born on 27 May 1974, attended Sylvia Young Theatre School at an early age to garner her acting talent. She was only 7 when she started modeling for knitting patterns.
At just 12, she got the chance to play Éponine in Les Misérables alongside fellow Sylvia Young student Melanie Blatt 
She turned 43 in 2018 but kept her body fit. According to the net-worth site, wikinetworth.com, her net-worth in 2016 was $3million, and yearly income was $400 thousand. 
In 2017, she also opened up on Loose Women about her strained relationship with her 1990's The Big Breakfast co-host Johnny Vaughan.
In the 90's, the show was smashing rating but the relationship between the duo got strained and she left the show. According to her, gender pay gap was one of the factors that initiated her to leave the show.