Holding a reputation of knocking down opponents with one lethal blow, Deontay Wilder is one of the longest-reigning world heavyweight champions in the history of World Boxing Council (WBC). He was the only American boxer to win a medal at the 2008 Summer Olympics.
Deontay first rose to fame when he defeated the then-undefeated Kelvin Price in a match in Los Angeles and claimed his first title in professional boxing.
Divorce From Wife; Fiance, Children
Deontay Wilder is a brutal man when it comes to fighting in the ring. But, he is a very soft-hearted person in real life.
The boxer married his first wife Jessica Scales in 2009 and became a father for the first time at the age of 19. Together, the couple went onto have two sons and two daughters in their eight years of marriage.
Also Read:- Ariel Helwani Wife, Net Worth, Family
Amongst, the four children: Ava, Deontay Jr, Dereon, and Naieya, his eldest daughter Naieya was born with spina bifida - a case in which the backbone is deformed. The desperate father then took up boxing to provide money for the treatment of his daughter.
However, Deontay parted ways with his wife in 2017 following an affair with longtime girlfriend Telli Swift. Despite the divorce from his wife, Deontay is a loving father who cares for his children no matter the circumstances.
After, the divorce with Jessica, the heavyweight champion got engaged to his WAGS Atlanta's star girlfriend in 2018. Deontay's fiance earlier had a son named Kerron with her ex-husband and later gave birth to a daughter with the boxer in March 2018.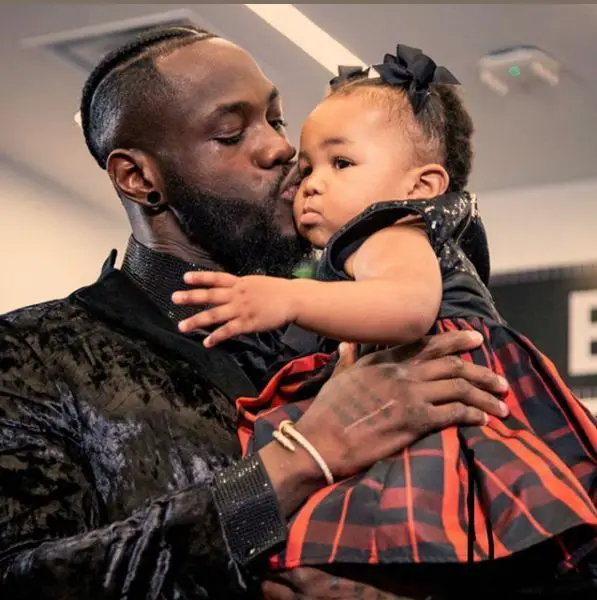 Deontay Wilder with his baby daughter at the Premier Boxing ShowTime in May 2019 (Photo: Deontay Wilder's Instagram)
As of now, both of them are fulfilling their parental duties and also providing support for needy children through non-profitable organizations and charity. 
Deontay Wilder Bio
Deontay Leshun Wilder - age 33 - was born on 22 October 1985 in Tuscaloosa, Alabama to father Gary Wilder and mother, Deborah Wilder. He and his younger brother Marsellos Wilder had a strict upbringing as their father was a religious preacher in the house.
Rise To Fame:- Chris Arreola Defeated By Deontay Wilder: Won WBC Heavyweight Title By Eight-Round Knockout
Growing up, he attended Tuscaloosa Central High School and dreamed of becoming a professional footballer or a basketball player. But, being married at an early age brought the responsibility of a family upon his shoulders. He gave up his academics and chose boxing as a source of income. 
Deontay was assisted by his massive built to compete in the heavyweight division, which consists of the height of 6 feet 7 inches (2.01m) and weight of 101.15 kgs. He soon became a famous face when he defeated Kelvin Price and claimed the World Heavyweight Championship.
As of now, he ranks as the world's second-best active heavyweight boxer who holds the title of longest-reigning heavyweight champion with an impressive knockout-to-win ratio of 98%.