Entertainment
Daniel Portman Girlfriend, Dating, Gay, Game Of Thrones
Does Daniel Portman Have Any Dating Affairs Or A Girlfriend? Claims He Got Into Game Of Thrones In Sheer Talent Daniel Portman seems to belong to the singles category just like his GOT co-stars includes Emilia Clarke and Poppy Drayton, who are very much single for now due to their busy schedule. The actor, who often claims that he got into acting with his talent has nothing much to share about his personal life. But does he have a girlfriend to flaunt? Or is just busy with his career?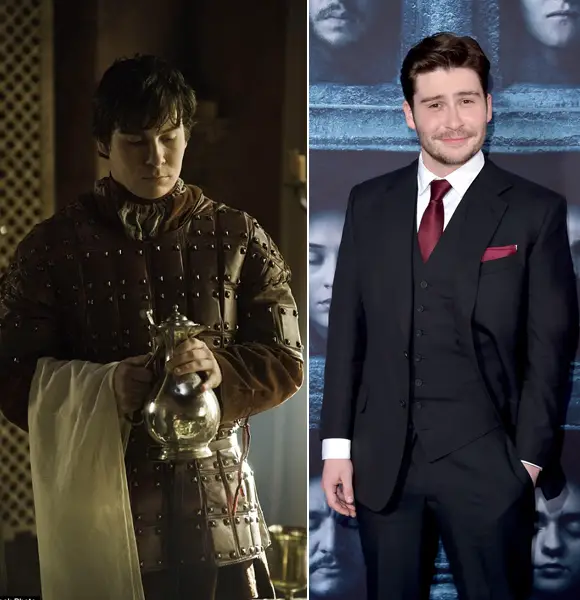 Getting cast in the most watched series "Game of Thrones" awards you with immense fame. Along with popularity, there is a price to pay, as crazy fans want to know every detail about you, which might create hindrance in life because of a lack of privacy.
Actor Daniel Portman, who claims that he got the part of Podrick on GOT with his talent and not because of his father's favor, has nothing much to share about his personal life. But, does he have a girlfriend to flaunt? Or, is he just busy building a career? Let's find that out!
Has Girlfriend To Flaunt?
It is hard for actors to maintain privacy in their personal life. It doesn't matter how much you try to hide the facts; one way or the other, that will be on the public's eye.  But it is a bit different when it comes to Podrick Payne of HBO's drama fantasy, Game of Thrones.
Daniel Portman has been able to maintain secrecy about his personal life till date. There is no link up of Daniel so far, as sources reports.
Another GOT star: Emilia Clarke Wiki, BIo, Boyfriend
And that has made many think that he is able to learn all the pros & cons of sharing his dating life and girlfriend, soon after getting into the limelight. With no doubts, his secretive personal life has raised speculation of him being gay, but that has remained within himself until any statement comes forth from the actor. The only detail about his love life is present on his Twitter, where he talked of having a girlfriend in 2013.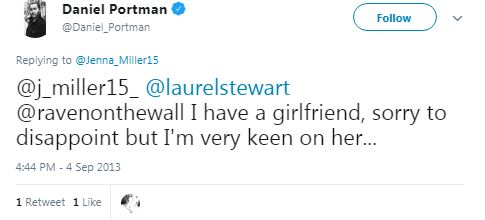 Daniel Portman replies to a fan on Twitter in 2013 (Photo: Daniel Portman's Twitter)
However, after the revelation, the actor hasn't updated much about his relationship status or his girlfriend.
Hopefully, the time is near when Daniel Portman will be comfortable sharing more of his romance and not be afraid of the paparazzi.
How Daniel Got The Breakout Role In GOT? 
Born on 13 February 1992, Scottish actor Daniel Portman started his career at a young age of sixteen. He first worked as Paul in 2010's Outlaw, followed by a role in Scottish popular show Opera City and then the comedy movie, The Angel's Share.
Daniel Portman, 19 at the time, got his first breakout role as squire Podrick Payne in HBO's fantasy drama, Game Of Thrones' season 2, and has maintained his character so far.
The thing that has bothered Daniel quite often is that he got the breakout role of his career because of his father, actor Ron Donachie. But in response to that, he has a lot to say. The UK native proclaimed,
"My dad played a good part in the show and he was in it for a fair whack, but, no, I didn't get the job because of him I got the job because of me."
He further added,
"When I met the writers and producers they liked what I did."
And he continued,
"These people don't do favours. The only way they're going to pull family favours is if somebody like Al Pacino is on the show and he asks them to give his daughter a go!"
The final season of the popular series is underway and Daniel, in an interview with the Insider, said that the fan's feeling for Podrick "won't change a bit". Filming the battle scene for the season, primarily at nighttime during winter in Northern Ireland, Daniel proclaimed the cast did not get to see the sun for almost three months.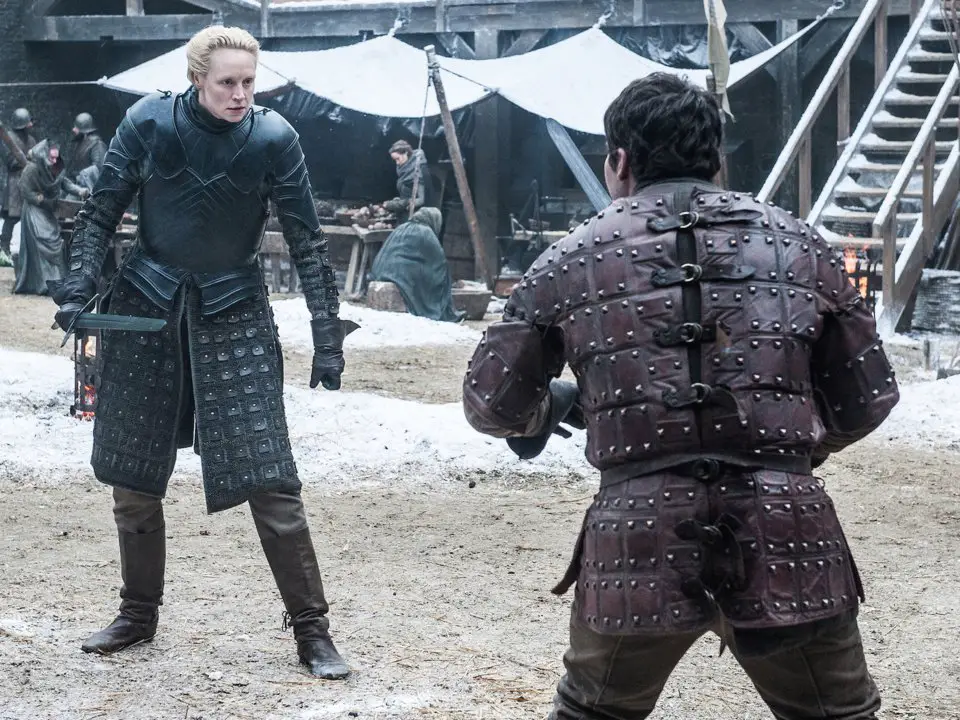 Daniel As Podrick Trains With Brienne Of Tarth on Game Of Thrones (Photo: Helen Sloan/HBO)
Daniel's character had been training under Brienne of Tarth (played by Gwendoline Christie), and the first trailer for the season had him besides Brienne & the Unsullied soldiers. So hopefully, there is going to be some scenes of Podrick's improved sword-fighting skills in the final season.
Daniel's Co-star On GOT:- Gwendoline Christie Boyfriend, Gay, Weight
With the role, Daniel has played he has received a lot of positive acclaim by fans on social networking sites. Stay tuned with the series for not missing out on the adventures and amusement that the show is yet to serve.