Entertainment
Does Jean-Luc Bilodeau Have Any Dating Affair Or A Girlfriend? Shows Love For On-Screen Daughters
Usually, when a young, handsome and talented actor is in the show business, then his love life with a girlfriend is bound to create a buzz. People are always curious to know if he has a girlfriend to share a love life or not? And if the actor has a girlfriend then, fans wish to know every available detail of his girlfriend, and every possible aspect of their dating life as well.
Dashing actor Jean –Luc Bilodeau is the one everyone stalk to get hold of his dating life. So, the question remains, does he have a girlfriend? Well, if you crave to know the same, you've come to the right place.
Dating Affair or Girlfriend?
Jean-Luc Bilodeau is the one many girls have secret crush upon. His humorous attitude and charming face are sure to attract many girls and women all over the world. But has this handsome actor has fallen for anybody? Well, the answer remains a mystery as the actor provides no substantial evidence regarding his love life.
Despite the secretive nature, Jean-Luc has somewhat opened up about his dating in an interview back in 2016. During the interview with The People, Jean talked about dating, heartbreak, and potential fatherhood.
Caption: Jean –Luc Bilodeau shares his thoughts on dating, heartbreak, and potential fatherhood
Talking about his heartbreak, Jean shared,
"I was young. I'm still very young, I'm sure it will happen again. But it doesn't happen a lot."
He continued,
"I like the single life a lot, so I'm trying to stay on that track," 
When the interviewer asked Jean-Luc if he has been a baby daddy in real life as well, he replied.
"I am praying that I am not a baby daddy, and no scares either, so that's nice."
However, some sources have claimed the actor to have indulged in a relationship in the past. The sources claim that Jean-Luc Bilodeau was dating Emmalyn Estrada, from 2010 to 2014. Jean-Luc appeared with Emmalyn in the music video of her single "Don't Make Me Let You Go" in 2010. Although they did not acknowledge their relationship in public, the question raised, was Jena-Luc referring his heartbreak with Emmalyn in the interview? Only Jean-Luc Knows.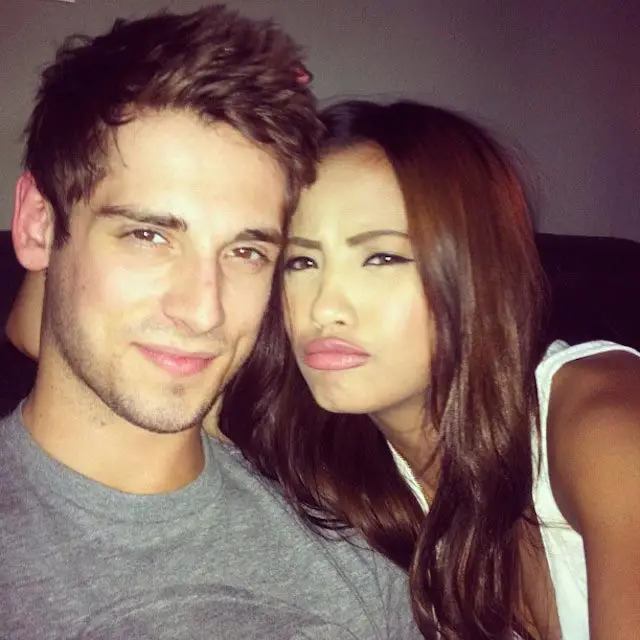 Caption: Jean-Luc Bilodeau with his rumored girlfriend, Emmalyn Estrada.
Photo Credit: healthyceleb.com
Jean-Luc Bilodeau and his co-star Chelsea Kane traveled across Europe for two and half months, took the same trip as Jean-Luc parents took on their honeymoon. Chelsea was the one to share the news through an interview held back in June 2016. She shared,
"Jean-Luc (above, left) was planning to go by himself. He was actually following a trip his parents took on their honeymoon, which I thought was pretty cool. We backpacked together in Europe for two months last year. He shaved his head, I dyed my hair brown; we stayed in hostels the whole time. It was us and like six other dudes in bunk beds, it was an experience."
While to maintain his singlehood status, his fans hope that he would soon have a dating life, to share with his girlfriend and even get married and settle down to enjoy marital bliss. Without a girlfriend, and love life to fend gay rumors, one gets speculated as gay. But, without any confirming statement from the actor himself, the truth remains inside the closet.
Jean-Luc Bilodeau's love for onscreen daughters:
Jean-Luc Bilodeau portrays the role of single father Ben Wheeler, to her on-screen daughter. He loves sharing his on-screen daughters' images over Instagram, which is evident through the adorable pictures of his on-screen daughter Jean shared on his Instagram.
Not only Instagram, but Jean shares his love for his on-screen daughters on his Twitter as well.
Jean-Luc Bilodeau Tattoo:
On achieving the milestone of the 100th episode of Baby Daddy, Jean-Luc got matching safety pin tattoos along with his co-stars Tahj Mowry, Melissa Peterman, Chelsea Kane, Derek Theler and Peter Porte, as evident in the picture he shared on his Instagram.
Also, back in April 2012, Jean-Luc inked himself and got a tattoo of a maple leaf and flaunted a picture via Twitter.
Jean-Luc has not acknowledged any girl as his girlfriend yet and claims to be single, but regarding his thoughts on a relationship, the possibility of him romancing a girl cannot be omitted.
Stay with us for latest updates on Jean-Luc Bilodeau!