Former professional kickboxer Donald Cerrone is always a hit name when it comes to girls... He has made quite the name for himself in the ring and the octagon of UFC...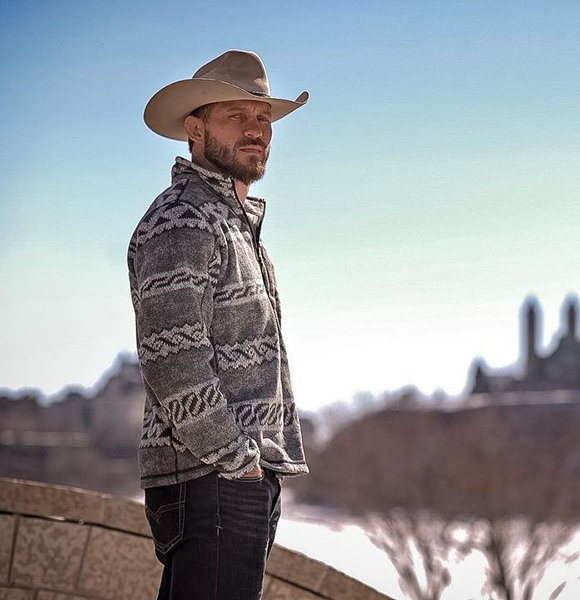 Former professional kickboxer Donald Cerrone is always a hit name when it comes to girls. He has made quite the name for himself in the ring and the octagon of UFC.
Also, he has been successful regarding his dating and love life. As his fans might know, he was previously in a relationship with someone in the same workplace, but what about now? Has he found a new girl in his life? Who is he thinking of getting married to in the future?
Dating Woes: Fallout With Girlfriend
Donald Cerrone was once in a relationship with Brittney Palmer, who is one of the most beautiful and attractive octagon girls.
Discover:- Ariel Helwani Wife, Net Worth, Family
The love between them sparked when both of them worked for the WEC promotion. But as per reports, the two ended their relationship by the time they entered UFC.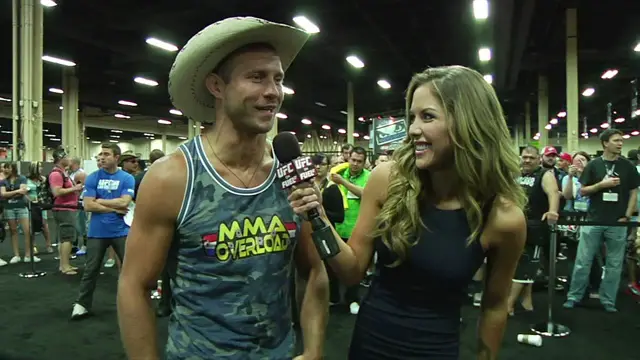 Donald Cerrone gets questioned by once-girlfriend Brittney Plamer (Photo: lowkickmma.com)
But the relationship was kept to them during the tenure. Thus, nothing much was revealed about the romance, and the reason for the split is still a mystery.
Engaged Or Married? Fiancee Or Wife?
The ladies man Donald then got linked with Lindsay Sheffield, and fans even speculated her to be his girlfriend. The two were rumored to be dating each other as the fans who follow them over on social media saw the posts of them together on numerous occasions.
Donald and his girlfriend-turned-fiance have been an engaged duo since 2014. The pair maintain their romance under the radar of the media despite their fame.
Fans are still curious to know whether they have officiated their wedding or not. Did they have super secretive weddings that no one besides their immediate family got invited to see? The public at large will have to wait until either one of them decides to speak out on the matter.
More On Donald:- Playing A Match After Brutal Eye Injury, Donald Cerrone Is All Pumped To Grab The UFC Gold
For some people, marriage is just a proof of social contract meant to keep you in check and committed. For people who know they genuinely want to be with each other, the husband and wife name tag does not matter.
Donald and his wife are one of those people. Married or not, they have produced a son out of their union. They welcomed the new addition to their family on 29 June 2018. They have named him, DACson Danger Cerrone. The middle name might be a quirky reference to how Donald is inside the ring.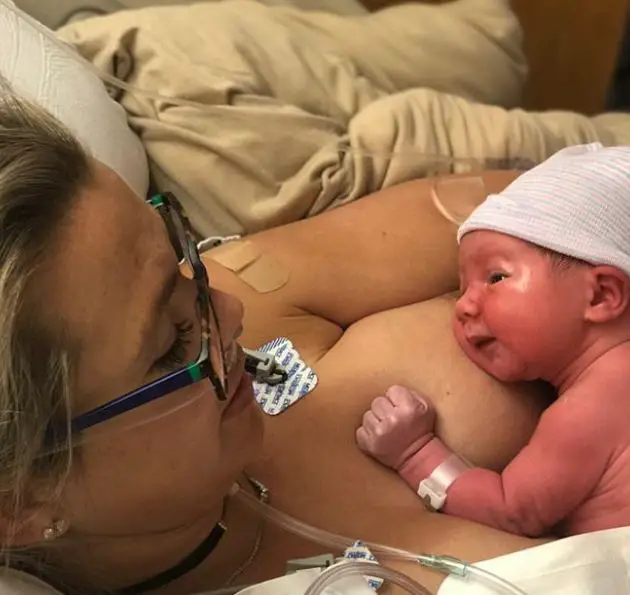 Donald Cerrone's wife Lindsay Sheffield with her newly born son on 29 June 2018 (Photo: Donald Cerrone's Instagram)
Although Donald faces daunting tasks every time he is on the ring, parenthood is a different beast altogether. But, he has a beautiful partner by his side, and together they can take on anything.
Discussing His Net Worth & Record
Donald "Cowboy" Cerrone is most famous for his career as a kickboxer and an MMA fighter. He has competed in several fighting leagues and has been able to make quite the name for himself.
He has competed in the UFC in both lightweight and welterweight division. With an impressing record, it shows that he has not lacked any dedication. Likewise, on 16 February 2018, he posted a picture of himself with the tattoos where he was seen exhausted by the training.
In the caption, he thanked his teammates, and for the support, they had for him. The fans and followers also commented on the post and wished him best of luck for the fight against Yancy Mederios.
More On Another Kickboxer:- Is Badr Hari Gay Man Even After Dating Multiple Girlfriends? Still Facing Legal Issues?
With regards to his career, he holds a professional record of thirty-three wins, ten losses and no draws, after the win against Yancy. Donald has been able to accumulate a real net worth of $5 million.
At the same time, the Denver Colorado-native boasts the record of most wins by knockouts (20) in UFC's history. His 20th prey was none other than fellow UFC star Al Iaquinta. Following the impressive win, fans and insiders alike called for a matchup between him and Conor McGregor.