Duff Goldman is a celebrity chef who has appeared in various cooking TV shows such as...is married to his wife and longtime girlfriend Johnna...had been dating for almost three years before getting married...has a height of around 5 feet 4 inches or...earned a decent net worth of around $5 million...has a tattoo of his Hebrew name on his body...for his education, he attended the...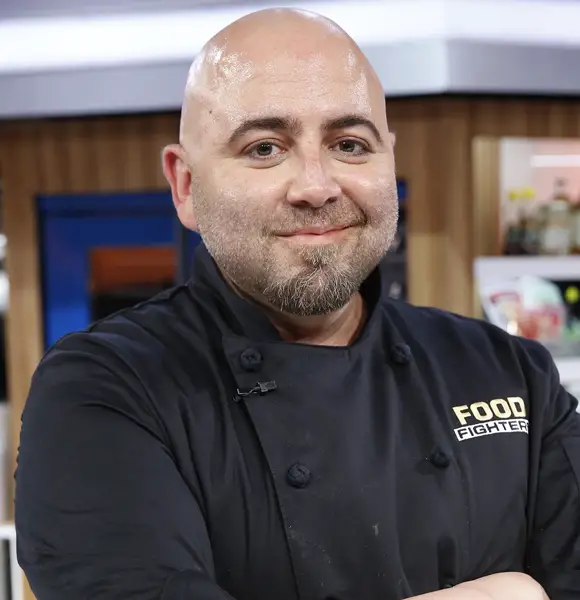 Duff Goldman is a celebrity chef - most famous for appearing in shows such as Food Network's Holiday Baking Championship (2014-2017) and Spring Baking Championship (2015-2019). He is also known for his show Ace of Cakes (2006-2011) and Iron Chef America (2010).
Duff specializes in pastry and desserts and is a cake expert. He owns the Charm City Cakes of Baltimore, Maryland, which was opened in 2000.
Duff Goldman: Marriage And Wife
Duff Goldman is a married man and is in a happy relationship with his wife, Johnna Colbry. And the couple's wedding was a more-than-ordinary occasion.
The couple first met in 2016, when Johnna was just 22, and they immediately clicked. The relationship, then, steadily progressed, leading to first, and engagement, and, ultimately, marriage.
Dive In:- Amber Rose Revah Married Actor Boyfriend? Parents, Ethnicity, Net Worth
After dating for around two years, Duff wouldn't wait any longer to make his then-girlfriend his wife. So, on 2nd April 2018, he proposed to her. Johnna said yes, and even though Duff did not have a ring at that moment, he tied a small piece of rope around her ring finger as a makeshift ring. The following day, Duff posted a picture of the rope-ring on Instagram with a caption explaining how he came about the decision to ask Johnna to marry him and how much he loves her.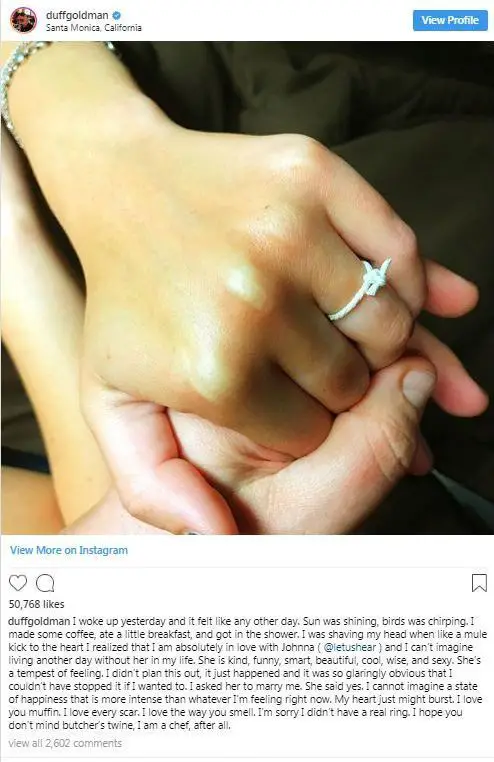 Duff Goldman's post about his engagement on 3rd April 2018 (Photo: Duff Goldman's Instagram)
Ever since that day, the couple planned for their wedding. On 20th January 2019, Duff and Johnna said their vows at the Museum of Natural History in Los Angeles in an event that was officiated by Johnna's grandfather.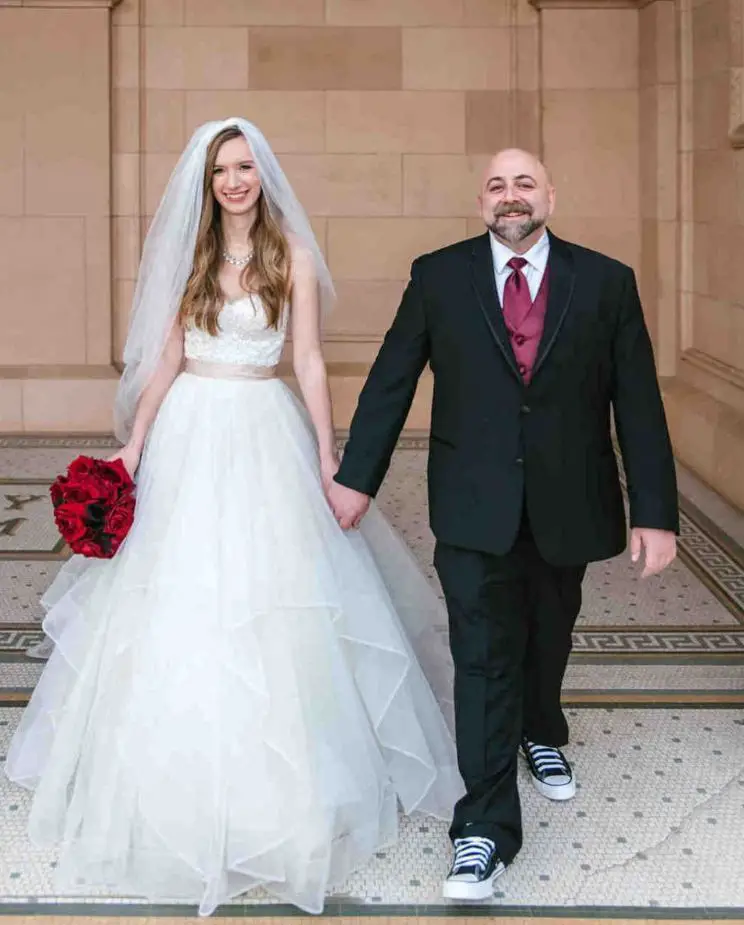 Duff Goldman with his wife Johnna Colbry at their wedding (Photo: Martha Stewart Weddings)
As peculiar as the choice of wedding venue was the desserts served at the wedding. Duff, being the inventor that he is with cakes, decided to have five cakes at his wedding. The first three cakes were suspended from the ceiling and were ocean-inspired desserts. They were decorated with sugar sea glass, bubbles, and leafy sea dragons.
Don't Miss:- "Gold Rush" Star Rick Ness' Growing Net Worth & Tattoos, Both Exceptional!
The remaining two cakes were more traditional. One was a regular cake for Johnna, and another was a "meat cake" for Duff.
As of now, the husband-wife duo is still together, and maybe still not over their amazing wedding, but that's just hopeful speculations.
Interesting Facts: Height, Net Worth, Tattoo
Duff Goldman was born on 17th December 1974 in Detroit, Michigan, USA.

His birth name is Jeffrey Adam Goldman. He has a tattoo of his Hebrew name "Ashvalom," which means "Bringer of Peace."

Duff stands 5 feet 4 inches (1.63 meters) tall.

The culinary expert initially attended the University of Maryland, Baltimore County, and achieved a degree in history and philosophy. However, changing his education choices, Duff, then, went to the Culinary Institute of America at Greystone, St. Helena, California.

Having worked in various cooking shows and movies such as Star Wars: Clone Wars (2008), and Below the Beltway (2010), and not to mention, owning his own culinary company Charm City Cakes, Duff boasts a net worth of around $5 million.