Entertainment
"Gold Rush" Star Rick Ness' Growing Net Worth & Tattoos, Both Exceptional!
Gold miner and television personality, Rick Ness is not a new name for all the Gold Rush fans as he rose to fame after appearing in the famous Discovery's show. 
The show itself is running on its long run, set to bring out their ninth season, which certainly hypes Rick Ness' fans too. The lead star, Todd Hoffman announced his decision to leave the show on February 2018, after eight seasons. 
The fan favorite macho man, Rick, who recently shared about his mother's death, is geared to replace Todd and would be leading the mining work. 
Let's follow the story of gold miner Rick Ness in our article!
Unique Designs of Ink
The reality star, Rick is a pretty attractive man and can attract people with his nicely trimmed beard and muscular physique.
And the full-body covering ink enhances his look much more. Rick possesses a series of tattoos in his different body parts that have become his trademarks.
Similar Article:- Quick Facts about Master of Tattoos Oliver Peck: A look at Wiki, Age, Girlfriend and Married Life of This Ink Master's Star
On 25 March 2014, Rick flaunted his neck tattoo through a Twitter post. In the tweet, he displayed the unique design of his tattoo which incorporated the Virgin Mary with a piston for a head. Rick further revealed that he called the concept of the art, "The Holy Mother of Horsepower."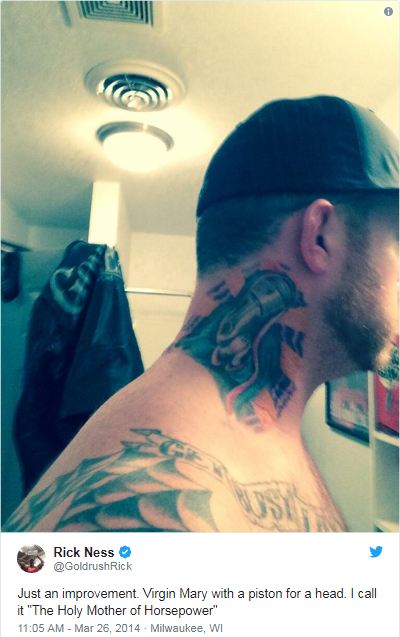 Rick flaunts his neck tattoo "The Holy Mother of Horsepower" to fans (Photo: Rick Ness' Twitter)
Rick's neck tattoo isn't the only one he's famous for. He has got a unique tattoo in his hands too.
As revealed in an interview, his hand tattoo of an anchor and a rope tied to it is a gift from his grandfather. The rope further transforms into a banner which reads the word "perseverance." Rick also revealed that "perseverance" was the name of his grandpa's boat.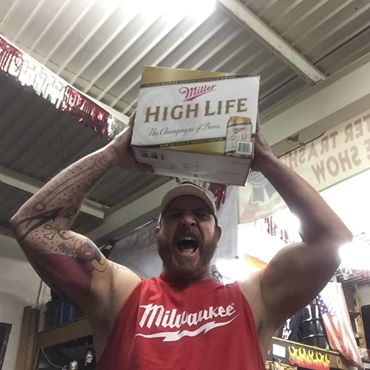 Rick displays hand tattoo and muscular biceps on 9 January 2015 (Photo: Rick Ness' Facebook)
Moreover, Rick has also got a tattoo on his chest which communicates an inspirational message. The tattoo contains the words of his life goals, "Get busy living or get busy dying."
See Also:- Brooks Koepka Wife-Like Girlfriend Shares Intimate Moments; Getting Married Soon?
Although most people are fans of Nick's tattoos, there was a ceratin Twitterati who suggested otherwise. A user going by the name Sin Diego Designs suggested that Nick should remove his tattoos so that the two could get matching designs that portrayed the US as the World War Champs. The user even mentioned that he had got a couple of professional who could do the job for Rick. The Twitterati wrote in the post shared on 6 March 2016,
"@GoldrushRick seriously I got a few good men out here that would throw down that ink. Let's get USA BACK 2 BACK WW CHAMPS Tattoos. Follow me"
However, Rick seemed uninterested in this and didn't even bother to reply the tweet. 
New Leader Of Gold Rush
One of the best excavator and rock truck operator in the show, Gold Rush, Rick never had the dream of being a gold miner in the first place. 
He first started as a college football player, which ended after a head injury. Forced to discontinue his sports career, Rick later formed a band called .357 Stringband. The music group made frequent tours and during on the tours, Rick met a gold mine owner, Parker Schnabel, at the South East Alaskan State.
Though Rick was a rookie in gold mining, handling heavy machines was nothing new to him as his family ran a commercial construction company. Rick showed interest in working on Gold Rush, which resulted in Parker contacting him, after nine months of their first meeting.
Rick joined the show in the third season and has been one of the leading members of the cast ever since. 
The show has run for eight seasons and is set to further release a ninth. And the upcoming season has become a blessing to Rick as he is set to replace the lead cast. Todd Hoffman, who was previously the mine boss for eight seasons, is not returning for the ninth. And in Todd's absence, Rick is set to be the new leader of the gang. 
You May Also Like:- Dave Rienzi Wiki: 5 Facts of The 33 Years Old Married To Ex-Wife of 'The Rock'
Further, Rick, who has not revealed his net worth, could make up to $25k per episode or $500k per season, as the amount was Todd's previous salary. 
Mother's Death, Sibling
While he may be uplifting his career, Rick has also been the victim of a tragedy as he lost his mother at the age of 55 due to cancer.
In February 2018, Rick had mentioned in an interview with popculture.com about his mother's cancer. He told the magazine that his mother's health was not well and he was taking care of his mother by spending as much time as possible. He stated,  
"She's doing good right now. She's gone through about as much treatment as she can go through and the cancer's still there, so the outlook is not good, but for right now she's happy."
However, a month after the interview, Rick came forward with heartbreaking news that he lost his mother to cancer. 
On 20 March 2018, Rick took to Twitter to share the news of his mother's demise. He revealed in the tweet that his mother had died peacefully in her house. Rick blamed cancer for his mom's death and claimed it to be "the devil."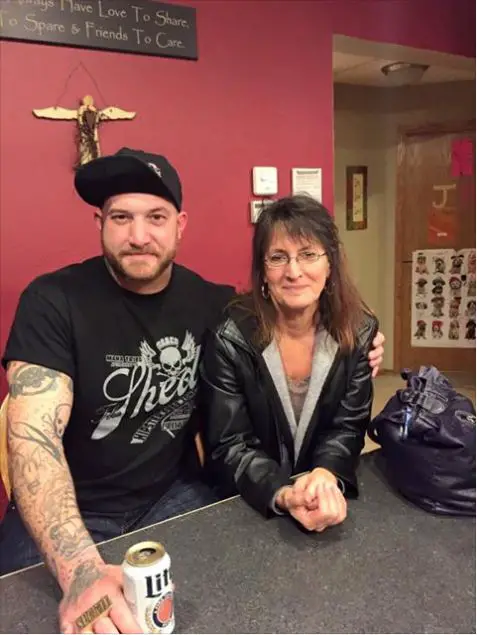 Rick with mother in 2015 before her death (Photo: Rick Ness' Facebook)
Despite his mother's death, Rick has maintained a loving relationship with his twin brother. The siblings even celebrated their birthday together on 5 March 2018. Rick and his brother, both aged 37, are remaining strong and supporting each other during the time of their tragedy.
Similarly, back in 2015, a fan named Mike Syreini tweeted to Rick and attached a photo of a building called Roy Ness along with the tweet. The fan asked Rick if he has ever been to the place. 
Obviously, that was a bit offensive to Rick as asking him if he knew a certain place was doubting his explorer spirit. But keeping his calm, Rick gently replied that the place in the photo was his father's business in Escanaba, Michigan. Seemed like Mike got schooled. 
In the meanwhile, Rick is assumed to be single but he is definitely not lonely as he has his loyal pet dog to take care of him. On 18 July 2018, he posted a picture alongside his dog "Rubi" and called it as his "big tough mine dog."