Entertainment
Dylan Schmid Flaunting Dating Affair With Actress Girlfriend! Stronger Together
Celebrities being adamant about not letting the information regarding their romantic affairs, slip, is what we often hear; however, there are some who don't intend on keeping their love life far from the media. Similar is the case with a Canadian actor, Dylan Schmid, who favors flaunting his girlfriend with his fans which has become the topic of interest for many.
Don't you want to have a look at their budding relationship? Well, if you do, let's get it started.
Dylan Schmid: Love Life with Girlfriend
Dylan,18, is blissfully dating the actress, Kaitlyn Bernard since the year 2016; however, it wasn't until 2017 that the couple decided to publicize their relationship.
The duo took their relationship to Instagram back on May 15, 2017, when Dylan's girlfriend, Kaitlyn posted a picture of them together.
Moreover, the lovebirds didn't only share their romantic connection on networking sites, as they also expressed their happiness towards their family and friends through their posts.
In one of the uploads, shared by Kaitlyn back on October 11, 2017, she thanked their family and friends for sharing the holiday together with them.
Furthermore, the couple has also appeared in several red carpet events and shows, where they have displayed their romantic connection.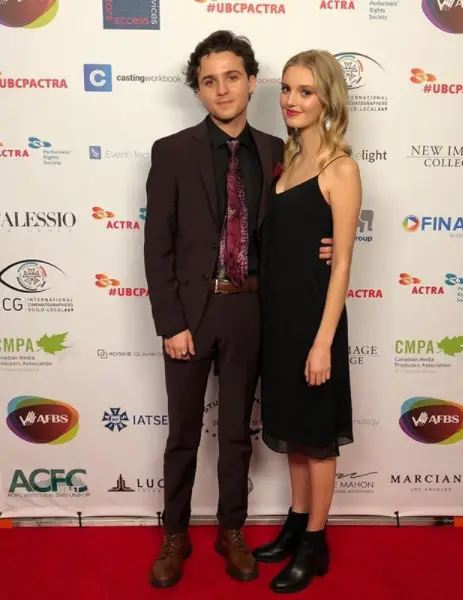 Dylan Schmid posing during Actra Award with his girlfriend, Kaitlyn Bernard (Photo: gramunion.com)
Furthermore, celebrating their one year anniversary in November 2017, Dylan uploaded a short video of them kissing each other through Instagram where he added, Kaitlyn to be his inspiration.
Moreover, the couple hasn't let their romance come on their way towards their dream and has maintained a perfect balance between their professional and romantic life!
Short Wiki-Like Bio on Dylan Schmid
Canadian actor, Dylan Schmid was born on March 6, 1999, in Victoria, Canada. At the age of six, he started off his career in acting, and his parents also helped him in pursuing his dream. He also has an older brother, T.J with whom he used to play skits when he was a child.
With his acting skill, Dylan landed on two short student films and later appeared on several movies. He is best known for his character as 'Baelfire' on the television show 'Once Upon a Time.' He has also starred alongside Daniel Radcliffe in the 2013 film 'Horns' and also played the character as 'Dylan' in the 2013 TV movie 'Bunks'
Despite such a young age, the actor has already made quite an impact on his work and aspires to do the same in the coming days!