Entertainment
Eboni Williams From Fox News Found Husband? She Might Have Revealed It
Fox News' Eboni Williams has always been a crush of many viewers of the network, but her love life was never a public knowledge which led her fans into an eternal state of confusion.
An attorney and TV host by profession, Eboni is still young and might be in no hurry to get a husband. But, she indulges in an active dating life and even had a few boyfriends in the past. 
Raised by an independent mother, Eboni grew up to be a strong-willed woman like her mom and even claims to have a "wonderful relationship" with her supposed husband.
Too Soon For Husband; Raised By Single Mother, Parents Details
While Eboni has not issued specific details about her love life, she has been open to sharing jokes and sometimes even hints about her relationships. 
The TV host was previously rumored to be dating her childhood sweetheart, Gray Sandy and the duo was also spotted together on numerous occasions which further supported the claims. It's not confirmed whether the two actually dated at some point, but whatever the truth, the romance is over now.
Take A Look At:- Jack Whitehall, Alleged Gay Host Hints Romance After Girlfriend Rift! Dating Again?
A Fox News fan page on Twitter commented that the TV host got furious of her ex-boyfriend when he didn't gift her an orchid but didn't specify if the former lover was Gray or not. The page even mocked Eboni mentioning that the "K" in Eboni K. Williams stood for "Kardashian."
"Wait... the DIVA... Eboni Kardashian Williams... @EboniKWilliams got upset with an ex boyfriend because she didn't get an orchid?!"
But, instead of taking offense, the news contributor replied with a joke saying that her ex-boyfriend had first promised her the flower only to call it too expensive later.
"Only because he promised me that he would lol..:then said they were too expensive lol"
Eboni also mentioned in a tweet that she was in a wonderful relationship, although she didn't specify if the partner was her husband or just a boyfriend. She wrote on 11 August 2017,
"I'm actually 34 years old (in sept) and I'm in a wonderful relationship."
Well, even if the guy hasn't yet been able to identify himself as Eboni's husband, the time may soon come when the analyst can take pride in having a husband and a family of her own.
Talking about family, Eboni was never able to experience the love of both of her parents as she was raised by a single mother. The North Carolina native expressed her grievances over not having a father via a tweet on 8 July 2013,
"@DrStevePerry Wow! You made me realize I've never purchased a Father's Day card either...amazing how unaware we are of our wounds #lifeclass"
Eboni further explained that although her mother was incredible, she could never take up the role of a dad.
"@G_u_r_A_MAYzing @DrStevePerry Truth!! My mother is INCREDIBLE but as fantastic as she is, she could never replace the role of father"
Eboni's mom, who owns a small business, may not have succeeded in giving her daughter the love of a father, she was still a loving mother who supported and believed Eboni in every step of life.
For the occasion of Mother's Day 2017 on 14 May 2017, the TV personality shared a picture of the mother-daughter duo and thanked her mom for all her support and love she had provided.
Don't Miss:- Kelsey Berreth Age 29 Reported Missing Enters 4th Week, Family Status Now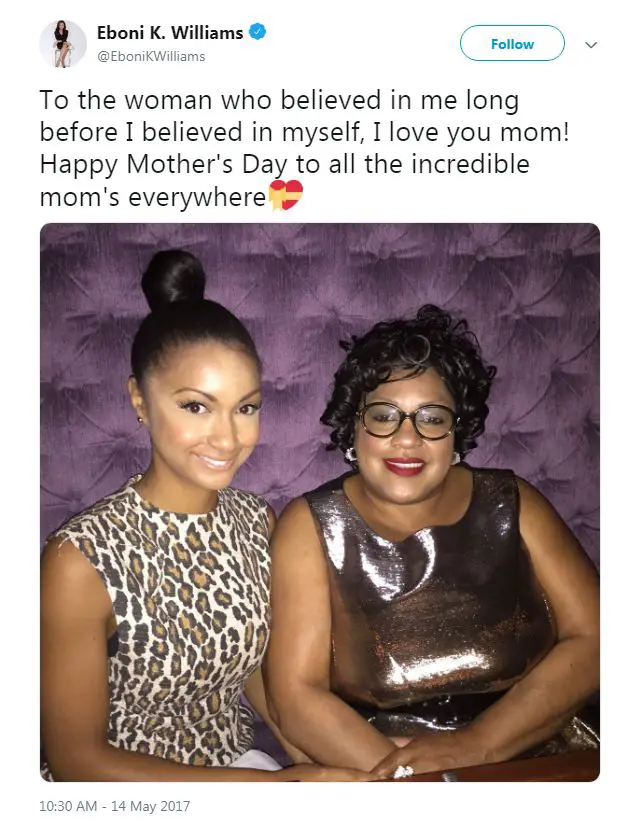 Eboni Williams with her single mother (Photo: Eboni K. Williams' Twitter)
Further, Eboni has often suspected of being a bi-racial woman; however, she later cleared the rumors and told that both of her parents were black and that she was proud of her African-American inheritance.
Fox News' Host's Salary, Net Worth, And Age
An American attorney, TV personality, and political analyst by profession, Eboni, age 35, currently works as a permanent co-host of the Fox News Specialists and also serves as a co-host for a talk show on WABC Radio.
Her program on Fox News has been running since 1 May 2017 and has garnered a significant fan following.
You May Also Like:- Tara Palmeri Married & Husband | Personal Status To Education & Salary
Fully dedicated to working, she has even received death threats after she criticized President Donald Trump on Fox News Specialists. For her contributions, Eboni is paid an average salary of $77,721, but she has not disclosed her net worth.
Eboni, who had earlier joined the TV network in September 2015, previously worked for several other news channels including ABC News, CBS News, CNN, and more.